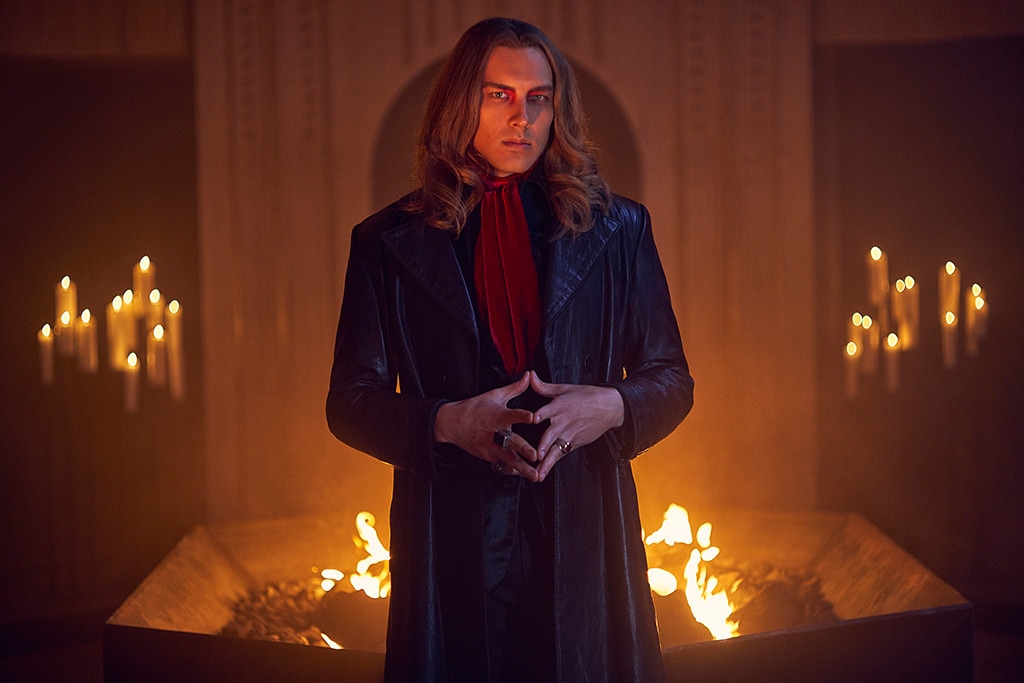 FX
Cody Fern didn't know anything about his American Horror Story: Apocalypse character. Well, almost nothing. He knew he'd be wearing a luxurious wig.
"What wig? [Laughs.] The discussion about the wig was the first thing I knew about the character. I found out that'd I'd be playing a character in American Horror Story back in October, but I didn't know who it was going to be until days before filming," Fern told E! News. He knew he'd be working with Sarah Paulson and that's pretty much it.
"I didn't know who I was playing, I just knew he would have long, Dorian Gray-esque hair and would love capes. That's all I knew. The discussion about the wig…I don't remember having a discussion in which it was to match Connie Britton, but I know there was to be elements of other characters imbued into him, but I didn't know which, because it was so under wraps…[Ryan Murphy] was very specific about wanting that wig. Ryan was incredibly involved in that wig," he said with a laugh.
Viewers—and Fern—now know he's playing Michael Langdon, the son American Horror Story: Murder House characters Vivien (Britton) and Tate (Evan Peters). Billie Dean Howard (one of Paulson's many characters this season of AHS: Apocalypse) predicted Michael Langdon, the son of a spirit, would be the Antichrist. He's living up to that destiny, whether viewers like him or not.
"I love Michael. I have never had more fun in my life playing a character than I've had playing Michael Langdon. He's so delicious. He's so layered and complicated. He's got such a strong sense of purpose when we see him in the Outpost in the post-apocalyptic world," Fern said. "Now that we're going back in time, we're seeing a kid who's coming to understand his purpose, who doesn't necessarily know what it is or how to achieve it, so he's not in control of his emotions, he's not in control of the room, who needs people to help him achieve what he's achieving.
"I will say that I don't worry about making Langdon likable at all, because his concern is not being likable. There are going to be people who hate the way that I'm playing Michael or hate Michael Langdon. Look, if people hate Michael Langdon, that's a good thing. I'm not going to debate that. I don't worry about making him likeable…My real focus in playing Langdon is making his intentions clear and how he operates and what his mission is and how he shapes the perception of who he is around people," he continued. "There's such a stark difference in what we see in the Outpost 3 and what we see as a teenager. Next week we're going back to the Murder House, we're going to see another completely different side of Michael Langdon. We're seeing the evolution of him as a character, which is really thrilling that he wasn't always this person that brought about the apocalypse. I see him as righteous. So, there's that."
In the sixth episode of AHS: Apocalypse, viewers will learn more about Michael's past when Madison (Emma Roberts) and Behold (Billy Porter) travel to the house of horrors at the center of the very first season of American Horror Story. The episode, which was directed by Paulson, also features the return of season one stars, Britton, Dylan McDermott, and Jessica Lange as Constance Langdon, Michael's grandmother. This is Lange's first appearance on the FX series since season four, American Horror Story: Freak Show.
"We're going to see a younger Langdon and we're going to start to see the inception of how he came to be who he is. We're going to see Constance! There are going to be a lot of fan favorites returning and a lot of surprises. I would say it's easy to judge Langdon in the state that he's in, especially in [episode five] or in the post-apocalypse but watch out how Langdon is used and betrayed and broken. What happens when people are pushed to the edge, how they become who they become," Fern teased.
Fern had nothing but praise for first-time director Paulson.
"I'm so thrilled about that episode. I can't wait to see it…Sarah is one of those people—she is so remarkably talented, but to just say that Sarah is just talented is almost short-changing her because she's also one of the most fierce risk-takers and incredibly generous artists that I've ever met and imagine will ever meet," he said. "I'm so excited for her and the episode, it was so much fun working on."
American Horror Story: Apocalypse airs Wednesdays, 10 p.m. on FX.