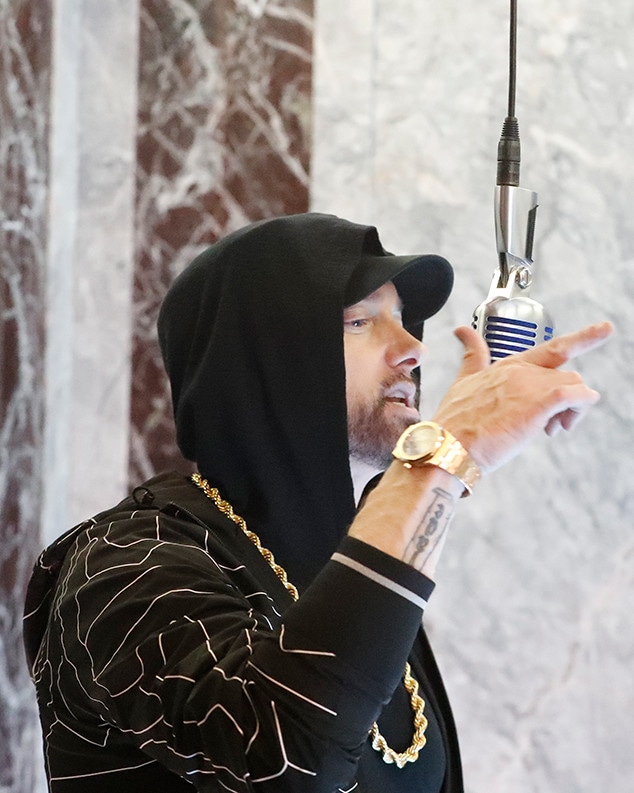 ABC/Randy Holmes
Eminem took his music to new heights on Monday's episode of Jimmy Kimmel Live! by performing his new hit "Venom" from the top of the Empire State Building.
A music video showed the rapper entering the famous tower in all black and picking up a microphone placed on the security desk. As he walked throughout the empty building, he proceeded to drop a few beats and make his way to an elevator, where he found a new hanging microphone. Turning the elevator into his own personal studio, Eminem continued to rap the song's lyrics all the way to the top. The Marshall Mathers star then found a new microphone and continued to bust rhymes from the top of the skyscraper. Meanwhile, the tower's lights flashed different colors throughout the song, providing the ultimate backdrop.
At one point in the video, Eminem experienced some technical difficulties and his microphone stopped working. Luckily, Kimmel's trusty parking lot security guard Guillermo Rodriguez was there to save the day and offer him a new one. As the two rode the elevator together, Eminem provided a little historical context on the building and recommended an exhibit on the 80th floor. Still, he was able to finish the song and perform from the top.
"Jimmy, we good? Can I get down from here now?" he said afterwards.
Watch the video to see the full performance.
The song is from Eminem's new album Kamikaze. 
The performance kicked off Jimmy Kimmel Live!'s weeklong visit to Brooklyn. In addition to Eminem, this week features special appearances by Adam Sandler, John Krasinski, Cardi B, Julia Louis-Dreyfus, Bryan Cranston and more.