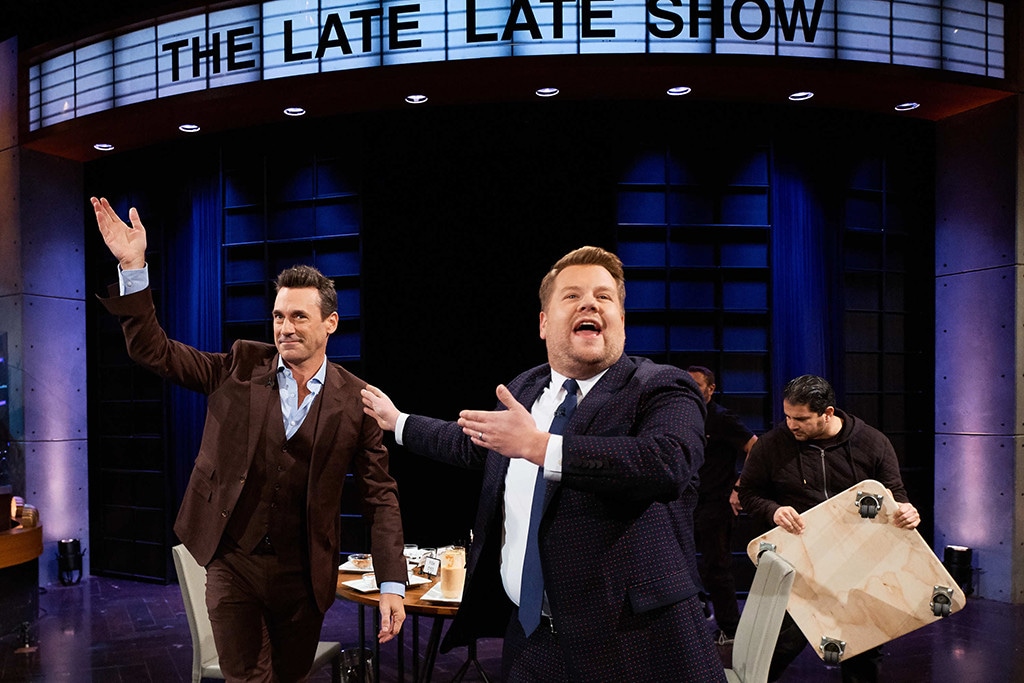 Terence Patrick/CBS
Jon Hamm was given a choice last night: "Spill Your Guts or Fill Your Guts."
The Bad Times at the El Royale star was a guest on CBS' The Late Late Show, where he joined James Corden for the revealing and revolting game. Since he had never played before, Corden explained they would each ask the other controversial questions—but if they wanted to pass, they would have to consume bird saliva, a bull's penis, a chili cheese dog smoothie, cow blood and pork tongue jelly, fish eyes, hot sauce, pickled pigs feet or tarantulas in exchange for their silence. Upon seeing the bull's penis on the spinning menu, the 47-year-old actor joked, "That seems like it was horribly sliced up in a bad accident—like the bull got it caught in his zipper!"
Throughout the game, Hamm asked Corden three questions:
• "Who's your least favorite guest that you've ever had on the couch?"
• "Name your least favorite Jon Hamm movie."
• "Rank your fellow late-night hosts from best to worst: Colbert, Fallon, Kimmel."
Corden answered one of the three, revealing Tag is his least favorite movie Hamm has done.
For his first two questions, Corden asked Corden these prompts:
• "Rank these Batmans from best to worst: George Clooney, Christian Bale and Ben Affleck."
• "Who is one person you've worked with that you never want to work with again?"
Hamm declined to answer both times.
For his final question, a blushing Corden got the giggles. "John, there's been a lot of talk online about what people refer to as 'The Hammaconda,'" he said. "Show me with your hands, how big 'The Hammaconda' really is." As people cheered, Hamm teased, "First of all, how dare you!"
Bring his hands closer together, Corden said, "Roughly, tell me when to stop."
"Uh, about 15 minutes ago!" Hamm quipped.
As Hamm contemplated whether to answer the question or eat a bull's penis, Corden tried coaxing him into giving up the goods. "Are you sure you want to eat it?" he asked. "My mum's in the audience. She only came because she wants to find out how big 'The Hammaconda' is!"
To find out what Hamm did next, watch the video now.
The Late Late Show with James Corden airs weeknights at 12:35 on CBS.