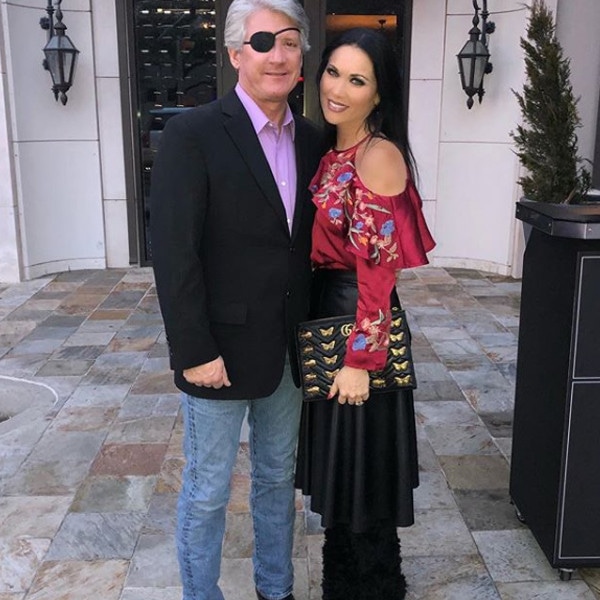 Instagram
Is she or isn't she getting married?!
That's the question some of LeeAnne Locken's co-stars on The Real Housewives of Dallas can't help but ask this season on the hit Bravo show.
But as D'Andra Simmons and Brandi Redmond continue to express their doubt and concerns about LeeAnne and Rich Emberlin's relationship, the bride-to-be is fighting back.
"I don't know if you can hear it in my voice but I'm in such a happy place. I'm bursting with joy," LeeAnne shared with E! News exclusively. "That must really piss them off."
According to the Bravo star, wedding planning "is going fabulous" and the couple has paid for their wedding date, which will be held at the Cathedral of Hope in Dallas.
"Reverend Neil Thomas will be marrying us. That is our LGBTQ church here in town," she revealed. "And my wedding dress designer just agreed to do my dress…Things are just really moving forward. When you know you're doing the right thing and you're living the right way, you just don't fear."
While viewers may not see LeeAnne's fiancé on the show week after week, they have seen co-stars bring up accusations that the couple is living separate lives and don't even want to say "I Do."
Ultimately, LeeAnne says nothing that D'Andra and Brandi discuss bothers her anymore. Instead, she's just looking forward to her future that may include a televised wedding.
"Yes, I want you to see the wedding. I want you to be a part of the wedding," she assured viewers at home. "I want you be through the whole journey. My girlfriend has a crazy idea for a bachelorette party, which I am humping the floor for. I am so excited. There's so much inside my brain that's going to happen and I'm dying for it all to happen."
While LeeAnne isn't revealing who from the cast will be part of the big day, she is hopeful that a majority of them will be active participants in the celebrations. At the same time, she has a warning for those who may not be the most supportive.
"If you cannot be happy for me, then I do not want you to be around for the happiest moment in my life. And it's my day," she shared. "I just want to be happy. If you want to show up at the reception and throw shade, I am not opposed to getting scrappy in my dress. But my wedding in God's house will be respected and held to the highest standard."
Outside of wedding planning, fans can count on a whole lot of surprises later this season. Just look at the exclusive sneak peek of tonight's episode above. In addition to a wild cast trip and charity events, some strong friendships will be built that not every viewer will see coming.
"You've seen the relationship with Stephanie Hollman getting stronger and you're about to see a wonderful strong relationship happen with Cary Deuber and I," LeeAnne teased. "And honestly, everything that goes wrong with D'Andra, it's okay to let her go as a friend because I've gained two people who love honestly as much as I do."
She added, "You'll see in coming episodes that they really have my back in situations that I didn't think you'd ever see."
The Real Housewives of Dallas airs Wednesday nights at 9 p.m. only on Bravo.
(E! and Bravo are part of the NBCUniversal family)