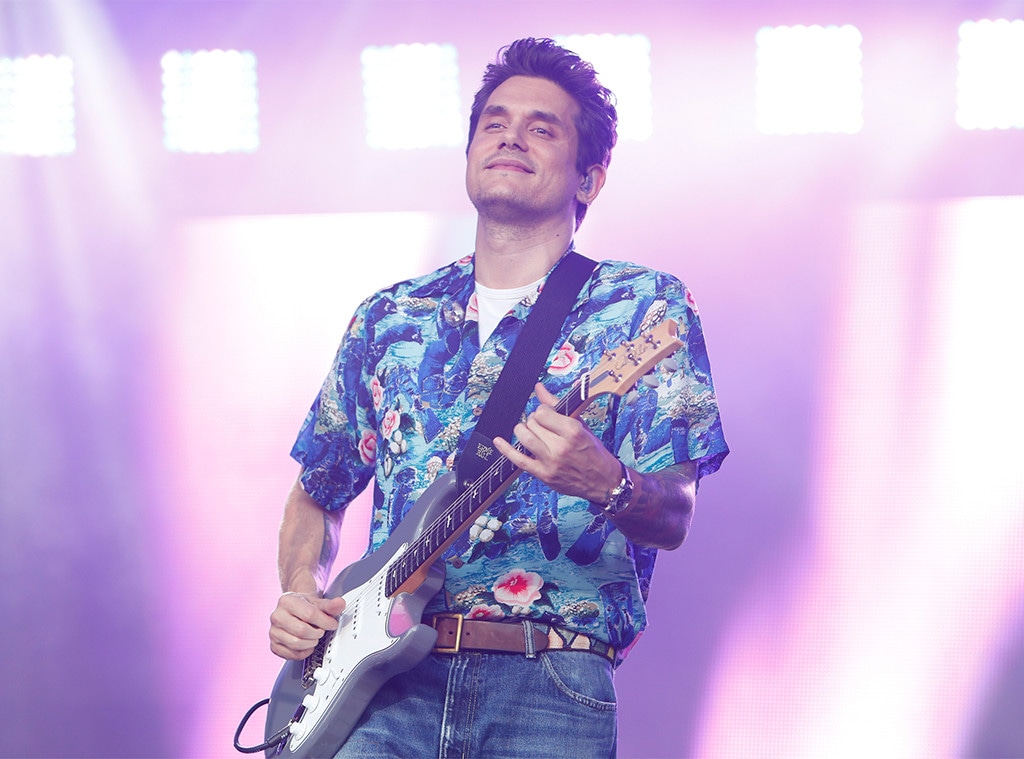 ABC/Randy Holmes
Once upon a time, John Mayer said too much.
In 2010, the Grammy-winning artist, with his bedroom eyes and bedroom songs, had acquired a bit of a ladies' man reputation for himself, and it was starting to backfire.
So, he figured, why not go ahead and finish the job.
"Blowing me off is the new sucking me off," he lamented to Rolling Stone in the Feb. 4, 2010, issue—which coincidentally also featured a Q&A with a 20-year-old burgeoning super-star named Taylor Swift who was about to move into her own place for the first time, and who may have dated the shirtless, heavily tattooed lothario on the magazine's cover.
During the course of the profile, Mayer also lamented the end of his relationship with Jennifer Aniston and the end of his chance to be understood, because nothing he did in a public forum would ever not attract the wrong kind of attention. Then, to Playboy, he went and called Jessica Simpson "crack cocaine" and their time together "sexual napalm," and continued to complain about being pigeonholed as the guy who'd been with so many women merely because he'd been with a heck of a lot of women.
"I've never been a bad boy," he insisted to the men's magazine. "I may have taken someone through the wringer psychologically, but I've never been sinister."
This was a case of peak Mayer, and even Mayer knew it.
"I am a very…I'm just very. V-E-R-Y," he told Playboy, predating "extra" by about six years. "And if you can't handle very, then I'm a douche bag. But I think the world needs a little very. That's why black people love me."
Everything just ran even more off the rails from there (as in, he used the n-word while talking about his enthusiastic black fan base), so we'll just stop right here to assess his self-awareness. Level at the time: simultaneously high (he could see why some people might think he was a d-bag) and nonexistent. 
As Mayer could have predicted, the Internet was not kind.
Dimitrios Kambouris/Getty Images for VEVO
"I am sorry that I used the [n-] word," he tweeted afterward. "And it's such a shame that I did because the point I was trying to make was in the exact opposite spirit of the word itself. It was arrogant of me to think I could intellectualize using it because I realize that there's no intellectualizing a word that is so emotionally charged.
"And while I'm using today for looking at myself under harsh light, I think it's time to stop trying to be so raw in interviews...It started as an attempt to not let the waves of criticism get to me, but it's gotten out of hand and I've created somewhat of a monster. I wanted to be a blues guitar player. And a singer. And a songwriter. Not a shock jock. I don't have the stomach for it. Again, because I don't want anyone to think I'm equivocating: I should have never said the word and I will never say it again."
Mayer already had an ambivalent relationship with social media by then, and it would only grow rockier.
Meanwhile, he was fully feeling the effects of "Gravity" when he emotionally told a Nashville audience that night, "I quit the media game. I'm out. I'm done. I just want to play my guitar."
At least those words would come back to help him.
He had pretty much written his ticket on the d-bag express, but then that October, Taylor Swift proceeded to fire a shot across the bow with "Dear John" off of her Speak Now album, which Mayer, assuming he was the intended target, took very personally.
"I never got an e-mail. I never got a phone call," he later told Rolling Stone, calling it "cheap songwriting." "I was really caught off-guard, and it really humiliated me at a time when I'd already been dressed down. I mean, how would you feel if, at the lowest you've ever been, someone kicked you even lower?"
And then, in a very eerie turn of events, especially when you consider how much Mayer insisted he planned on shutting up about certain things, he was, in fact, literally silenced by forces beyond his control.
After laying down most of his fifth studio album, Born and Raised, which he was really excited about, the "Waiting on the World to Change" singer was forced to be quiet after being diagnosed in the autumn of 2011 with a granuloma, an inflammation on the vocal cords that threatened the vocal portion of his livelihood. He opted to have surgery—always a risk—and hope for the best possible outcome. He didn't get it. The procedure and ensuing treatments of Botox injections to paralyze his vocal cords (so they could rest) weren't working, and when combined with the persistent overuse of his voice and acid reflux exacerbated by poor eating and drinking choices, his throat resisted healing completely. He finished his album in early 2012 and the granuloma came raging back.
Eventually another doctor pumped him full of exponentially more Botox—and when the results looked promising, he did it again.
Mayer didn't even speak for three or four months.
"I was forced to type on my iPad to communicate anything," Mayer told Billboard in March 2013, on the eve of his first tour since his medical crisis. "It wasn't liberating. Is breaking your leg liberating? No. All complexity is gone when you don't have a choice."
He also decamped around that time to Paradise Valley in Montana, where he grew his hair a bit longer, acquired some hats and soaked up the solitude, far away from the Hollywood scene.
"My wiring was off for a while there," Mayer told Men's Journal in the summer of 2012. "But you don't buy a place in Montana unless you've figured it out...I've never had a panic attack looking out over a mountain."
He was also writing songs and playing guitar, and his alternate career as a sideman who can both deftly fade into an ensemble and steal the show, like the rock star he is, was born.
"It's like a basketball team—you are doing your best to help the team win," he told Rolling Stone last year about performing as part of Dead & Company, which he's been doing since 2015. "I've never in my life been in that situation, and it's everything I always wanted. I am a pig in s--t." (Incidentally, he had also stopped drinking and taken up "cannabis life" instead.)
Paul Buck-Pool/Getty Images
He had amassed some memorable guitar moments over the years, including his instrumental solo performance of "Human Nature" at the star-studded 2009 memorial for Michael Jackson at Los Angeles' Staples Center, and when he accompanied Alicia Keys on "No One" at the 2007 Grammys. 
But it wasn't until the scary period when he didn't know if he'd ever sing again that, previous Grammys aside, established him as a sought-after artiste—or at least one whom you're no longer surprised to see performing alongside everyone from Frank Ocean to the Primetime Emmys orchestra (true story from 2016) to Dave Chappelle (they joined forces on the half-comedy, half-tunes, all-intriguing "Controlled Danger" tour) to Travis Scott.
The cameras panned out two weekends ago to reveal Mayer jamming alongside Scott in an unexpected appearance on Saturday Night Live. He's also on the line-up to perform at the big memorial benefit being held in L.A. for Mac Miller on Oct. 31.
Basically, it's 2018, and John Mayer's everywhere.
It goes to show, that even in cases when the hype overwhelms, as it did when Mayer overdid it trying to prove he was a serious, seriously misunderstood guy with Deep Thoughts in 2010, the fans remain. He may have been a hot topic for awhile, but Mayer's career hardly suffered from his loose lips. As would be the case years later with, coincidentally, Taylor Swift—a big flood of Twitter hate doesn't usually represent an actual loss of fandom or a decline in commercial popularity. Swift had the biggest social media-driven faux pas of her career in 2016 and, after taking a year off, she sold out stadiums and arenas everywhere on her reputation Tour and was just named Artist of the Year at the American Music Awards.
Which, incidentally, is a popularity contest.
And in addition to retaining the faithful, Mayer has picked up some new fans over the years as he toured with Dead & Company, his sound matured, he matured and the extent of what we're dealing with when it comes to John Mayer has become more apparent.
He's even found a happy medium on social media, his irreverence, off-the-cuff wit and bemused yet sage way of looking at the world proving a good fit for Snapchat and Instagram Story.
Not that Mayer, who's celebrating his 41st birthday today, has figured it all out yet, or isn't ever pretentious about his craft or prone to accompanying himself on violin. Nor has he stopped being a handsome, charismatic, famous guy, experiencing all the highs and lows in life and love that roll of the genetic dice entails.
But being labeled a womanizer so early on in his career still stung a decade layer, and that's one of the misconceptions he still seems intent on putting to rest.
"That's always bothered me," he said in an April 2017 interview on Charlie Rose, "and I think if you really look into all of the times where it all sort of went dim for me, and my mouth kept going and my brain wasn't there, I think it's... See, I've been me my whole life. I've watched me. You make these decisions in life, you do the right thing, you give yourself a pat on the back...But there's nothing like the Hollywood machine getting your information wrong. And I give a lot of information. I'd be much better off if I had short answers. It's less TNT to wire up, right?
"When they inevitably get it wrong 'cause I'm putting out so much information, this idea of 'womanizer' comes in. And to say I'm bristling at it is an understatement. It is a complete distortion of who I am and breeds this idea that, 'well, if you've got this so wrong, then I'm going to be as wrong as you think I am.'"
He said a moment later, "All I want to do is get back to where it's clean. 'Here's who I am, here's what I do, I promise you I'm this, I promise you I'm not that, I mean well.' You can get lost in that."
He had an off-and-on relationship with Katy Perry for over a year that resulted in their collaboration "Who You Love," on his album Paradise Valley, and then inspired "Still Feel Like Your Man," on last year's The Search for Everything.
"Who else would it be about?" he replied when The New York Times asked if the song was about Perry. "And by the way, it's a testament to the fact that I have not dated a lot of people in the last five, six years. That was my only relationship. So it's like, give me this, people."
He expounded more to Charlie Rose, saying, "I think of the last person that I parted ways with. I process that very deeply. I get to process that with music. I was in a relationship—I don't mean to play coy about not using proper nouns."
Speaking from personal experience, Mayer continued, "I like to look out for other people's mornings, when they open up the computer. It's too easy to sort of spawn these other stories and then it creeps into other people's minds... it reverberates, you know...But I have to watch disingenuousness, right? Like I'm on the alert for disingenuousness, because...I can't play dumb. But I also don't want to sort of rattle somebody's cage on a morning when somebody picks up the story 'cause they love proper nouns, right? However, I can't sit here and say I have not done a duet with Katy Perry."
"I won't let myself sit here and say, 'well, that's a mum word'—it's not a mum word," he insisted with an air of defiance. "And what's difficult to explain to people is that's about where it ends as a proper noun, and it becomes what everybody feels when they end a relationship."
Mayer said he would love to put out songs in a vacuum if he could, with no one applying their own ideas of context, but he's very much aware that's not how it works.
"I would like to see the [songs] I like the most become the biggest," he acknowledged to host Sean Evans in a May appearance on the web series Hot Ones as he sampled increasingly spicy wings (he took an antacid first to ward off the reflux). "That would be fun."
"I think we get tied to our songs a little more than we might deserve," he concluded, strains of "Your Body Is a Wonderland" strumming through his head.
Mayer had told the New York Times last year that he wished there was a partner in his life to throw his 40th birthday party, that he hopes to have the baby in noise-canceling headphones by the stage one day—but he's still figuring that part out. During the New Year's Eve stop of "Controlled Danger" with Chappelle at the L.A. Forum, he said he had abandoned his youthful fancies of finding a benevolent cardiologist supermodel, or some such other combination that doesn't frequently exist in nature, in favor of someone who would just "be nice" to him. (Perhaps 41 will be the year for finding that rare gem of a woman.)
In the meantime, in addition to broadening his own musical and comedy horizons, he's thrown his support behind younger artists such as Justin Bieber and Shawn Mendes, knowing how easily the distractions can get overwhelming at a tender age.
"The most incredible thing I learned from [Mayer] is that no matter how much experience you have, you never are done learning; there's always something to be learned," Mendes told People about his mentor in May.
"Shawn's just a better version of me in a lot of ways," Mayer told Zane Lowe on Apple Music's Beats 1, also in May. "Shawn's like John Mayer 2.0, without the weird software viruses. It's like, I was a beta version of a celebrity and he's just...a better version of a celebrity than I ever was. He's not as volatile—but I like where I've ended up, put it that way. Now that everything's sort of flattened out and we've leveled out at cruising altitude, it's lovely. I feel like my ambitions have settled down. I've retired from a certain type of ambition, which I think is right."
He still goes out to his spread in Montana, he said on Hot Ones, "when I feel like I'm turning into too much of the thing that I don't like being—like a little bit of it's really fun and too much of it just has a paradoxical effect and you turn into an alien."
2018 John Mayer self-awareness assessment: Promising.