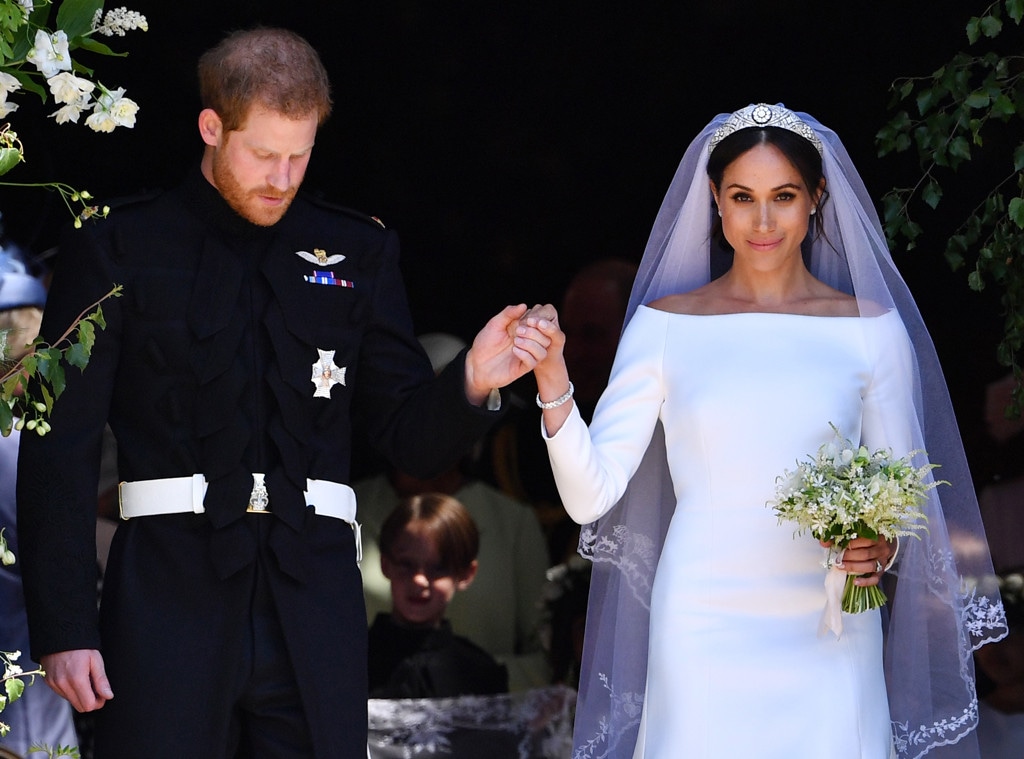 BEN STANSALL/AFP/Getty Images
In the past five months, Prince Harry and Meghan Markle have come a long way. And we're not just talking about the 10,000 miles they flew to Sydney for the start of their first official tour.
Since the day Rachel Meghan Markle pledged to love and to cherish (but not obey) Prince Henry Charles Albert David, she has aced her first solo outing with Queen Elizabeth II, the pair giggling away like old pals, produced her first charity project, hosted a Kensington Palace event and mastered the art of the royally appropriate outfit (say yes to panty hose and tea-length hems). And while much was made by the pearl-clutching set about her supposed faux pas (remember the time she dared cross her legs at the knee?!), she's handled the attention with aplomb, keeping her upper lip stiff and her hair perfectly tousled. 
As she told Vanity Fair last fall, confirming the obvious that yes, she'd been thoroughly charmed by England's beloved prince, she has a way of focusing on the important parts and letting the outside noise fall away. "The only thing that changed was people's perception," she said. "Nothing about me changed. I'm still the same person that I am, and I've never defined myself by my relationship." 
At least not the romantic one. Because try as she might to keep the attention on her endeavors to change the world (predictably, the thoroughly modern princess will key in on causes that benefit female empowerment), the antics of her father, Thomas Markle and, by extension, his children, continue to pull focus. 
And how can they not? Though Thomas has, for the time being, stopped offering his two pence to any outlet that will listen as he compares the royals to either "Scientologists or the Stepford family," Meghan's half-sister Samantha Markle has doubled down on her cries for attention. Just last week she took her Twitter show on the road, appearing at the Kensington Palace gate, letter in hand, then maddeningly declaring that she didn't just show up because "I'm not that tacky and rude." As for the missive she crafted for her estranged sibling, well she couldn't possibly share that. It's private...for now. 
"I wanted to express the feelings of my father and myself in the letter," she shared via satellite interview with DailyMailTV from her Ocala, Fla. home. "And I can't say exactly what was in it. The world will just have to wait and see."
So with Meghan's relatives showing their willingness to set their own hair on fire for attention, for awhile it seemed the only recourse for the famously stoic family was to keep calm, carry on and not engage, a strategy that was proving to be only moderately successful. 
That is, of course, until Meghan, 37, flipped the script. Because who cares about a few outspoken family members when there's a royal baby on the way? 
Having given Princess Eugenie and her groom Jack Brooksbank their weekend in the spotlight—Meghan's ever-so-slightly voluminous Givenchy coat only pulling a bit of focus—the Duke and Duchess of Sussex delightedly shared their news via Kensington Palace's twitter mere hours after touching down in Australia, presumably in hopes of avoiding 16 days of near constant speculation over baggy sweaters and skipped champagne toasts. 
Though there were more than a few glasses clinked at Eugenie's reception where Meghan and Harry chose to share their news with his parents, siblings and Grandma Liz. Naturally, the Queen, Prince Prince Philip, Prince Charles, Duchess Camilla, Prince William and Kate Middleton were said to be delighted to hear about the new heir, expected to arrive just weeks before Mom and Dad's first anniversary. 
As one might expect, Meghan's mother Doria Ragland is equally thrilled, with a Kensington Palace spokesperson sharing she "is very happy about this lovely news, and she looks forward to welcoming her first grandchild." 
As for her dad? Well, he should be able to take some solace in knowing that he was on point when he told Good Morning Britain, "I don't think there is a stork in the air yet but I think it will happen sooner or later." (Though as overly eager prospective grandparents tend to do, he could have been merely trying to speak it into existence.) 
But it doesn't appear the happy announcement has fully thawed the cold war transpiring between Thomas and his in-laws. For the time being, Meghan and Harry seem to be sticking to the tried-and-true stoicism that's been on tap for generations. Best to ignore the unsightly problem and deal with it privately rather than speak out and give it a longer shelf life. 
That's not to say that strategy has been particularly easy for Meghan.
While delivering a temporary freeze out to her relative may have grown increasingly bearable as her dad's riffs grew more outlandish (see: musing about how it might be easier on her if he were to die), she still remains devastated by his actions. Though she has no intentions of reaching out until she feels she can fully trust him not to report the details back to TMZ, she does have moments where she wants to defend herself, explain to people that she's not the heartless Cruella de Vil-type her sister is trying to paint her out to be. But "Harry would never let her" address the issue publicly, a source told Us Weekly. Having lived and learned, the 34-year-old knows "It only makes things worse."  
So when he isn't talking his bride off the proverbial ledge, he's stepping into the role of protector as he's done since their romance first went public and he had to put detractors—and their racist, classist views—in place. Unable to silence her family, he's using his powers to keep the press at bay, causing some in the royal rota to grumble about their new, more distant placement at events. 
"He worries there is too much hysteria around Meghan and he wants to row back a bit," a source told Vanity Fair back in August. Both he and Meghan "expect a code of silence. If you talk to the press you're out. Harry didn't used to care that much about what was written [about him], he just said it was a load of shite, but he's very protective of Meghan and defensive these days."
So no wonder he's been shuttling her out of London any chance he gets. 
"They spend a lot of time in the Cotswolds, more than people realize," one pal told the mag of their country cottage on the bucolic 4,000-acre Great Tew Estate. (That is, when they're not hanging with George Clooney and Amal Clooney at Lake Como.) "They are in the country way more than they are in London and they are enjoying a low-key and very domesticated start to married life."
Some 90 minutes outside London they aren't exactly dropping in for tea with their neighbors. "It's very clear they want to be private and left alone," a local told Vanity Fair. "The property is in the middle of woodland and you wouldn't know it was there. It is very remote which is why they like it. It's like a fortress. There's a huge security presence, you can't get close."
All the better for Meghan who's had to adjust to the most glaring of spotlights in a window much tighter than Kate enjoyed when she first crossed paths with William back in their university days. Sure, she had already achieved some notoriety as a regular on Suits, but cable TV actress fame doesn't come close to mimicking the microscope the royal family is under. And socializing with the likes of Priyanka Chopra and Serena Williams isn't quite the same as exchanging bon mots with the Queen. 
Daniel Leal-Olivas - WPA Pool/Getty Images
"Once you become immersed with the royals, life does change, and you're trying not to make mistakes," etiquette expert Liz Brewer said on The Royal Box. "You're trying to be approved of. You can be made to feel that small." (That'd be roughly an inch tall, as she indicated with her fingers.) "There are people dictating how to behave," she said. "You know, protocol. Protocol is different to etiquette, it's to do with precedence. Who enters the room first, who's an heir to the throne." And should you slip up, "you are aware that you will be told when you've done something wrong. It can be quite lonely being a member of the royal family, even with somebody as wonderful as Kate and with a husband as sensational as Harry."
Not that Meghan has allowed any of that negativity to dull the shine of her new role. Even before learning she would be literally adding to the monarchy with her little Lady or Earl (unless Queen Elizabeth steps in, their child will not receive an official HRH title), Meghan was excited about the contributions she would make to The Firm. "She takes it very seriously and wants to make a difference," a source told ET. "She's mindful that she's representing the Queen and the royal family and doesn't want to put a foot wrong." 
John Stillwell/PA Wire/AP Images
So as pals predict that the power couple will change the world, she's been having fun envisioning just what that might look like, particularly with Harry's role as the commonwealth's youth ambassador. It's a project he has always made clear he sees as a group effort. Referring to his bride-to-be as "another team player" in their November engagement interview, he shared, "What we want to do is be able to carry out the right engagements, carry out our work and try and encourage others in the younger generation to be able to see the world in the correct sense rather than perhaps being just having a distorted view."
And now, of course, they'll be shaping one young mind from the very start. Having passed the all-important 12-week mark in her pregnancy and still "feeling well" as one source told People, Meghan is ready to embark on her first official tour relatively worry-free. Even the moderate risk of Zika in Fiji and Tonga isn't holding her back, the pair having consulted with their doctors about their chances of contracting the mosquito-transmitted virus that is known to cause birth defects and choosing to forge ahead as planned. 
Over the course of their two-plus week stay, the duo are set to enjoy activities such as visiting with a local surfing group committed to raising awareness for mental health at Bondi Beach, cuddling with koalas at Taronga Zoo and naming two recently hatched kiwi chicks in New Zealand. 
And should that give them the drive to dream up a few monikers of a different variety, well, the world already has some ideas. Within hours of the pregnancy announcement, bookies were already taking bets on the likelihood of Baby Sussex being an Alice, Arthur, Philip or Victoria. The odds-on favorite, though, is Diana, a move seen as the ideal tribute to Harry's beloved late mum. 
Not that there's much more Princess Diana could have hoped for beyond seeing her precious youngest born happily settled with a strong, independent woman who spoke of a pull toward activism and a desire to have a family long before she was being courted by England's most charming prince. "Diana wanted her sons to be 'men first and princes second,'" The Real Diana author Lady Colin Campbell told the Daily Express in May. "That was her goal."
And Harry's? Beyond his dreams of continuing the work his mom started in the fight against HIV and quite simply finding a way to be happy, he's been eager to become a dad for quite some time. "I've longed for kids since I was very, very young," he admitted in a 2012 interview with Katie Couric. "And so, I'm waiting to find the right person, someone who's willing to take on the job."
In the fairytale version of the story, the perfect princess would simply stumble into his life one day after he tired of his youthful antics and declared himself undoubtedly ready to settle down. And in real life, thanks to an assist from childhood pal Violet von Westenholz, that's pretty much how it went. "The fact that I fell in love with Meghan so incredibly quickly was a sort of confirmation to me that everything, all the stars were aligned," Harry shared of his happily ever after that began with the most successful of blind dates. "Everything was just perfect. It was this beautiful woman just sort of that—she tripped and fell into my life; I fell into her life."