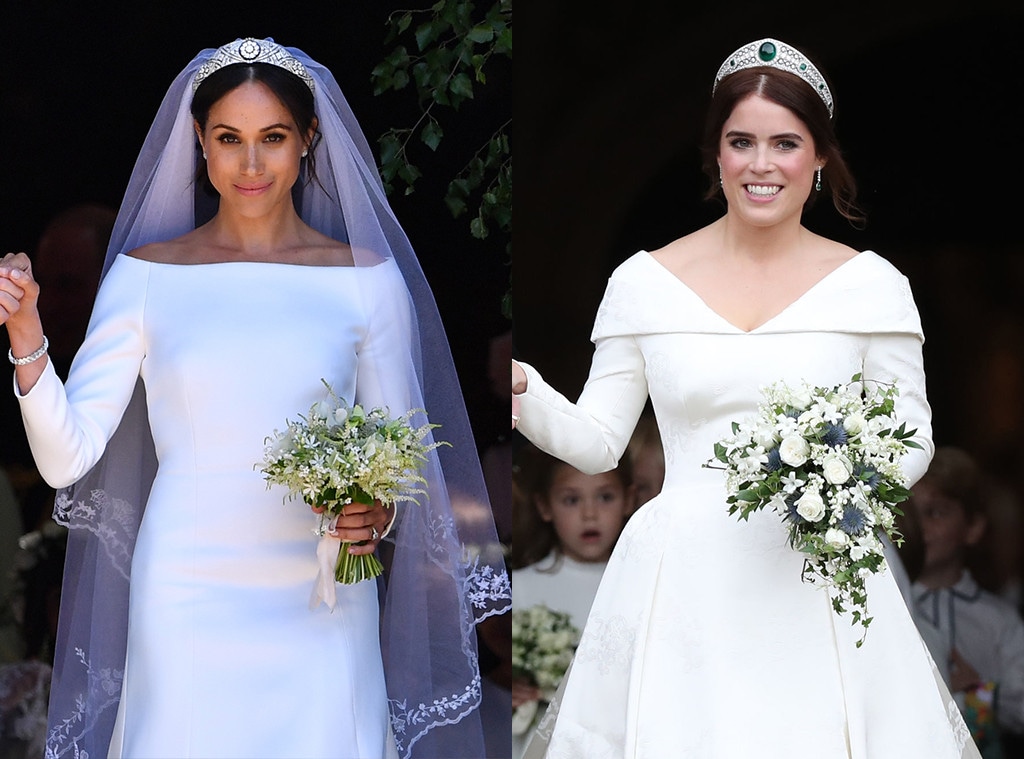 WPA Pool; PA Wire
Just months ago, Meghan Markle wed Prince Harry at St. George's Chapel on the grounds of Windsor Castle in a traditional and classy event that set the bar high for all weddings to come. However, on Oct. 12 Princess Eugenie and Jack Brooksbank rose to the high-expectations and proved that the royal family can plan a wedding like nobody's business.
While many aspects of Meghan and Harry's weddings were mirrored in the Princess' nuptials, it is clear the two weddings had vast yet equally tasteful differences in style and represented the stark contrasts between the two pairs. 
For Meghan's fairy tale vows, inspiration was drawn from her humble California roots, in addition to the traditional tastes expected of Harry, as someone who is in line to the throne. This was reflected in the classy, modest gown Markle modeled and the Gospel choir chosen for their ceremony.
Then, there is Princess Eugenie and Jack, who are both traditional Brits, but who also have an appreciation for modern art. 
All these details contributed to the subtle and obvious differences that created the iconic weddings, which were viewed across the globe.
Watch:
Princess Eugenie's Royal Wedding: By the Numbers
The Bridal Gowns:
Both ladies truly had a high bar set for them when Kate Middleton walked down the aisle for her wedding to Prince William in 2011, but both managed to  wow the crowds with their unique gowns. 
For Meghan Markle, she chose to wear a bateau-necked Givenchy gown in May, which was accessorized with a delicate lace veil, and a tiara from the Queen. Her dress made a stark contrast to Middleton's lace dress, but suited the occasion perfectly. 
Princess Eugenie effortlessly blended the styles from both previous brides by donning a Peter Pilotto gown that was classic like Meghan's but featured all the delicate details similar to Kate's Alexander McQueen gown. Similar to Kate's dress, Princess Eugenie had her dress made with a long and pleated train, to give it more dimension. 
One unconventional choice the Princess made that set her apart from her fellow Royals was her decision to forego a veil, instead opting to show case her back. This was largely due to her desire to have her scar in view, as a way of showing solidarity to others diagnosed with scoliosis. "I think you can change the way beauty is, and you can show people your scars and I think it's really special to stand up for that," she said via ITV News.
The Venue: 
Both brides walked down the same aisle for their big days, but both made their nuptials unique in their own way.
Since Markle's wedding took place in the spring, flowers and spring accents decorated the historic chapel. The bride and groom choose white roses and other white flowers as the decorations which were the backdrop for all their wedding photos.
In contrast, the fall weather and Princess Eugenie's background in contemporary art influenced the color scheme for their wedding venue. The rustic design of the church and the entrance were accented by autumn colors like yellow, red and brown, with pops of brighter colors interspersed throughout. 
Despite the seemingly fall theme, the Princess paid tribute to an artist by using a painting as the design for the pageboys and flower girls' sashes. These details were carried into other parts of the wedding, like with their five-tier cake.
The Reception:
As most weddings do, the two ceremonies were followed by a reception, although in most cases the Queen of England is not likely to show up at just anyone's wedding. For her grandchildren, she makes an exception and hosted a lively luncheon for guests to mingle. While Meghan and Harry's was limited in size—they only invited 200 of the 600 guests in attendance—Princess Eugenie and Jack Brooksbank hosted all 800 of their guests at the castle for the daytime reception. 
Not to mention the equally A-list guests they hosted at their ceremonies. 
They also both hosted evening receptions full of dancing, drinking and many laughs, but Princess Eugenie's wedding might've been a bit more lively considering Jack is a brand ambassador for Casamigos Tequila.
Princess Eugenie and Jack Brooksbank took their celebrations up a notch by planning another celebration for the day after. The festivities were a more relaxed occasion for guests, with a carnival theme and plenty of food to help the guests recover following the previous night's partying. 
One other detail that set the occasions apart include Princess Eugenie and Jack Brooksbank's decision to leave the reception in a silver DB10 Aston Martin, originally made for the James Bond movie Spectre.