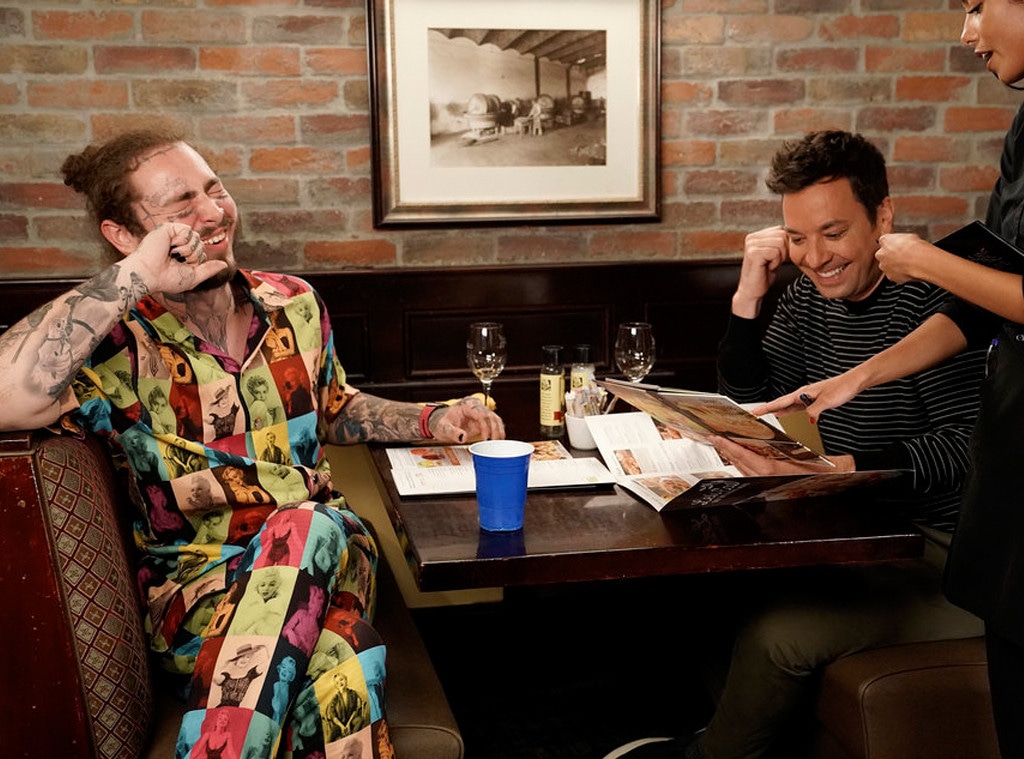 Andrew Lipovsky/NBC
Your first visit to Olive Garden is always life changing.
Just ask Jimmy Fallon who decided to experience the restaurant chain for the very first time with Post Malone on The Tonight Show Starring Jimmy Fallon.
On Thursday's all-new episode, cameras rolled as the pair headed to the Times Square location in a pink stretch limo.
Once they arrived, Jimmy was immediately blown away by the food and drinks available.
While wearing his olive pants, the late-night host discovered the opportunity to receive free wine samples. But then came the unlimited bread sticks that you'll immediately be craving after watching the video below.
"Take your butter knife. Cut about 2 millimeters of butter. Just put it on. Cheers," Post Malone advised his dinner date.
"The contrast," Jimmy replied after following the rapper's advice. "It's garlicy. It's salty. It's buttery. It's hot and it's cold."
Two extra crispy chicken parmesans with rigatoni and marinara arrived next. And before the duo could call it a night, Jimmy had one more surprise.
He told the waitress that Post Malone was celebrating his birthday—it's actually July 4. Oops!  But that didn't stop the staff from singing "Happy birthday" and delivering a complimentary dessert.
Will these two back sooner rather than later? We think the answer is clear. Besides, they haven't even started exploring the Never Ending Pasta Bowl starting at $10.99. If that's not a steal, we don't know what is.
The Tonight Show Starring Jimmy Fallon airs weeknights at 11:35 p.m. on NBC.
(E! and NBC are part of the NBCUniversal family)