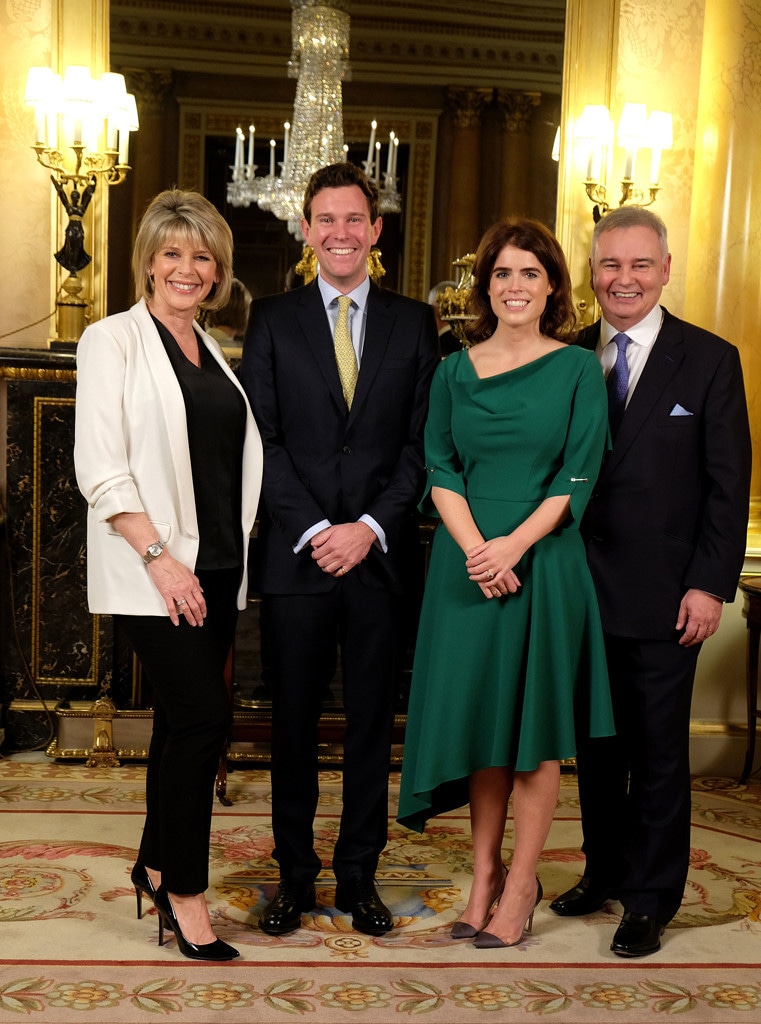 Royal Communications/PA Wire
When Princess Eugenie laid her eyes on fiancé Jack Brooksbank for the first time, she immediately knew he was her prince charming—even though his style was a tad questionable.
"It was love at first sight with this boy," the bride-to-be proclaimed. And while her heart was aflutter at the sight of him, a part of herself also recoiled because of his style choices. The Princess of York laughed as she recalled the first thought that popped into her head when she met the then 24-year-old. "I thought, 'What a silly hat'", she joked to the hosts of This Morning. 
Their meet-cute took place while they were on a skiing trip in Switzerland, where they both happened to be staying at the same friend's chalet. Jack insists he saw her first, while Eugenie doesn't remember. Nonetheless, Eugenie said when he came over to introduce himself and shake her hand, she was "all butterflies and nervous." 
"I think I rang my mum that night and said, 'I just met this guy Jack,' and that was it," she explained. "That was how it all started."
While it may have been love at first sight for the princess, she wasn't too sure the feeling was mutual. "I remember being like, 'I really, really like this guy, I really want him to like me too,' and then you gave me this huge windscreen wiper wave and that was it: 'Right, he likes me,' " the Princess recalled.
Now, nearly eight years after they met near Verbier, the couple is tying the knot in a traditional yet modern ceremony at Windsor Castle on Friday morning. A majority of the Royal Family is expected to attend the nuptials, with the exception of Camilla, who has prior engagements to attend to. 
Congratulations to the soon-to-be newlyweds!