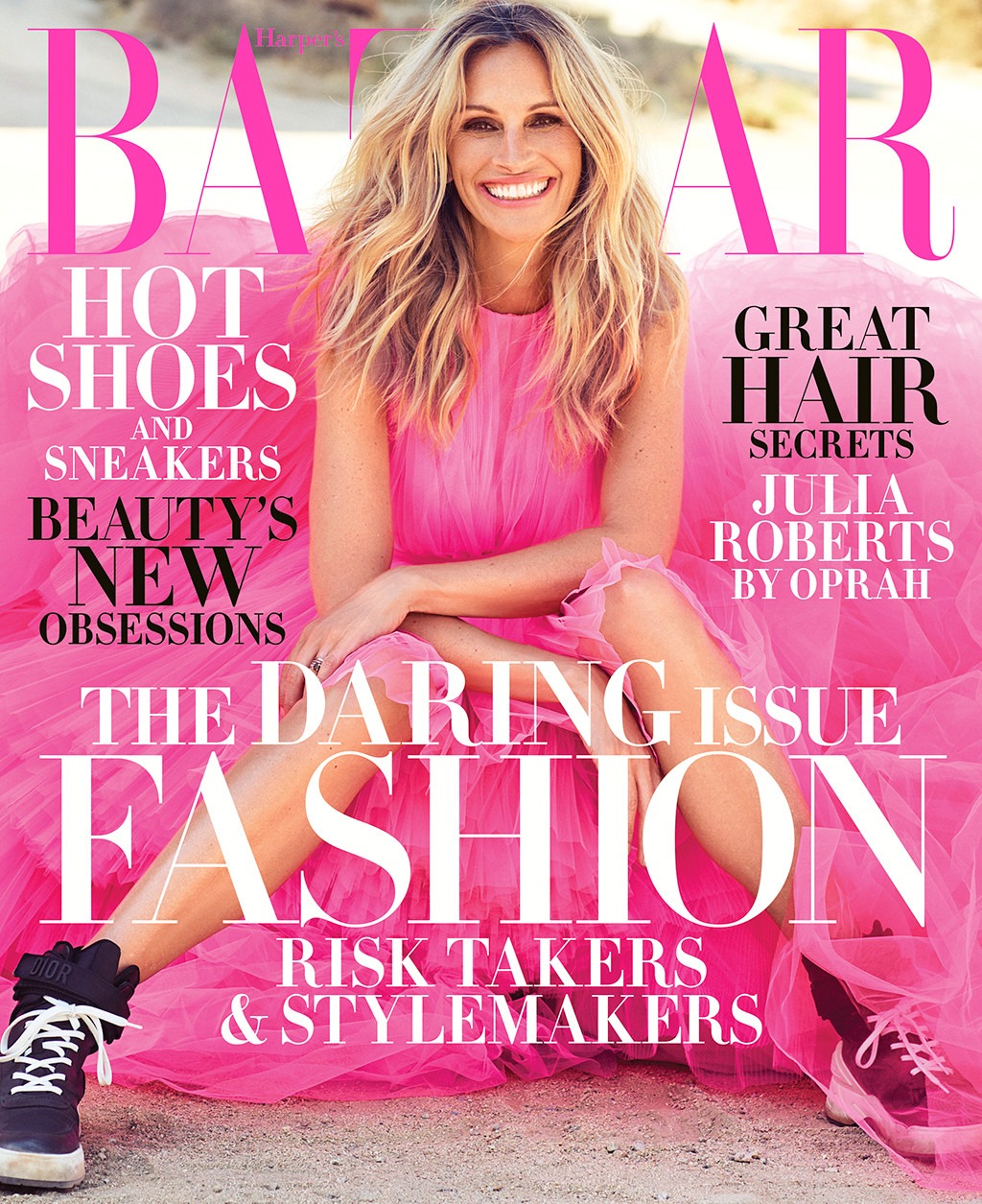 Alexi Lubomirski/Harper's Bazzar
To millions of movie lovers, Julia Roberts is—and will always be—regarded as America's Sweetheart. But to her three children with cameraman Danny Moder? She's just mom. "I don't think they will ever have a true sense of that," Julia tells Oprah Winfrey in Harper's Bazaar's November issue (out Oct. 23). "I think I told you once when they were starting to figure it out, it was like, 'You're famous?' And I said, 'I think a lot of people might have seen the movie that I'm in or might know who I am.' Maybe an hour goes by. 'Are you more famous than Taylor Swift?'"
In their wide-ranging interview, the superstars bond over having their respective relationships picked apart in the tabloids. "I couldn't imagine if we had children and every other week there's some story about him leaving me, me getting dumped, or me leaving him. I know you have experienced this very thing," Oprah tells Julia. "Are you able to keep that away from your kids?"
"For the most part," Says Julia, who married Danny in 2002.
Alexi Lubomirski/Harper's Bazzar
"Sometimes we are in the grocery store and I won't even know something is out, but we'll see a tabloid and we'll all be standing there like, 'Oh, that's uncomfortable. This is really uncomfortable.' It can still hurt my feelings, because I'm so proud of my marriage. We just celebrated being married for 16 years this Fourth of July, and there's so much happiness wrapped up in what we've found together. What I like is when they write, 'The $150 Million Divorce,' and then a week later a different tabloid says, 'The $275 Million Divorce,'" she says, before adding, "I'm like, 'Well, somebody got a paycheck in the last week. This is getting good.'"
Oprah and Stedman Graham have faced similar struggles—and like them, Julia is over it. Even so, she also gets it. "There's too much weight and content in the truth," she says, "as opposed to the kind of cotton-candy, weightless, pointless destruction, breakup thing that sells tabloids."
Julia regained control of her own story when she joined Instagram—at her kids' insistence, of course. "It's definitely a balancing act, and it's been tricky figuring out what to post because I am private, but I am also friendly. I know that Sarah Jessica Parker, who is a friend and a person I really admire, has an incredible Instagram," she says. "She has conversations with people." To prevent any unsolicited negativity, "The only people who can comment are the people I follow."
Alexi Lubomirski/Harper's Bazzar
Julia adds she learned something "about what it's like being a young person in today's society" after appearing in one of her niece Emma Roberts' Instagram photos. "One weekend morning Emma slept over, and we got up and were having tea and playing cards and having this beautiful morning, and then a couple of days later she posted a picture of us. And the number of people who felt absolutely required to talk about how terrible I looked in the picture—that I'm not aging well, that I look like a man, why would she even post a picture like this when I look that terrible! And I was amazed at how that made me feel. I'm a 50-year-old woman and I know who I am, and still my feelings got hurt. I was sad people couldn't see the point of it, the sweetness of it, the absolute shining joy of that photo," she says. "I thought, 'What if I was 15?'"
"I was so happy that happened because I had this whole new glimpse into a way of living that I didn't get at all. You have to go through things to understand them," the Homecoming actress admits to Oprah, "and this was just a little paper cut of what can really go on with social media."
For more from Julia, pick up the November issue of Harper's Bazaar, on newsstands Oct. 23.