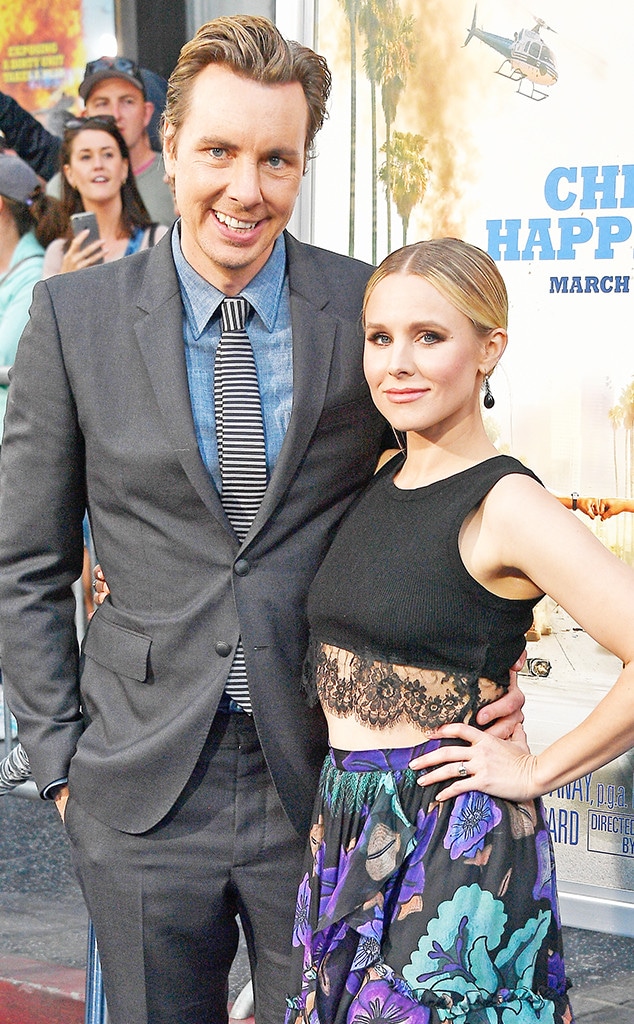 Frazer Harrison/Getty Images
Dax Shepard is here to say his sex life with his wife Kristen Bell is just fine, thanks.
The Armchair Expert podcast host posted a screenshot on Instagram today of a tabloid requesting a comment from the actor about potentially "having a threesome" with someone. The email read, "Star is working on a story in which a source says that Kristen Bell and Dax Shepard have discussed having a threesome and toyed with other kinky things, like S&M and role playing. Sources say that Kristen believes this is insurance against marital meltdown."
He was given a deadline of 12:00 p.m. EST on Thursday to  comment. Instead of replying to the email (which he may have done), he blasted the story and called it "bulls--t." He wrote, "The only offensive thing about this bulls--t story is that @kristenanniebell isn't doing all this kinkiness out of horniness, but rather a desperate attempt to save her marriage. I think we all know Bell is a lot more gangster than that."
Bell weighed in on Instagram as well. She re-posted her husband's screenshot and captioned it in the most Kristen Bell way possible. She wrote, "Id love to comment, but its hard to talk with this ball gag in!"
On Tuesday night, Shepard posted two videos to his Instagram Story of him in bed next to Bell. In it, he wore a face mask made of aloe and manuka honey (he pronounced it "padooka honey") while Saran wrap encompassed his face. "Hey guys, just about to wind things down for the evening," he said. "I'm trying to get rid of some redness and my wife advised I do this with some cactus pulp or whatever is on my face."
The only S&M there is skincare & moisturizer.
Bell and Shepard have had each other's backs on social media all the time. In September, she shared a long and thoughtful tribute to her husband on his 14th sobriety birthday. While they've been open about the things that annoy each other—including Shepard being a nuisance in the airport security line—the two of them are always praising the other. 
He's  proven himself to be a handyman around the Shepard-Bell house, even fixing their daughter's bike while shirtless. For that, he earned the nickname "#dadbeast."  They have also been open about seeking couples counseling throughout their whirlwind relationship.
On Valentine's Day, The Good Place star shared her relationship advice and what makes her marriage to Shepard unique. She wrote in an Instagram note, "Loving someone despite their faults, failings, or character defects, is the most powerful loving thing you can do."
She concluded her advice with, "Know that everyone is doing the best they can with what they've got. So get a bigger emotional tool box to fit your problems."