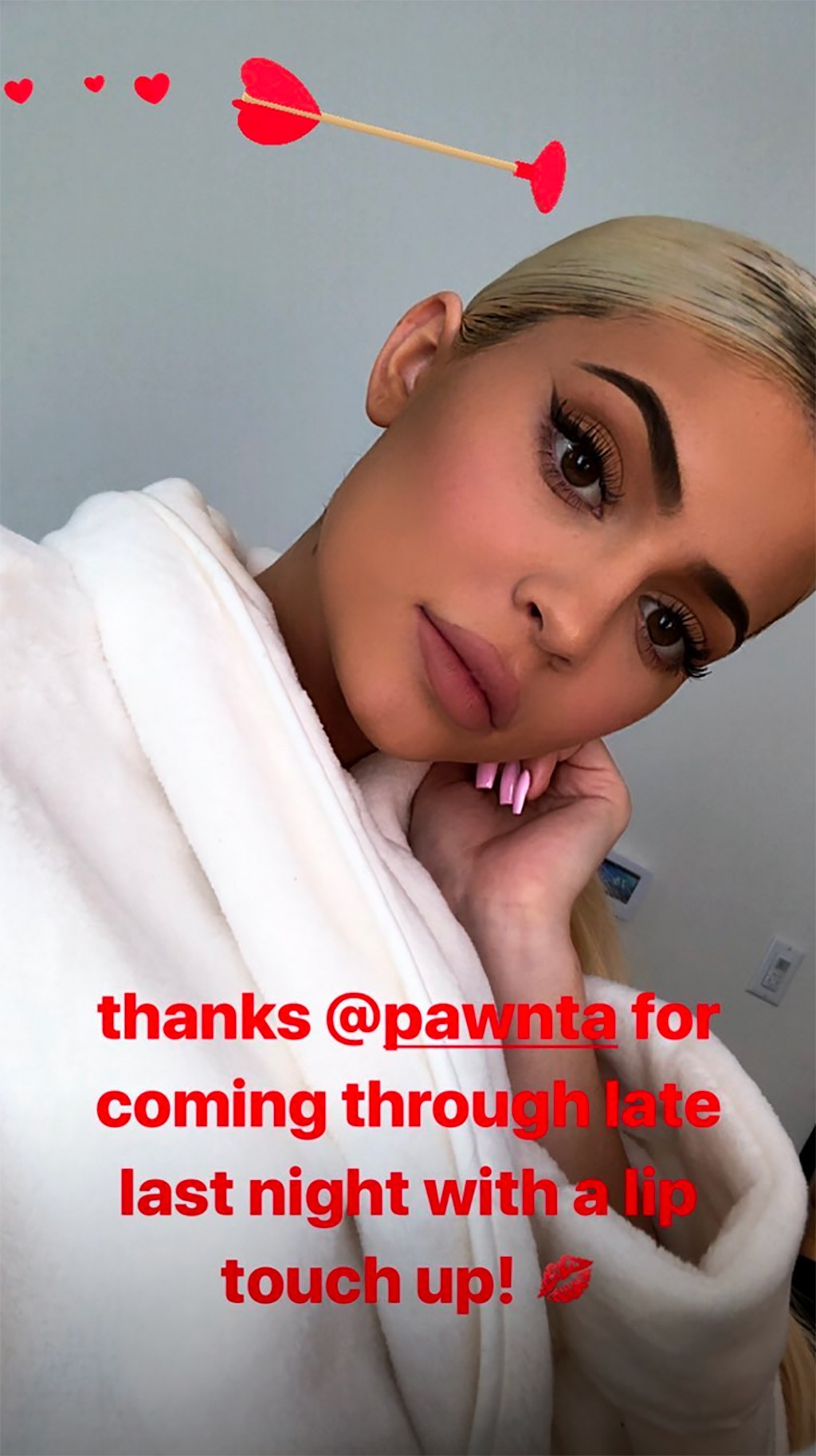 Instagram Stories
Kylie Jenner's love affair with love injections isn't over.
The 21-year-old Keeping Up With the Kardashians star and Kylie Cosmetics founder revealed Tuesday she is once again plumping her pout. On Instagram Stories, she thanked Pawnta Cosmetic Dermatology of Beverly Hills "for coming through late last night with a lip touch up!"
With significantly fuller lips, Jenner posed for a photo in a white robe.
Calling her client a "beauty queen," Pawnta replied to Jenner on Instagram. "It was amazing seeing you again," she commented. "Your lips look amazing on that gorgeous face of yours."
"The current trend of 'less is more' has always been my philosophy. My goal for Kylie was to create a natural lip shape aesthetically pleasing with a little extra pout," Pawnta shared with E! News via e-mail Wednesday. "It's all about the placement of the injectable filler and not the amount of filler. I prefer lips that are the perfect complement to one's natural facial features."
The move came as a surprise to some fans. The reason? Just three months ago, after a fan on Instagram noticed she "looked like the old Kylie" again, Jenner replied, "I got rid of all my filler." At the time, she did a Twitter Q&A and said her daughter Stormi Webster, now 8 months old, looked like her "twin"—with one exception. "The one thing I was insecure about, she has. She has the most perfect lips in the whole entire world," she wrote. "She didn't get those from me."
Jenner first confessed to getting lip fillers in 2015 on E!'s Keeping Up With the Kardashians, amid speculation she'd had work done. "I have temporary lip fillers. It's just an insecurity of mine and it's what I wanted to do. I want to admit to the lips, but people are so quick to judge me on everything, so I might have tiptoed around the truth," Jenner admitted. "But I didn't lie."
Last year, Jenner gave more insight into what led her to get injections. "I was 15 and I was insecure about my lips—I have really small lips. It was like one of my first kisses, and a guy was like, 'I didn't think you would be a good kisser because you have such small lips.' But I took that really hard. Just when a guy you like says that, I don't know...It just really affected me," she confessed on E!'s Life of Kylie. "I just didn't feel desirable or pretty. I really wanted bigger lips." Before she found a semi-permanent solution, she said, "I would overline my lips with lip liner just to create the illusion of bigger lips. And then, finally, I was like, 'This lip liner isn't doing it.'"
Earlier this year, Jenner said she is not pursuing any other cosmetic procedures. "I feel like if it makes you feel better, and if that's what you want to do, I'm not against it," she told Kim Kardashian in an Evening Standard Q&A. "Right now I probably wouldn't do anything, actually."