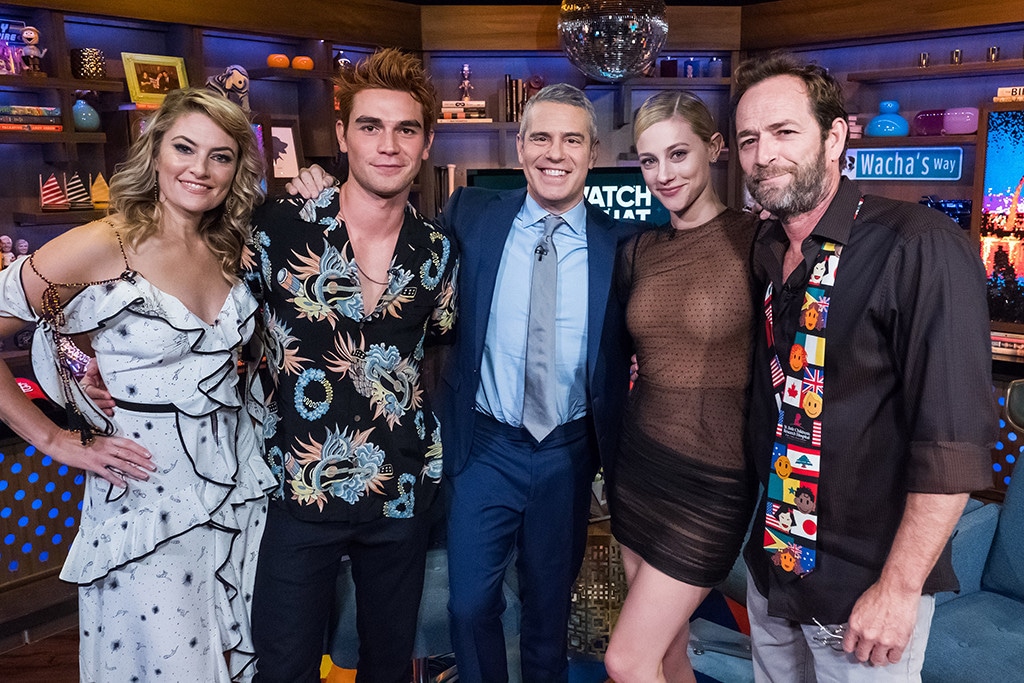 Charles Sykes/Bravo
Would Riverdale exist without Beverly Hills, 90210?
Decades after Luke Perry became a household name for playing Dylan McKay on Aaron Spelling's primetime soap, the actor joined the cast of The CW's teen noir as Fred Andrews. To promote the show's third season, Perry was a guest on Bravo's Watch What Happens Live With Andy Cohen Tuesday, along with co-stars Mädchen Amick, KJ Apa and Lili Reinhart. Naturally, Andy Cohen connected the shows and asked Apa and Reinhart to reenact a memorable scene.
Before it even began, Cohen declared, "This is iconic!"
In the latest installment of the recurring "Clubhouse Playhouse" segment, Apa and Reinhart recreated the dramatic breakup scene between Dylan and Brenda Walsh (Shannen Doherty), which broke the hearts of millions of fans when the show's second season debuted in July 1991.
After getting set up in front of a green screen, the scene began:
Apa: "What's wrong?"
Reinhart: "Everything."
Apa: "I mean, it's not the end of the world."
Reinhart: "When we first started going out, I thought you were so sexy. It was so exciting how we flirted and everybody looked at us. And then I fell in love with you."
Apa: "I fell in love with you."
Reinhart: "And I trusted you enough to have sex."
Apa: "I know. What are you saying?"
Reinhart: "It all feels too much right now—worrying about condoms and birth control pills and getting pregnant and what my parents are thinking. I think we need to stop seeing each other."
Apa: "OK, Bren, stop worrying about what your parents think and worry about how you feel!"
Reinhart: "I have! I know what I'm feeling!"
Apa: "No, you don't! You're afraid. That's not enough of a reason."
Reinhart: "Dylan, I do know what I'm feeling. And I need to break up with you."
Apa: "No. No!"
Reinhart: "Dylan, I'm sorry."
Perry had a ball watching them, while Cohen raved, "That was real intense! It was really good!"
The third season of Riverdale premieres tonight at 8 p.m. on The CW.
(E! and Bravo are both members of the NBCUniversal family.)