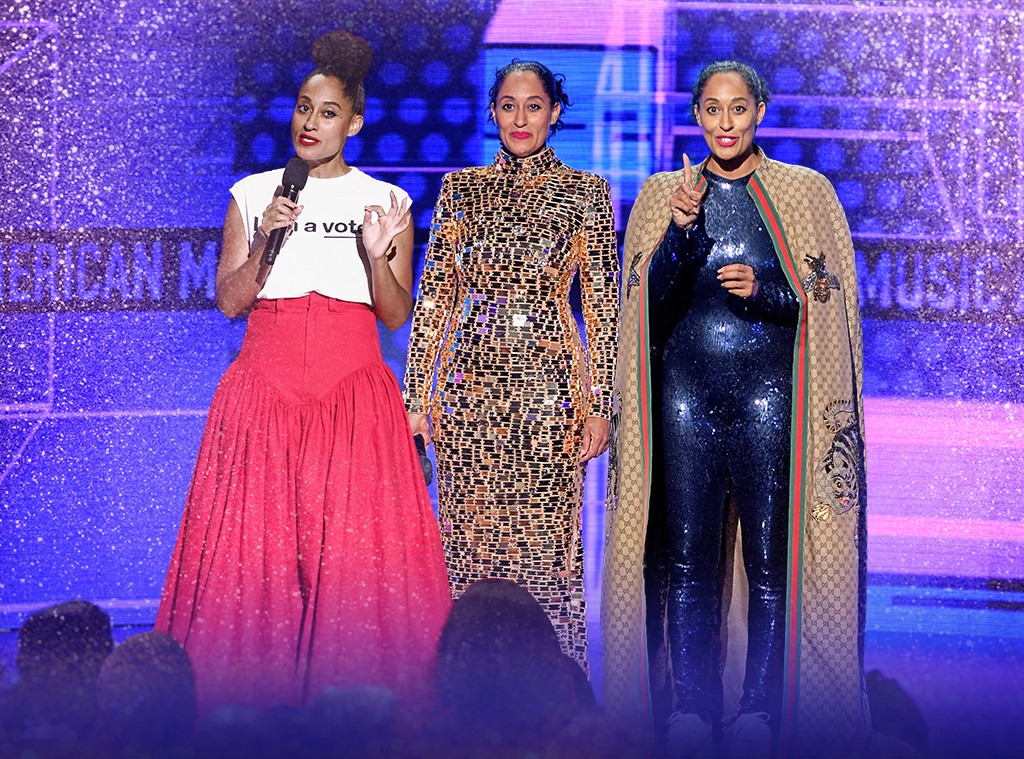 Getty Images/Melissa Herwitt, E! Illustration
When it comes to hosting the 2018 American Music Awards, Tracee Ellis Ross goes all out in the style department. 
With the help of pro stylist Karla Welch, the Black-ish star strutted into Tuesday night's award show with not one, not two, not even nine like last year, but a whopping 10 costume changes. As the two-time host proclaimed before the start of the show, the looks weren't pulled solely for their style, either. 
"I've featured black designers in all of my @AMAs press looks, and will do the same for all my show looks tonight!" she confirmed on Twitter ahead of her headline-sparking opening medley dance number.
"For the American Music Awards, from press to stage, I featured Black designers in my looks. Not every piece of what I wore was by a Black designer, but I wore a Black designer in every look and Pat McGrath on my face," the star later explained on social media. "It was the story I wanted to tell and Karla Welch made it happen. I was inspired by Issa Rae and Jason Rembert, who did it first at CFDA Awards back in June. I strongly believe in using my platform to shine light in directions I believe in, and I believe in, love, and celebrate my people."
Watch:
Tracee Ellis Ross Talks Hosting 2018 AMAs, In-N-Out and More
The star kept her promise as she kicked off her own glamorous fashion show of sorts in an array of designs, from head to toe leopard print by Sergio Hudson to floor-length gold sequins by CD Greene. Fortunately for all the fashionistas watching, Ross was not interested in blending in. 
"That is what tonight is all about—having fun and clothes…it's also about clothes," she candidly declared at the start. 
As she joked after her 20-minute opening routine, "J.Lo, I do not know how you do this all the time." Well, Tracee, we couldn't handle 10 outfit changes and slay every one of them like you did.
Here's a recap of all of those fabulous looks, from the red carpet to the grand finale: