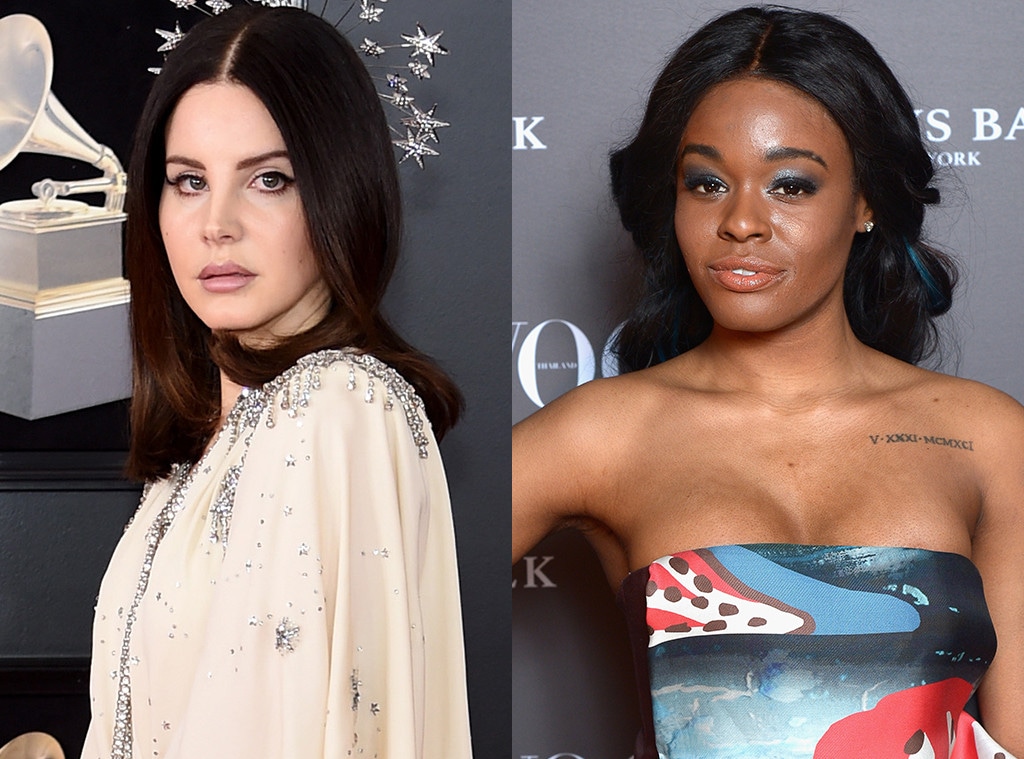 Jamie McCarthy/Getty Images, Dominique Charriau/Getty Images
Lana del Rey and Azealia Banks got into a heated Twitter feud on Tuesday.
It all started over an Instagram comment from September in which the singer called out Kanye West for supporting Donald Trump.
"Wow okay Lana, this would be cute if you were consistent with your outrage and refused to collab with ASAP Rocky who has physically assaulted women too," the rapper tweeted along with a screenshot of del Rey's comment. "To me this just looks like the typical White woman taking using a weakened target to 'pretend' to be an ally. Especially because you know that a white woman vs a black male will result in an immediate victory for the white woman due to societal circumstances."
She also claimed del Rey "wouldn't dare challenge a black woman on her opinion," arguing there is more of a "social prejudice in place" between sexes versus women.
As she continued her Twitter spree, the rapper claimed she shouldn't "use Kanye for your own vapid attempts to seem politically aware."
"Kanye is not your enemy or THE enemy," she continued. "In fact your selective outrage makes YOU the enemy. You approve of ASAP rocky because his victims weren't white. You're exactly the kind of thought police Kanye is fighting against...."
On Tuesday, del Rey fired back at the rapper's comments.
"@shopcheapyxo u know the addy. Pull up anytime. Say it to my face. But if I were you- I wouldn't," the "Summertime Sadness" star wrote before adding, "I won't not f--k you the f--k up. Period." 
But she didn't stop there. 
"Banks. u coulda been the greatest female rapper alive but u blew it," she continued. "Dont take it out on the only person who had ur back." 
Of course, Banks didn't take this lying down.
"First, we need her to call the surgeon who did her pointy Michael Jackson nose and ask for some kybella for those chicken patties!!" she wrote. "Next we need her to head over to Instagram and invest in some @FlatTummyCo lollipops and a $20 waist trainer!" She also made a comment about the "freckling, discoloration and sun spots you have on your body!"
Del Rey then responded, "I'll send you my surgeon's number and a good psychiatrist I know in LA – your psych meds aren't working #uneedanewcocktail."
"The same one that got you hooked on oxy? No thanks sis.... you're on your own with that," Banks fired back, later adding. "And of COURSE the white woman makes fun of mental health. Showing her truest colors! How'd that trump spell work out for ya sis??"
After a heated back and forth, Banks tweeted, "She's getting sued!"