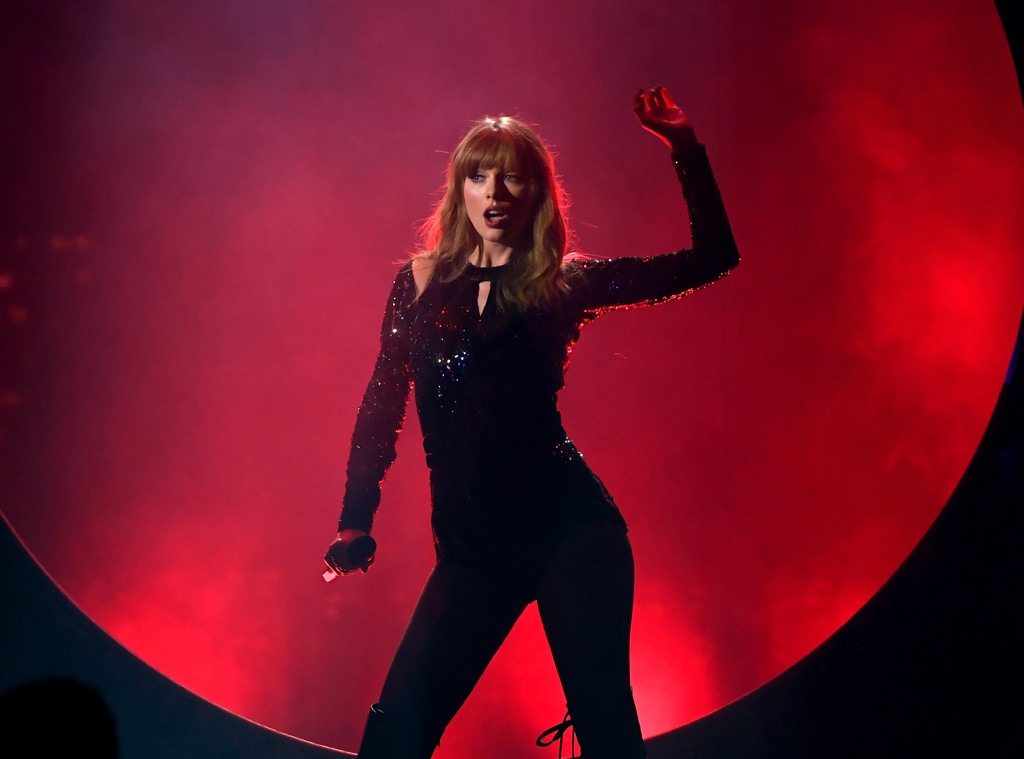 Kevin Winter/Getty Images For dcp
The 2018 American Music Awards are here!
Music's top performers have gathered at the Microsoft Theater in Los Angeles to attend the annual ceremony, including Taylor Swift, Cardi B, Shawn Mendes and Camila Cabello. Swift kicked off the evening with a performance of her song "I Did Something Bad" off of her Reputation album. After her stellar performance, Tracee Ellis Ross took the stage to host the ceremony.
As the show airs tonight, E! News is bringing you exclusive scoop from inside the ceremony. Want to know which stars are chatting in the audience? Want to know which celebs are dancing in their seats? We're bringing you all of those details throughout the evening! Let's take a look at all of the behind-the-scenes scoop you missed on TV!
1. Real Housewives star Kyle Richards and Mauricio Umansky are among the first celeb guests to arrive inside the ceremony.
2. Everyone in the audience is given a wristband which lights up and blinks red for Taylor Swift's opening performance of "I Did Something Bad."
3. After her win, Cardi B remains on stage dancing around and waving her hands up in the air and reaching down in to the crowd shaking hands and saying hello. She dances around off the stage while hoisting her award above her head.
4. After Tracee Ellis Ross finished her tag out to commercial with the voter registration message, she turned around and went to the edge of the stage and shouted a hello to Ashlee Simpson and Evan Ross. The family members briefly shouted back and forth from their seats and the stage.
5. The entire audience was going crazy for Cardi B during her performance. Everyone was up out of their seats dancing.
6. Sara Gilbert and Carrie Underwood chatted as they walked off the stage together after Underwood's win, the songstress was very careful to lift up her dress as not to trip over it while they were chatting.
Frederick M. Brown/Getty Images
7.  Rapper G-Eazy was the first celeb to stand and applaud Billy Eichner's speech encouraging people to register to vote in the upcoming midterm elections.
8. After receiving his award Shawn Mendes shook Billy Eichner's hand once again, before giving the lucky award presenter a hug. Then, as Shawn left the stage he reached his hand out in to the crowd to shake his fans hands. 
9. Cardi B is looking around and smiling and chatting up everyone around her after husband Offset accepted the award with Migos'. And people are congratulating Cardi B for his win, too! 
10. Post Malone stayed on stage and bowed after his performance and waved to some fans as he left the stage, with G-Eazy standing, clapping and pointing right back at him.
Frederick M. Brown/Getty Images
11. During the commercial break, audience members have a view of performances from years past, including Mariah Carey, Shania Twain and Whitney Houston.
12. Even as the curtain came down, the dancers continued to hold Dua Lipa after her performance ended.
13. While Tracee Ellis Ross chatted up Aaron Rodriguez, Jennifer Lopez bowed and thanked her backup dancers, seemingly "unaware" of her boyfriend and the hostess chatting away.
14. Taylor Swift was just returning to her seat after performing when her friend and fellow tour mate, Camila Cabello, took the stage for a performance. So, instead of taking her seat she stayed standing to applaud and cheer on her bud.
15. Miles Brown from Black-ish approached Cardi B to ask for a photo and Cardi was more than happy to oblige, with one minor hiccup: his arms were too short for a selfie so security had to step in. Then, Brown's co-star, Marsai Martin, got a teensy bit upset since she wanted to go with him to ask for a photo. 
16. Celebs got the full service at the award show, with waiters bringing drinks and snacks to the A-list audience members.
17. Attendees were slightly confused when Rami Malek announced Panic! at the Disco would be performing a rendition of Queen's "Bohemian Rhapsody," but they couldn't see the performers onstage.
18. In the goodie bags given to celeb attendees, they received a bag of popcorn from Popcornopolis and cupcakes from Sprinkles.
—Reporting by Spencer Lubitz.