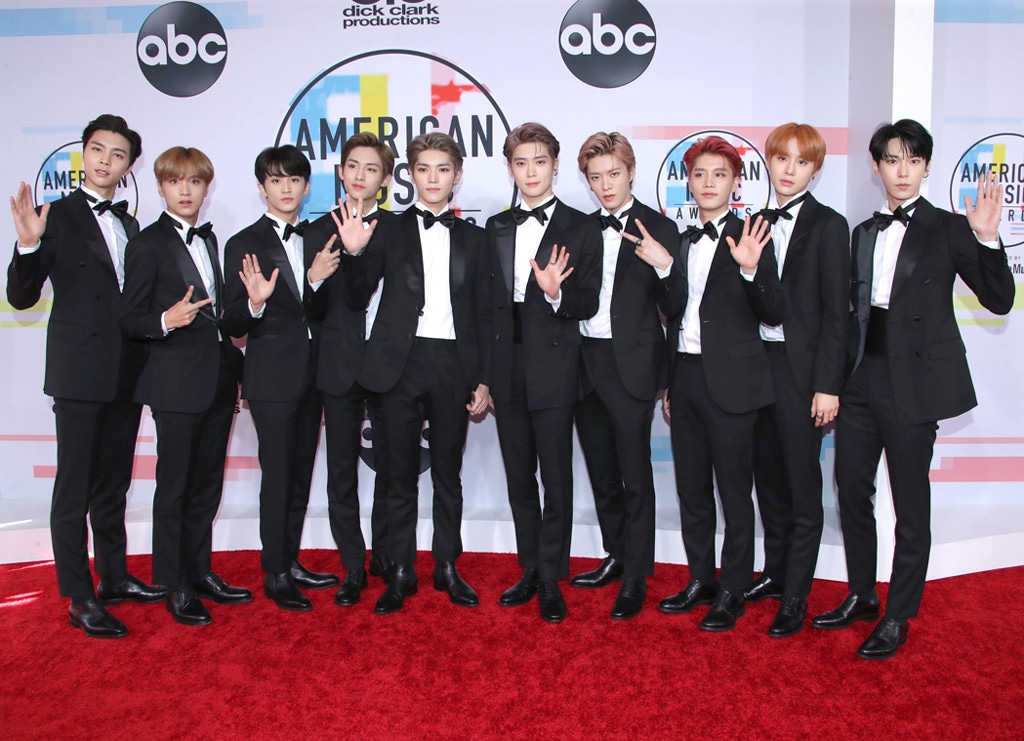 Matt Baron/REX/Shutterstock
Ultra popular K-Pop band NCT 127 made their red carpet debut tonight at the 2018 American Music Awards. The 10 men all looked dapper in black tuxedos. 
Last night, the band performed their new song "Regular" on Jimmy Kimmel Live! While on Jimmy Kimmel's show, the band dressed in matching red velvet suits and black boots. 
The song has since inspired an internet challenge called #RegularChallenge which requires people to shrug and say, "Regular, huh?" and pose. The boy band has done it while getting coffee, and hopes the rest of the Internet will follow.
On Oct. 8, NCT 127 joined Beats1 Radio's Zane Lowe where they discussed singing in English and even got an impromptu surprise call from the major key himself, DJ Khaled. The band contained zero chill when the famous rapper showed up on screen. "I wanna thank y'all for showing me love, man," Khaled said over FaceTime. "I'm honored that you say you even want to work with me!"
NCT 127 even met Khaled's adorable (and Insta-famous) son, Assad. There could even be some work between the two groups in the future. In terms of a collaboration, he said his trademark phrase, "Why not?!"
The band's music video for "Regular" includes a tiger, arcade racing games, fast cars and more. It's a pure adrenaline rush.
"Regular" is their first English-language song, which was fun but challenging for them. The band told Lowe, "Even for us English speakers it was hard because we were already used to recording in Korean. But we've realized we want to focus on spreading our music to the world, so we needed an English version of the song. We wanted our international fans to listen to it as well and we thought that as we were recording. So we all had to think of the vibe because it's different than Korean. We wanted to deliver that the best way we could."
The band isn't nominated for any AMAs, but their inevitable and quick rise on the music circuit will be anything but "regular."
Watch their music video for their new song above.