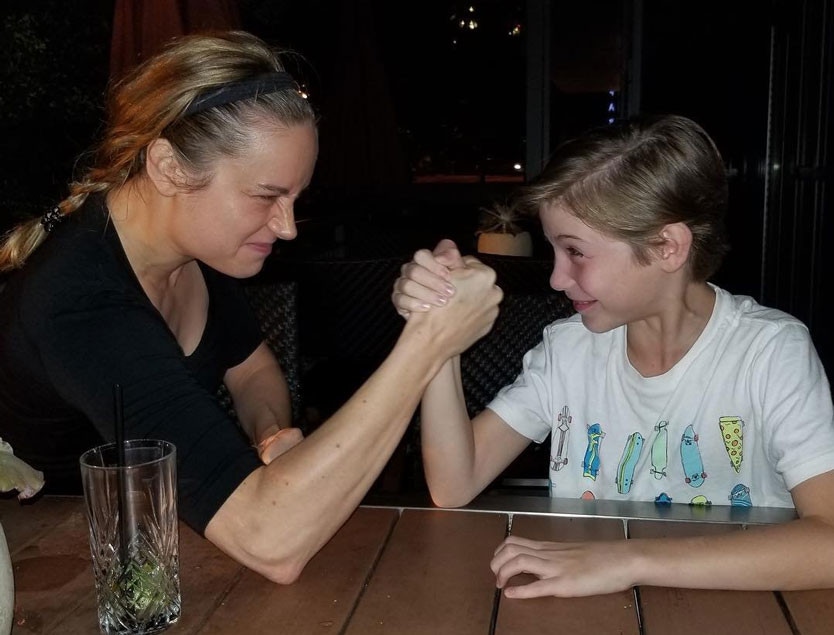 Instagram
Cutest co-stars ever?
Brie Larson and Jacob Tremblay, who starred alongside each other in the 2015 film Room, reunited on Monday and had an adorable wrestling match. The duo posted a cute picture of their match on social media, with Tremblay captioning his post, "Arm wrestling my old co-worker aka my bestie aka Captain Marvel...she won of course...I did give her all my strong ya know...#reunited @BrieLarson #sheismysuperhero."
Larson shared the same photo with her Instagram followers, telling them, "I love this kid."
The besties also posted a video to Larson's account saying, "We just arm wrestled, Jacob totally won, definitely won."
Eric Charbonneau/Invision for A24/AP Images
Tremblay then added that he "pulled out the table," and a laughing Larson told her followers, "He's gotten a lot stronger, he's got a lot more teeth."
Larson, who played Tremblay's character's mother in Room, won an Oscar for the role in 2016, hugging her co-star before taking the stage to accept her award. During her speech, Larson thanked Tremblay "my partner through this, in every way possible."
It's possible that the duo reunited to celebrate Tremblay, who turned 12 just days ago!
Take a look at more of Tremblay's coolest celeb run-ins in the gallery above!