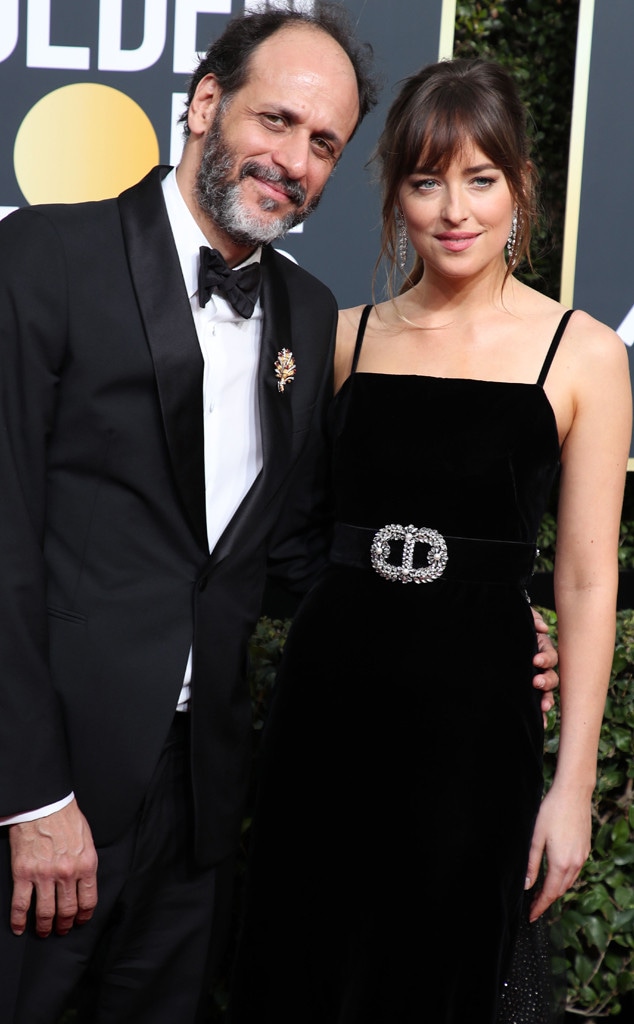 Chelsea Lauren/BEI/REX/Shutterstock
Call Me by Your Name was a fan favorite last Oscar season, so it's no surprise Luca Guadagnino is already contemplating a sequel.
The director opened up about the possibility during a recent interview with The New Yorker and talked about adding Dakota Johnson to the cast.
The idea should come as no surprise. After all, Guadagnino directed her in both the 2015 film A Bigger Splash and in the 2018 remake of Suspiria. He also seems to know exactly the kind of character he'd like her to play. According to the article, he's interested in having her play the wife of Armie Hammer's character Oliver.
"She has to be a New England kind of hoochie woman," he said, riffing merrily. "You have, maybe, five children."
"Oh, great," Hammer, who was also present for the interview, replied.
If there's one thing Guadagnino knows for sure, it's what the movie won't be called.
"The only problem is the title," he said. "It cannot be Call Me by Your Name Two. "
As fans will recall, Call Me by Your Name tells the story of the romantic connection a 17-year-old boy named Elio forms with a 24-year-old man named Oliver, who is visiting his family's Italian villa in the early 1980s. The film is based on the novel written by André Aciman, and rumors of a sequel have been spreading since earlier this year. 
"The novel has 40 pages at the end that goes through the next 20 years of the lives of Elio and Oliver, so there is some sort of indication through the intention of author Andre Aciman that the story can continue," Guadagnino told The Hollywood Reporter. "In my opinion, Call Me can be the first chapter of the chronicles of the life of these people that we met in this movie, and if the first one is a story of coming of age and becoming a young man, maybe the next chapter will be, what is the position of the young man in the world, what does he want — and what is left a few years later of such an emotional punch that made him who he is?"
But would the stars be up for another movie? While attending the Los Angeles premiere of his new movie Beautiful Boy, Timothée Chalamet, who played Elio, told E! News he doesn't have "any power" in the decision. However, he still seems up for the film.
"I don't see any world where it doesn't happen," he said earlier this month, per Time. "I think Andre is comfortable with a sequel being made. I know Luca really wants it. And I know Armie and I are 1000 percent in."
Looks like we'll just have to wait and see.