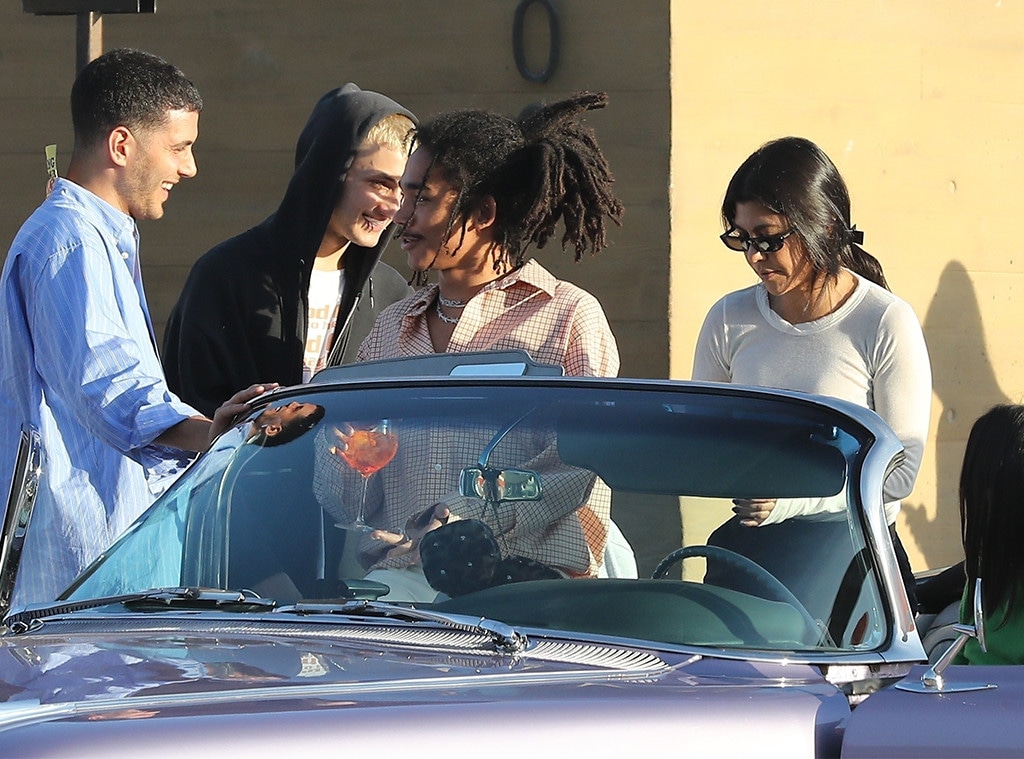 SPOT / BACKGRID
Kourtney Kardashian and Kendall Jenner enjoyed a fun and relaxing lunch by the beach with their friends this Sunday.
The sisters and their rumored love interests "had a big group lunch date at Nobu late Sunday afternoon," an eyewitness tells E! News. Kendall and friends Anwar Hadid, Fai Khadra and Luka Sabbat arrived in style when they drove up to the L.A. hot-spot in Kendall's vintage purple Cadillac convertible. Kourtney, who is dating the Grown-ish actor Sabbat, arrived soon after with her eldest child, Mason, in tow. 
According to the eyewitness, the "lively" group of young A-listers sat at a table with a view of the ocean and shared various dishes. The insider says, "Kourtney was helping Mason but also chatted with Luka and had a big smile on her face."
"They all had a great time together and seemed very friendly," the witness adds.
At the end of their meal, the group parted ways, with Kourtney and Mason driving separately from the rest of their party. Before they drove off Kourtney "said goodbye to Luka casually." The witness adds, "She didn't kiss him or show any visible signs of affection."
"It was more of a group outing with everyone all together hanging out and having fun," the insider explains.
Kourtney actually met her new love interest thanks to Kendall. Speculation about a potential relationship ignited when the eldest Kardashian and the Grown-ish star were spotted looking cozy at the opening of Chicago's TAO nightclub in September and it looks like things are heating up between the two. A source previously told E! News, "Kourtney loves spending time with Luka and finds him super cool and extremely attractive. He's different from other guys she has dated and she's having fun with him. She's really enjoying getting to know him and seeing where it goes. Every time they say goodbye she can't wait to see him again."