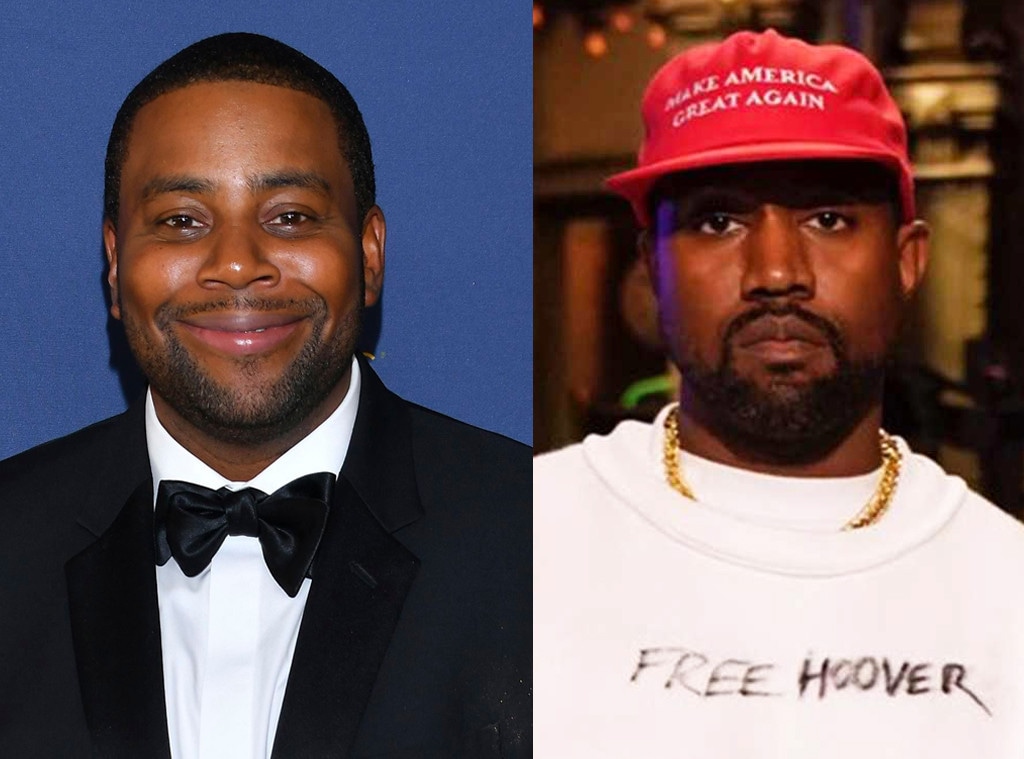 Vince Bucci/Invision/AP/Shutterstock Rosalind O'Connor/NBC
Kenan Thompson is dishing more about Kanye West's politically-charged Saturday Night Live speech.
The 41-year-old "Stronger" rapper appeared on SNL's season premiere last weekend, where he performed three times throughout the show. During his first performance, Kanye dressed up in a Perrier bottle outfit while performing "I Love It" alongside rapper Lil Pump, who was dressed up in a Fiji water bottle outfit. During his final performance of the show alongside 070 Shake, Kid Cudi and Ty Dolla $ign, Kanye sang "Ghost Town" wearing a pro-President Donald Trump "Make America Great Again" baseball cap.
As the performance was coming to an end, Kanye started to give a politically-charged speech, part of which was cut short from the broadcast. However, Chris Rock, who was at the SNL taping, posted video of Kanye's speech on Instagram, during which members of the audience could be heard booing him, while some could be heard applauding. 
Now, SNL star Thompson is sharing his thoughts on West's speech on a new episode of the Late Night With Seth Meyers podcast.
"It has to have been one of the top five weirdest goodnights with Mr. West," Seth Meyers says to Thompson on the podcast episode.
"I would say the absolute top," Thompson replies. "That was just gnarly, he's such a setup artist. He invited the cast back up there to immediately s--t on them. What kind of like weird, let me be the puppet master type s--t is that? I'm so glad that I'd gone to my room to change."
"It's just leaning your personal opinion so heavy on others," Thompson continues. "It's like everybody's opinion should be up for debate. You're putting it out here like what your word says goes, and that's just not fair."
The duo also talked about West on Late Night with Seth Meyers last week, where Thompson said he "felt so bad" for his cast members who were up on stage with West during his speech.
"I felt so bad for those guys because it's hard to stand there and not be able to debate somebody who is going so far against your personal opinion," he explained.
Over the weekend, SNL's Pete Davidson addressed West's speech during "Weekend Update," saying, "What Kanye said after he went off the air last week was one of the worst, like, most awkward things I've ever seen here—and I've seen Chevy Chase speak to an intern."