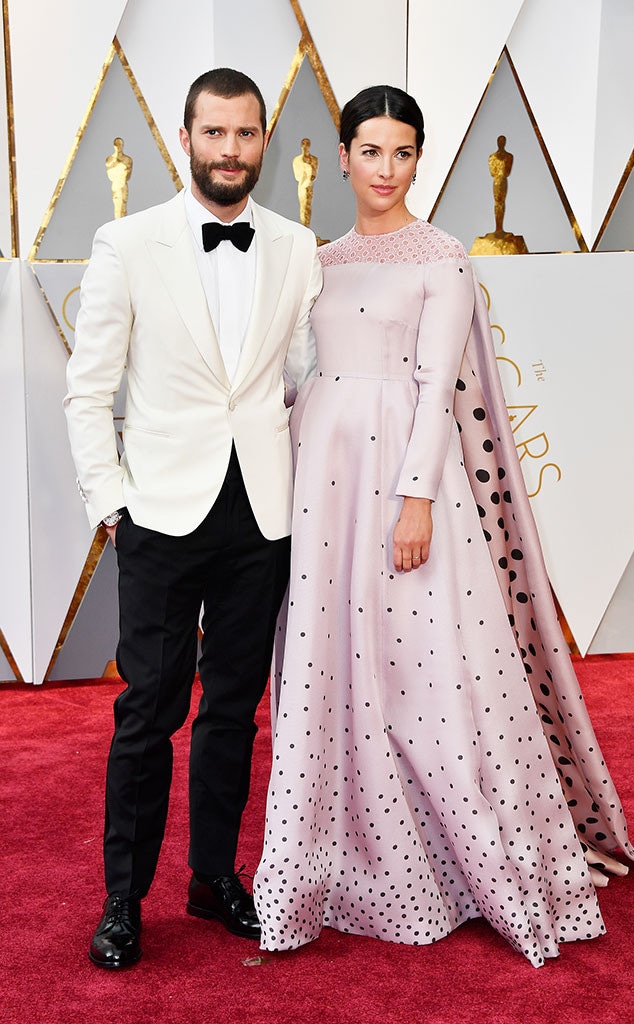 Frazer Harrison/Getty Images
Jamie Dornan and Amelia "Millie" Warner are about to become a family of five.
The 36-year-old actor, who plays Christian Grey in the Fifty Shades films, and his 36-year-old wife, a musician, are expecting their third child, E! News has confirmed. They have not revealed their baby's sex.
The couple, who wed in 2013, are already parents to daughters Dulcie, 4, and Elva, who is 2 and 1/2.
"Being a dad is the best," Dornan told the Sunday Times, which earlier reported the new baby news. "I feel a healthy and lovely duty to provide for my kids, and I really like it. It suits me. Making my kids happy is a good thing for my wife and me to be driven by."
Last week, Dornan talked about his kids in an interview on The Ellen DeGeneres Show, saying he and his wife were currently planning Dulcie's fifth birthday party, which will be disco-themed. He said her last two birthdays were Winnie the Pooh-themed and he dressed up as Tigger. 
"We're got two little girls now, it's pretty insane," Dornan said on Live! With Kelly in 2016. "I think one my best friends said that 'One is a pet, two is a zoo.' I don't buy into that totally, I mean, it's been a big adjustment and it's definitely harder and you get less time to yourself but human beings are very good at adaptation and you do just sort of, what can you do, you have to just go with it and accept less sleep and accept less time on your hands and accept less like, reading books and washing and all the usual things you do in the day."
When guest co-host Nick Lachey asked him if would like to have a third child, a boy, the actor said, "I mean, I always thought I'd want a boy because, I dunno, I just think as a guy, you just think, 'Oh, I'll have a little like mini-version of myself,' or something, in a sort of narcissistic way."