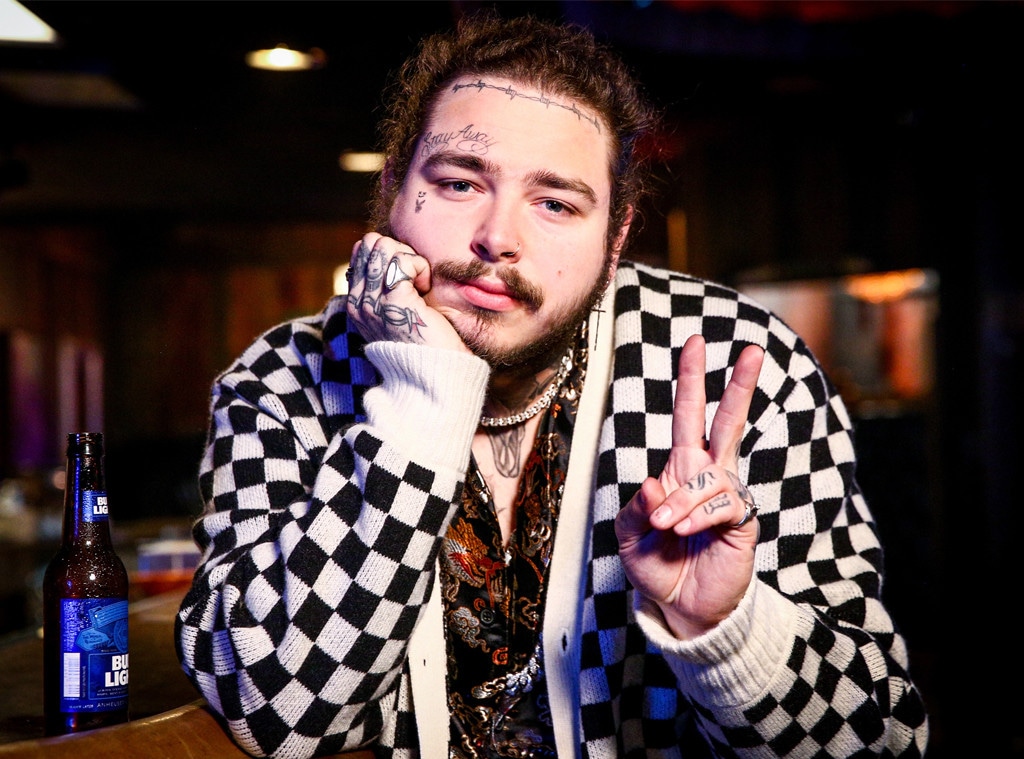 Rich Fury/Getty Images
"I don't even understand how, you know, I got where I am and how I did. It doesn't make any sense to me."
Post Malone, speaking to Paper magazine in 2017, is the first to admit he lacks the prototypical celebrity archetype. Critics might argue Malone's persona (he rocked a mullet before getting bangs and later tattooing "Always Tired" under his eyes) and cookie-cutter beginnings (he opened for Justin Bieber on tour) would keep the hip-hop world from taking him seriously. But three years after his debut single "White Iverson" became an instant hit, Post Malone is a far cry from the "one-hit wonder" he once described himself as. 
The 23-year-old rapper's overnight success story begins in 2015, when he relocated from his native Texas to Los Angeles and uploaded "White Iverson" to his SoundCloud account. Within a month, Malone (whose real name is Austin Post) would sign to Republic Records and perform at Kylie Jenner's 18th birthday celebration. There he caught the attention of Kanye West, who recruited him to collab on "Fade" from West's seventh studio album, The Life of Pablo. 
Malone's first major brush with stardom came courtesy of Bieber, who tapped his newfound friend for the opening slot of his 2016 Purpose World Tour. In short, he called the experience "very different."
"You got your parents and your grandparents and your infants and your 4-year-olds, but then you got the kids that are actually hip to the music scene and knew the words, which made me super happy," he told Paper. "I was scared I was just gonna come out before and everybody was gonna be like, 'Who's this f--king homeless dude?' But you know it ended up being a good run and it was a lot of fun."
Malone's debut album, aptly titled Stoney and released in late 2016, went triple platinum, featured four platinum singles and generated over one billion global streams. Despite the commercial success, Malone was quickly branded a "culture vulture," a claim he's fought back against time and time again. 
Michael Loccisano/Getty Images for MTV
When radio personality Charlamagne the God accused Malone of not properly supporting the Black Lives Matter movement in 2015, he saw it as an attack against his race.
"I wish I'd said, 'What are you doing for Black Lives Matter?'" Malone recalled to Rolling Stone. "...Like, maybe my music's not the best, but I know I'm not a bad person, so you're just being a hater... He hates me because I'm white and I'm different. But we're still rocking and we're still successful, and he can't stop it." 
Malone went on to describe his experience as a minority in the hip-hop genre as a "struggle," clarifying to GQ, "But I don't want to be a rapper. I just want to be a person that makes music. I make music that I like and I think that kicks ass, that I think the people who f--k with me as a person and as an artist will like." 
Thus far, it's worked. 
Malone's lead single "Rockstar" from his second album held the No. 1 spot on the Billboard Hot 100 chart for eight consecutive weeks. His next song "Psycho" followed suit, and by the time 2018's Beerbongs & Bentleys hit airwaves, it immediately broke Spotify's first-day streaming records and was certified platinum within four days. 
At the 2018 MTV VMAs, Malone touched on his surreal rise to the top while accepting the award for Song of the Year. "You go to bed and dream about maybe winning, and then whenever you get up here you don't remember what the hell to say," he shared, adding, "In a hundred million years I would never expect to do this ever. So this is sick, and thank you so much." 
He gets another opportunity to do it all over again during Tuesday's 2018 American Music Awards, where he's nominated in six categories including Artist of the Year. Up against Drake, Taylor Swift, Ed Sheeran and Imagine Dragons, Post Malone is ready to claim what his fans know already belongs to him.