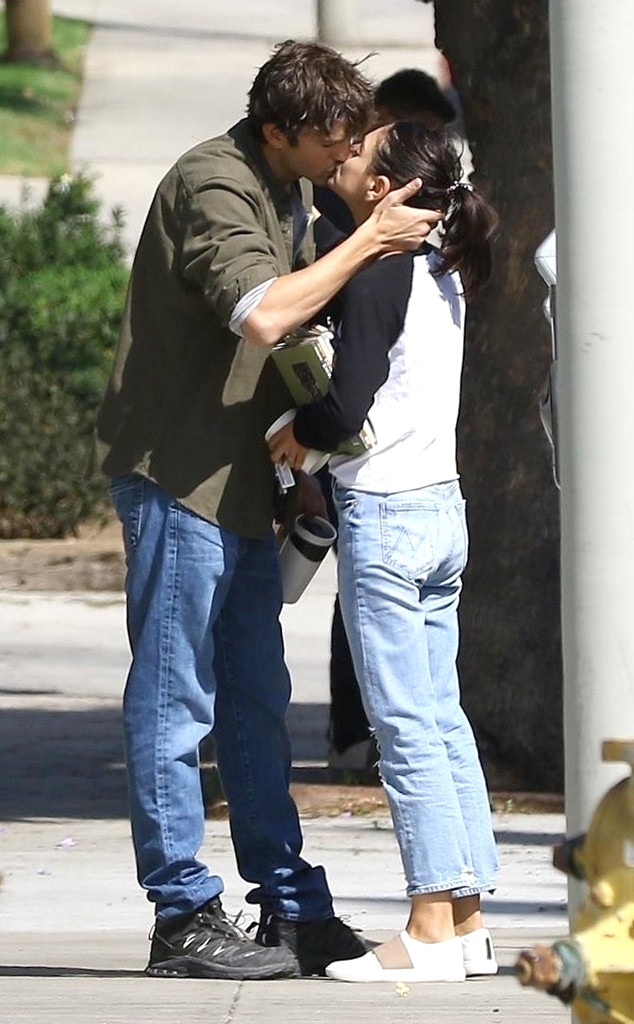 LESE / BACKGRID
Now that's a kiss!
Ashton Kutcher and wife Mila Kunis were photographed sharing a passionate lip-lock, followed by an intense, romantic gaze, while out and about in Los Angeles on Friday. Now that's true love.
Married for three years and together for about six, the two former That '70s Show co-stars remain one of the most celebrated celebrity couples. Ashton, 40, and Mila, 35, live in Los Angeles with their daughter Wyatt, 4, and son Dimitri, who is 1 and 1/2, who were not seen with them during their PDA-filled stroll.
While they are notoriously private about their personal lives, the couple have been known to showcase some sweet PDA in the past.
"We've only been married for a handful of years, you know it's very much in the honeymoon phase," Mila told E! News a year ago, adding that she and Ashton "still really love and like each other daily."
Watch:
How Will Mila Kunis & Ashton Kutcher Celebrate "Bad Moms"?
The two had met in the late '90s on the set of That '70s Show, where they played love interests Kelso and Jackie. Ashton was Mila's first kiss, and it happened on-camera, when she was 15. About six years after the show's 2006 finale, and following his split from wife Demi Moore, Ashton and Mila reconnected and started dating. They got engaged in 2014 and wed in 2015.
"I have the world's greatest husband," the actress told E! News at CinemaCon 2018 in April. "I swear, I got very lucky, man. I got a man that has got a lot of patience and is incredibly supportive of our family."