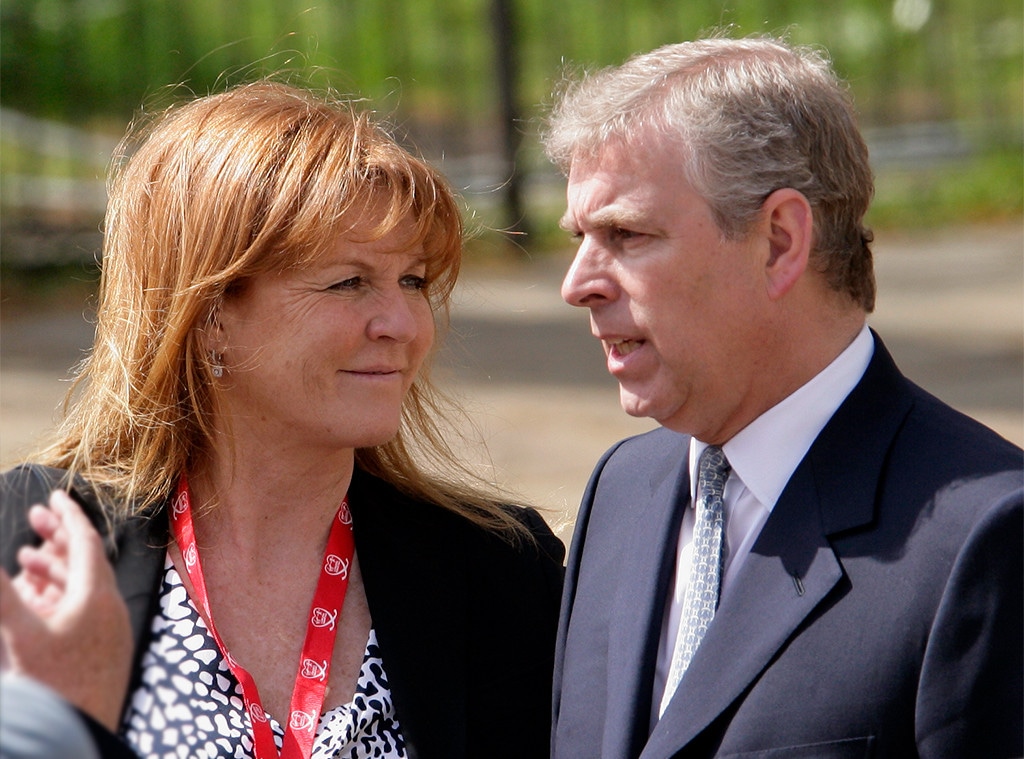 Indigo/Getty Images
No question about it, Sarah Ferguson, Duchess of York, will be at the next royal wedding.
That, of course, is because she's the mother of the bride, Princess Eugenie, and the member of the family once popularly known as Fergie wouldn't miss it for the world.
Eugenie, 28, is marrying Jack Brooksbank on Friday at St. George's Chapel in Windsor, the same locale where Prince Harry and Meghan Markle tied the knot in May. Ferguson was in attendance, but it wasn't a given, considering she was noticeably absence from Prince William and Kate Middleton's wedding seven years prior. But her presence as Harry's aunt, as well as a lingering connection to his late mother, was important to the groom.
Yet if Harry's grandmother Queen Elizabeth II—the CEO of The Firm—had thoroughly objected...that might have been a different story. But what a difference seven years makes, let alone 26, since Ferguson played a prominent role in the queen's infamous "annus horribilis," when all of her married adult children decided within months of each other that their various arrangements were no longer working for them.  
Five months apart in age and faintly linked via their family trees going back to the 1700s, Sarah Ferguson and Prince Andrew—the queen and Prince Philip's third of four children—have known each other since they were children and their fathers played polo together. "Doesn't everybody?" her mother, Susan, who after divorcing Sarah's father eloped with an Argentinean polo player, once quipped.
So when Sarah saw the prince at the Royal Ascot in 1985, they were a couple of old playmates reconnecting, both recently single after long relationships—Sarah with jet-setting motor racing manager Paddy McNally, a father of two whom she'd hoped to marry, and Andrew with actress Koo Stark.
Chatting at a dinner the queen routinely hosted during Royal Ascot week, Andrew insisted she sample the profiteroles, "which I didn't want at all," Ferguson recalled before their wedding. "I was meant to be on a diet."
In fact it was Princess Diana, with romance on the brain, who made sure Fergie was invited to the dinner at Windsor Castle during Royal Ascot week. Their mothers had been friends at school and originally Diana had wanted Sarah to be her lady-in-waiting. "It was at Ascot, as it were, that the whole thing took off," Andrew said in the couple's engagement interview, a royal family tradition. "But it wasn't at Ascot, as such, when we realized that there was anything in it. It was later on."
When he did propose in February 1986, during a romantic stay at a Scottish castle that belonged to Andrews' friends, Sarah teased him, "When you wake up tomorrow morning, you can tell me it is all a huge joke."
Their July 23, 1986, wedding at Westminster Abbey was watched by about 500 million people on TV around the globe. The bride, who later said that she'd lost 26 pounds leading up to the big day, wore a gown with a 17-foot train designed by London couturier Lindka Cierach.
Like Diana, she flubbed her husband's name a bit during the vows, repeating his middle name Christian twice. Unlike the Princess of Wales, Sarah opted to say the part where she promised to "obey"—a traditional bit that Diana, Kate and Meghan all skipped.
Anwar Hussein/Getty Images)
The vivacious redhead, who before marrying Andrew worked in an art gallery as well as in public relations and publishing graphics, of course was immediately pitted against Princess Diana in the press as far as looks, style, breeding, poise and personality went—and while Diana was the angelic-looking trendsetter, Fergie perennially came out on top in the charisma department. Never has the word "bubbly" been used to describe someone so many times. 
And for anyone lamenting that nothing has changed, at least no reporter brazenly went up to Meghan Markle's wax figure at the unveiling this year and measured its hips, as they did Fergie's likeness. At the same time, the Duchess of York was also hailed as the second coming of the va-va-voom figure, with many hoping that she'd help bring healthy curves back into fashion.
Georges De Keerle/Getty Images
Meanwhile, Diana's shyness cloaked a wicked sense of humor and she and Fergie became fast friends, bonding over their mutually odd roles as the newest members of the royal family. Sarah also helped bring the Princess of Wales out of her shell. Diana, dressed as a cop, joined Fergie on an expedition to crash Andrew's bachelor party the night before their wedding. They rode a tandem bike around the grounds at Balmoral and went joy-riding in the Queen Mother's Daimler.
But the royal family really took to Fergie, more than they ever did to Diana, appreciating her spunk and girl-next-door quality. The queen "liked the way she used to sit with her legs apart, making jokes," a friend of the monarch told her biographer Ben Pimlott, and sometimes the duchess was invited to dine with the queen alone when Andrew was away. 
Fergie was athletic and, though she reportedly preferred swimming to the horse riding everyone else couldn't get enough of, she was still good at it. She learned how to carriage-drive, which endeared her to Prince Philip. On ski trips with the family, she, Andrew and Charles raced down the slopes.
But they both envied the other—Diana the poised beauty and Fergie the energetic charmer.
"I got terribly jealous and she got jealous of me," Diana told biographer Andrew Morton. "I couldn't understand it—she was actually enjoying being where she was, whereas I was fighting to survive."
Julian Parker/UK Press via Getty Images
Sarah was in mid-air taking a helicopter flying lesson when it was announced that she was pregnant with her and Andrew's first child. Princess Beatrice was born on Aug. 8, 1988. Princess Eugenie arrived on March 23, 1990.
Inspired by becoming a mom and a pilot, in 1989 the duchess started writing a series of children's books featuring Budgie the Little Helicopter, which was turned into an animated series. She also penned two histories of Queen Victoria and a book about skiing.
But there may have been something in the water. By 1990, Diana had distanced herself from Fergie, realizing that the royal hi-jinks coverage wasn't improving her standing with the family or the people. Sarah was also long past the honeymoon phase with her in-laws, annoying them by accepting free gifts such as a fur coat, which, angered animal rights activists—or worse yet, accepting money, such as the £250,000 she received for sharing York family photos with Hello! 
Moreover, with Andrew gone for long stretches at a time with the Royal Navy, Sarah started being seen with male companions.
"I don't need any more time to think, mother," Andrew told the queen toward the end of 1991, referring to their intention to separate, according to Tina Brown's The Diana Chronicles. "My mind is made up."
In early 1992, Ferguson was photographed looking cozy with Texas millionaire Steve Wyatt, and there was a picture of Wyatt holding Beatrice. That was that.
In March 1992, the Daily Mail reported that Andrew and Sarah had separated, which indeed turned out to be true. A few months later Princess Anne, Andrew's older sister, divorced husband Mark Phillips after several years of leading separate lives and promptly married Timothy Laurence, their wedding taking place just weeks after Diana and Charles announced their separation that December, a clincher in keeping with the tone of the year.
Meanwhile, that summer, Fergie was photographed sunbathing topless with her beau John Bryan in the South of France. In one photo he's nuzzling her foot (or sucking her toes, as it was widely disseminated) and in another they appear to be kissing in front of 3-year-old Eugenie. Fergie may as well have done porn.
She was also at Balmoral with the entire family for their annual holiday when the photos were printed. "There but for the grace of God go I," Prince Philip reportedly quipped as he handed his daughter-in-law the paper. The queen, however, is said to have had her private secretary tell Ferguson it might be a good idea if she went immediately back to London, which she did.
Suffice it to say, it was far too hectic a year for the queen's taste. (Windsor Castle, incidentally, had also caught fire that year and the public was not happy with the proposed $100 million bill—the furor over which prompted the queen to open Buckingham Palace to public tours for the first time.)
"1992 is not a year that I shall look back on with undiluted pleasure," the monarch said wryly in a public address. "It has truly been...in the words of one of my more sympathetic chroniclers, my 'annus horribilis.'" 
Though the British press had historically liked Fergie, as much as any entity can like someone whom it would just as soon rip to shreds (she was cruelly dubbed the "Duchess of Pork" when she put on some weight), they were merciless in their coverage of her after the separation.
"One of the worst headlines said 82 per cent would rather sleep with a goat than Fergie. It's never left me," she said on The Lifestyle News Hound podcast last year. "I do believe that, in the 30 years of my public life, many people believe what they read. They are going to have this judgment of me."
When the news of her and Andrew's split, the queen's press secretary gave off-the-record comments that the BBC reported as, "The knives are out for Fergie at the palace." Fergie's father then called up the queen's private secretary and demanded an apology—which Fergie got, but it didn't really matter by then.
"I had been tagged 'unsuitable' for royal life, and the charge stuck," Ferguson reminisced in her 1996 memoir My Story. "I was frozen out and not just in the Palace; the wind from all the doors slamming in my face might have knocked me over."
Yet so long as the also newly single Diana was around, Fergie would never be the most hounded, talked-about woman in Britain, but she came close. At one point, in 1994, she was tied for second-most People magazine covers at 12 with Elizabeth Taylor. Diana was first, with 32. 
But at least they had each other. As their respective marriages unraveled, the ice thawed between the outcast royals. Diana would go to the house the Duchess of York was renting in Surrey and they'd joke about their awkward circumstances. "Sarah Ferguson was a very, very useful friend to the Princess during the months before the divorce," Diana's onetime media adviser Jane Atkinson told Tina Brown. "If she hadn't had her house to go to she would have gone mad."
Andrew Morton revealed after Diana died that it was the princess who had tipped off the press about Fergie and Andrew's split. In The Diana Chronicles, Brown wrote that Fergie also came to believe that it was her fair-weather friend who let the press know her whereabouts in France when she was vacationing with Bryan.
But in 1996, Ferguson wrote in her book about Diana, "She was two years younger than I, and I strove to support and protect her as I would a younger sister—as I still do today, as a best friend."
It was something else she wrote, however, that resulted in the two falling out for good almost a year before Diana died: Fergie claimed she got a plantar wart after borrowing a pair of the princess' shoes. Diana never spoke to her again.
Ben A. Pruchnie/Getty Images for Novak Djokovic Foundation
Sarah's candor about her struggles, as well as her lack of shame in signing endorsement deals to pay her bills, made her a target of ridicule in Britain in the 1990s—but Americans love a good comeback story, especially one that involves weight loss, and she became especially popular in the U.S. Not to mention—a real, live duchess! (Ferguson was allowed to keep that title, but she lost Her Royal Highness, and if she remarries, she will no longer be the Duchess of York.)
In January 1997, Ferguson signed a $1 million deal to be a Weight Watchers ambassador for a year, having already been in commercials for Ocean Spray's LightStyle, a lo-cal beverage, and Olympus cameras. She continued on as one of the most famous faces of the brand for over a decade.
The queen loathed the coverage that implied the royals were for sale, or had at least shed enough of their mystique to now be available for 30-second spots; but at the same time, even the most salacious tabloids acknowledged that Fergie's ex-mother-in-law still liked her personally. Also, Fergie and Andrew had remained good friends—and still are to this day, spending so much jolly-looking time together that they've recently sparked speculation that they'll remarry.
Soon enough, however, the entire family would have a real tragedy to deal with. Princess Diana was killed in a car crash in Paris on Aug. 31, 1997, sending the entire country into mourning and triggering an outpouring of grief around the world. 
Eerily, Ferguson's own mother was also killed in a violent car crash in Argentina the following year. 
Also in 1998, Fergie released Dieting With the Duchess, the first of a series of best-selling diet and lifestyle books, and she made a memorable cameo on Friends. Joey runs into Fergie while sightseeing in London and she amiably tells Chandler hello via video.
Ferguson had said that she only received £15,000 a year in her divorce settlement (Andrew's income as a career naval officer was a fraction of what you might think a prince earns), plus money to buy a home that had to be put in her daughters' names, and, despite having access to certain perks, she was hustling that hard to simply take care of her girls.
In 1994, however, asked if she would ever write a book about life at Buckingham Palace, a surefire best seller, she curtly told the New York Times, "I would never do that, out of respect for Her Majesty the Queen."
It wasn't until 2008, however, that the Duchess of York was invited back to Balmoral, 16 years after her photo scandal.
But a series of poor decisions in the '00s—she later attributed her money troubles mainly to her desire to always be helping (often in the form of doling out loans when asked)—put her in dire financial straights by 2010. Soon, her life "spiraled into a private hell," as Ferguson put it in her 2011 book Finding Sarah, which was dedicated to Oprah Winfrey as well as to her daughters and ex-husband.
Again seeking an infusion of capital, Ferguson was introduced to a man whom she was told was an Indian business tycoon looking to back her various business ventures. A cursory look at his background seemed to check out. But it turned out he was a tabloid reporter posing as an investor, and he got her on hidden camera accepting money—which, in turn, became a News of the World story about her accepting $40,000 in cash in exchange for access to Prince Andrew, whom she still shared a home with at Royal Lodge in Windsor.
"On the now infamous, surreptitious video tape that has been broadcast around the world, you see me making a rather sloppy spectacle of myself," Ferguson wrote in Finding Sarah, "sipping too much wine and puffing on a cigarette. The tape was purposely cut to look like I was brokering a personal introduction—which, as I have said, I did not do. It was edited, completely out of context."
The day after her meeting, she and Beatrice traveled to Newcastle, where Eugenie was at school, and the three of them opened the Teenage Cancer Trust Unit at the Great North Children's Hospital there—royal business as usual, and a cause close to Fergie's heart.
She had fond memories of that day, before all hell broke loose.
The duchess found out that she had been set up while she was with Beatrice at Naomi Campbell's birthday party in the South of France, when Beatrice got a call from her mum's publicist.
"Cash for royal access sensation," blared the front-page headline.
Ferguson issued a public apology, assuring that the Duke of York was unaware of her meeting, and then took off for Los Angeles for a planned appearance—with Charles' second wife, Camilla, Duchess of Cornwall, by her side, the two having become friends, also with plenty to bond over.
On the recommendation of a friend, Ferguson got in touch with a powerhouse publicist in New York, who in turn advised her to go on Oprah to tell her side of the story. That eventual meeting turned into the book Finding Sarah: A Duchess's Journey to Find Herself and Finding Sarah: From Royalty to the Real World, a six-part OWN-produced docu-series, which featured her getting advice from Dr. Phil McGraw and being counseled in money matters by Suze Orman.
After watching Kate and William's wedding at Westminster Abbey, where her own wedding took place 25 years beforehand, Ferguson told the New York Times, "With Catherine going up the aisle, you know what went through my head? I feel like I've handed her the baton and said: 'Well done. And you'll do it right.' I didn't do it right, and now I am going to go get Sarah right."
The baton pass occurred in absentia, because though Andrew and their girls, Eugenie and Beatrice (both of whom made headlines with their extraordinary hats), attended, Ferguson was left off the list.
"I really missed not being at the wedding," she admitted. "I missed being part of it all."
She spent that weekend as far away as possible, at a spa in Thailand.
But when it comes to the royals, no news is good news, and time tends to heal a lot of wounds, especially where one's children are involved.
Ferguson remained at Royal Lodge with Andrew, who stood by her through the NOTW scandal (it was probably no small satisfaction when the century-old tabloid shut down in 2011 after editors were caught ordering the hacking of phones and voicemail accounts, including royal ones), and she stuck to her businesses and charity work, remaining as close as ever with her daughters.
It was in turn quite significant when she showed up at Harry and Meghan's wedding on May 19 in a navy dress and matching jacket with white trim by Emma Louise Design, a veiled fascinator from milliner Jess Collett pinned at a jaunty angle on her head.
Brooksbank, her future son-in-law, greeted her outside of the chapel with a hug. Ferguson is said to be actively involved with the wedding planning.
Even more telling of just how much relations have thawed since the "merry hell" of 2010: In June, Ferguson attended the Royal Ascot with Andrew and Beatrice and was seen laughing and chatting with the queen in the VIP royal enclosure.
Just like old times.