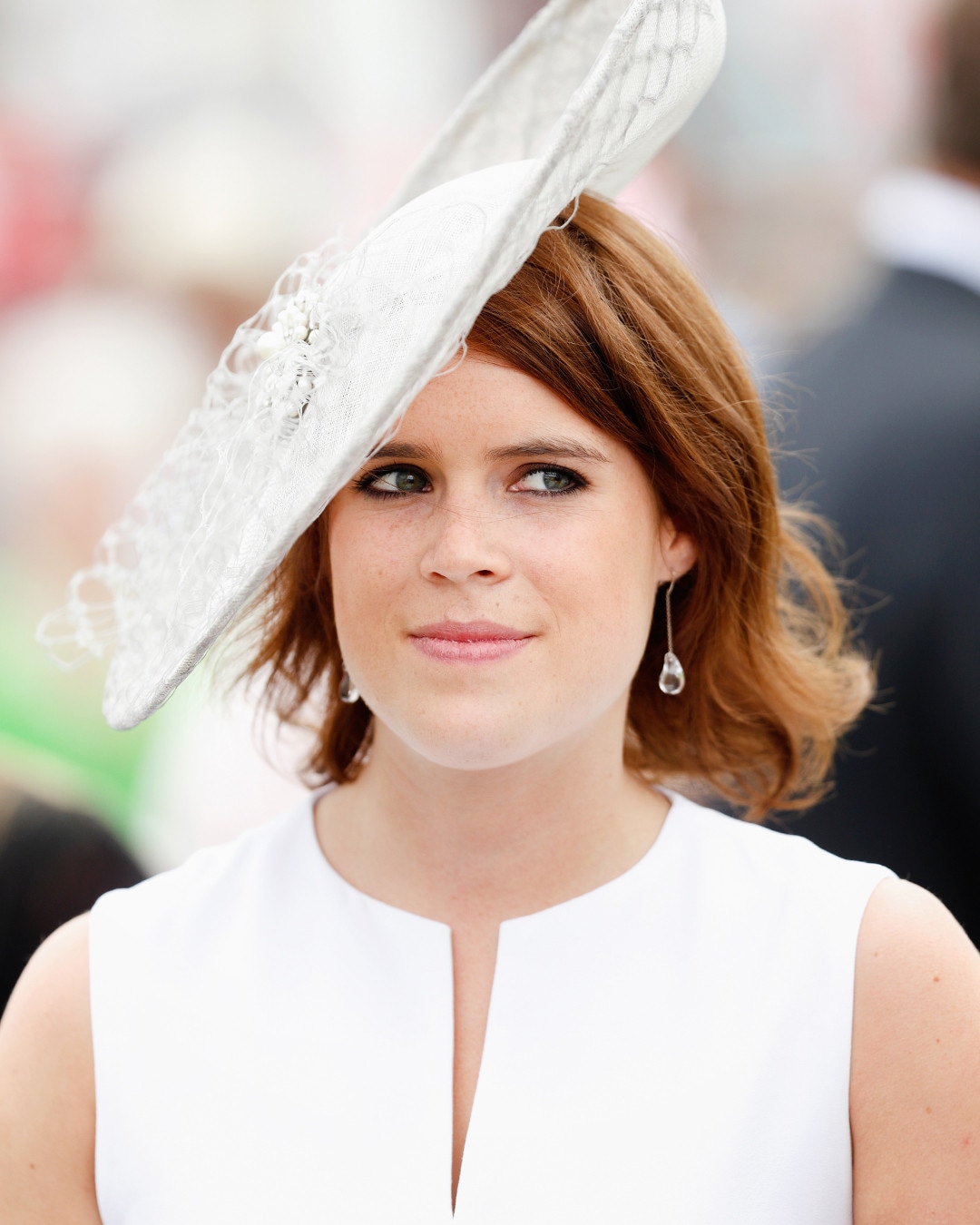 Max Mumby/Indigo/Getty Images
Princess Eugenie is keeping her wedding fashion plans mum. 
With her wedding to Jack Brooksbank less than a week away, everyone has been wondering what Queen Elizabeth II's sixth grandchild will wear to her nuptials. There's so much to consider between the strict dress code of royal weddings, her existing relationships to designers, her personal style and the looks worn by her fellow royals Kate Middleton and Meghan Markle. For a non-royal, selecting a wedding gown can be stressful, so we can imagine that finding a gown to wear in front of the world would be an ordeal. However, the princess hasn't revealed much beyond the fact that planning for her wedding has been a smooth process.
"I'm not stressed at all," she told Vogue UK. "It's very nerve-wracking because you want it to be perfect but then you realize that you're going to be with the person you love forever and nothing else really matters."
While we're happy for the couple's happy romance, her outfit does matter. Like other royal weddings, photographs of her gown will circulate around the globe. The designer of the gown's inbox will be filled with interview requests. Her look will be water cooler conversation in countless countries around the world. So, of course, we need to know everything about it. 
Here's what we know thus far:
Princess Eugenie will most likely wear the York Tiara.
Based on British tradition, tiaras are reserved for married royals. Thus, the tiara chosen for the wedding holds a large significance. Princess Eugenie will most likely wear the tiara her mother, Sarah Ferguson (a.k.a. Fergie), wore when she wed Prince Andrew in 1986: the York Tiara (as seen on the Duchess of York). The sparkling accessory, created by British jewelry designer Garrard, was a gift from the Queen and Prince Philip to Sarah. 
Now, the piece remains in the Duchess of York's private collection, which makes it an easy loaner for Princess Eugenie. Considering that she'll wear a dress made for the occasion, the tiara is a symbol for her relationship and somewhat of an ode to her mother. 
Victor VIRGILE/Gamma-Rapho via Getty Images
Her wedding gown is designed by a "British-based designer."
Sitting with her sister, Princess Beatrice, the royal told Vogue UK that she enlisted the help of a "British-based designer:"
"I'm not telling anyone who is making it, but I can say it is a British-based designer," she stated. "[The dress] is the one thing that I was really decisive about. As soon as we announced the wedding, I knew the designer, and the look, straight away. I never thought I'd be the one who knew exactly what I like, but I've been pretty on top of it."
This could mean a few things. Either she's working with a British designer, as most assumed. Or, the princess has gone to a designer that currently lives in the UK, but is not from there. Based on that description, experts are predicting that Ralph & Russo (as seen to the left), Roksanda or Roland Mouret may be the design house of choice.
That doesn't mean that the designer is not British.
As a royal, Princess Eugenie clearly has existing relationships with British designers. For Kate's wedding, she wore a Vivienne Westwood ensemble. And, other style experts have named Stella McCartney (as seen in the photo), Jenny Packham and Suzannah as options for the royal wedding. 
Her dress will stun.
No matter which designer she chooses for her big day, based her personal style, she will chose a stunning dress for her wedding that remains within the confines of the royal dress code, but sets her apart from the other royals.