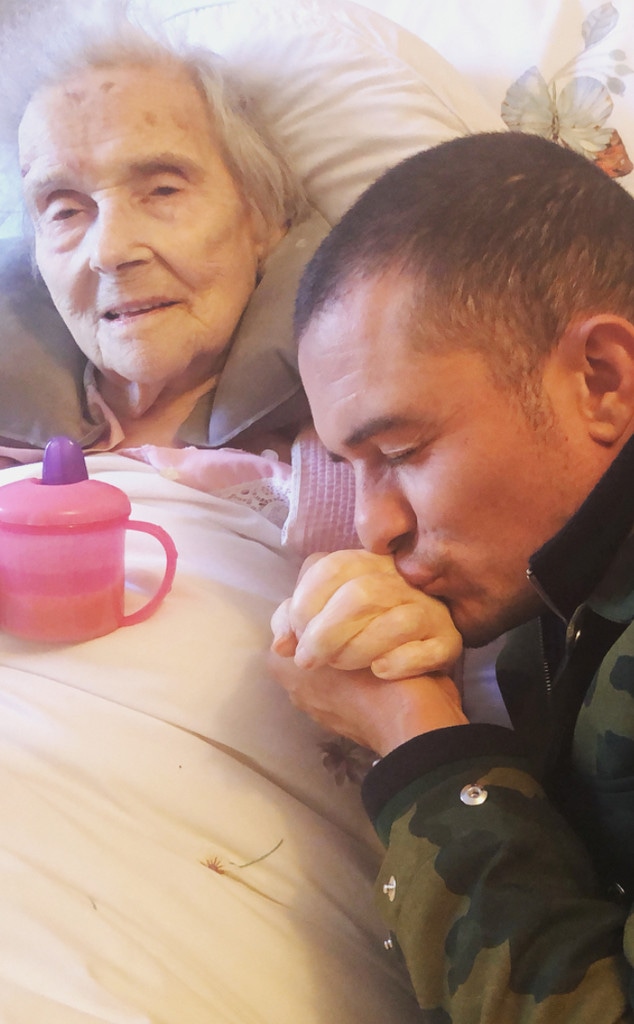 Instagram
Orlando Bloom took to Instagram on Thursday to pay tribute to his grandmother, Dorrie, who he said will "pass soon." 
The actor shared a series of photos of him visiting his loved one and kneeling beside her bed. The pictures showed him planting a kiss on her hand and holding it gently.
"Cherish the memories and moments and celebrate and respect the life," he wrote. "We all smile we live we laugh and we embrace a grandmother a mother a sister an aunt a wife a girlfriend a daughter a friend a child a newborn [.] We are born we grow old we get sick and we die[.] This we know[.] So love and give love." 
He then remembered their sweet time together.
"98 years and I'm so glad I got to be a part of them," he continued. "And as I lie awake pondering and knowing that she too will pass soon now perhaps before I wake I pray I smile I shed a tear or two at the memories of Sunday lunch with Yorkshire pudding (she made it the best) and roast potatoes and beans from the allotment and pudding and humbugs and walks in the fields or along the canals and knitted cardigans the love and history[.] I am so grateful for my grandma Dorrie[.] I love you."
Bloom also received support from his girlfriend Katy Perry.
"Love you angel," she wrote in the comments section of his post. 
Several other celebrities sent along their thoughts, including Helena Christensen and Edgar Ramírez. 
"My sweet loving beautiful grandma passed away at 100 and I miss her so so much," the model wrote. "Every single day I think of her and my heart sighs but I too am so grateful I had her in my life for so long and I will cherish all the memories in my heart always."