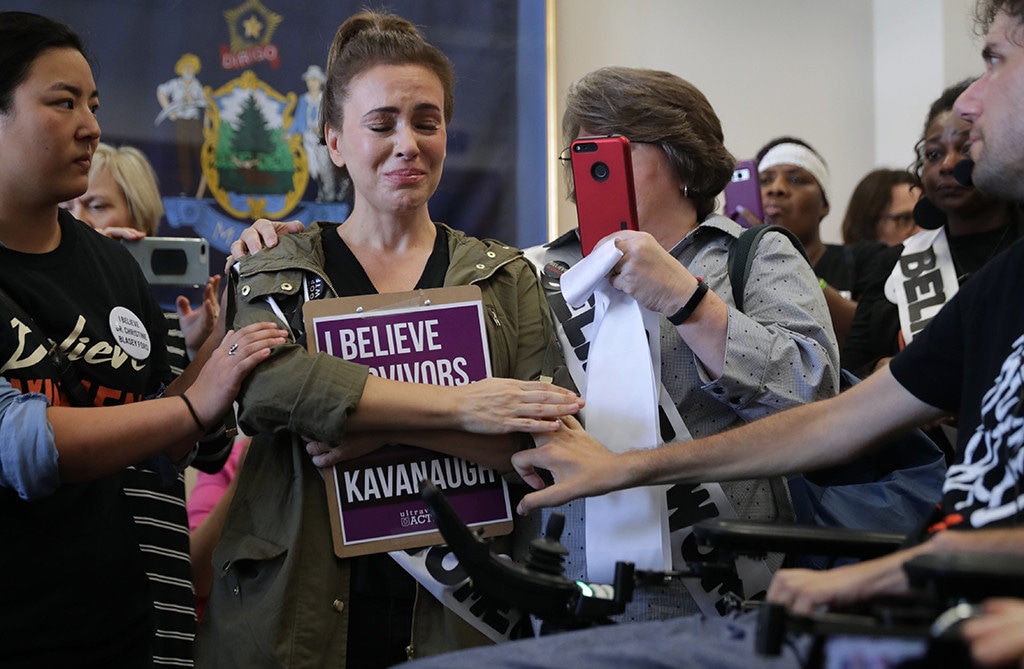 Chip Somodevilla/Getty Images
Alyssa Milano believes Dr. Christine Blasey Ford.
Earlier this week, the actress and activist—who has been at the forefront of the #MeToo movement—tweeted an emotional video, in which she recounted a traumatic sexual assault. Milano, 45, and other women paid a visit to Senator Susan Collins' office in Washington, D.C. But since they could not find Collins, the group banded together to amplify each other's stories.
In her tweet, the Insatiable actress claimed Collins "hid" from the group. "Here's my story through a 'human microphone,'" Milano wrote, referencing how the other supporters and survivors of sexual trauma in the room repeated every word. "I'll never know if she heard me."
Collins, who is from Maine, has yet to respond to Milano's tweet.
Understandably, Milano broke down in tears as she relived one of the most traumatic experiences of her life. "My name is Alyssa. When I was 19 years-old, I was at a concert of a very famous pop star who told the crowd to get closer to her. This resulted in a stampede. People were smashed against each other. I couldn't breathe. I thought I was gonna die. From behind me, I felt a hand up my skirt and I was punched repeatedly in the vagina. I couldn't turn around. I looked to the stage, and I looked to the security guards, and I said, 'Please help me.' And they couldn't help me. They shook their heads. I managed to break free and I climbed up the stage to get away from my predator. And I turned around and I didn't know which one it was. And I looked to the sea of people and I couldn't find him," the actress said. "And I couldn't report because I didn't know who it was to report. And I didn't tell anybody because I didn't know who it was to tell on. And I kept the secret just like Dr. Ford kept her secret for decades."
Milano was present at the Supreme Court Senate hearing on Sept. 27, where Ford recounted her own alleged sexual assault by Supreme Court nominee Brett Kavanaugh; in his own testimony and in interviews, Kavanaugh has repeatedly denied every claim made against him.
The actress—one of the dozens of women who accused Harvey Weinstein of sexual misconduct last year—told MSNBC Wednesday she is "filled with a lot of rage" by how Ford has been treated by President Donald Trump, White House Press Secretary Sarah Huckabee Sanders and by some media. "I just can't believe this is where we are. We are making distinct choices about who we want to be as a country," she said. "We are making distinct choices about the people we're putting in power, whether it be Trump, Kavanaugh or our institutions."
"Sexual abuse has been institutionalized in this country, and it is heartbreaking for me," the actress continued. "And I just think we can't allow another generation of women and children to feel as though their government is not listening, that it doesn't care, that they are invisible."
(E! and NBC are both members of the NBCUniversal family.)