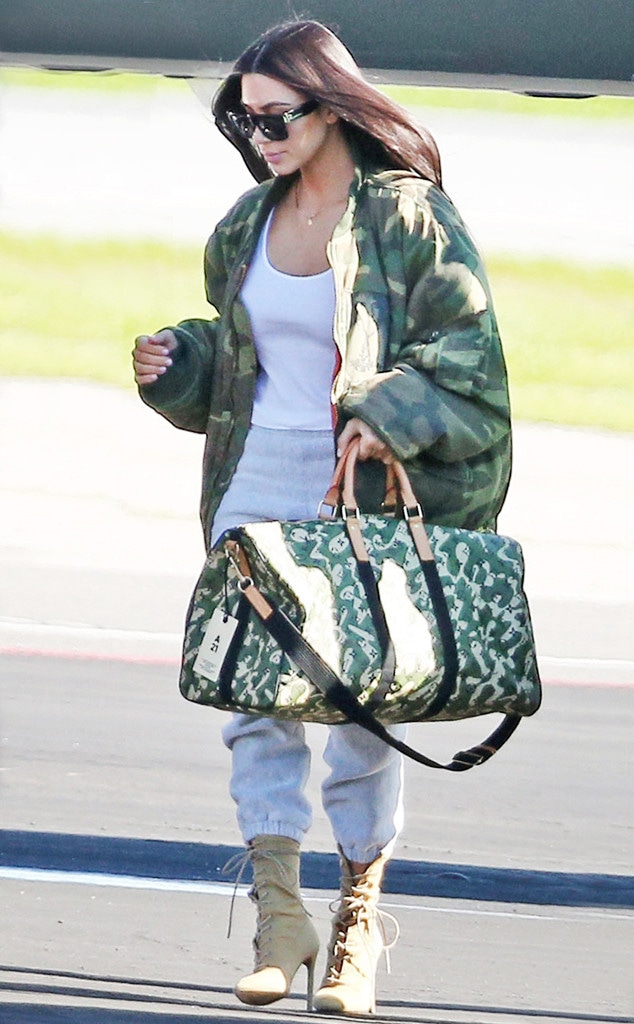 Dream team / BACKGRID
Apparently, Kim Kardashian and Kanye West aren't the only ones that love this jacket. 
Today, Grailed, the e-retailer that specializes in archive designer menswear, announced that it had its largest sale in the history of the website. A customer bought the Raf Simons AW 2001 Riot! Riot! Riot! Patched Bomber for a whooping $47,000. The puff jacket features camouflage print and patches of green-tinted photos and text on the front. It has orange lining, which makes it pop when laid flat (as it was on the website) and green trims. Based on the print, silhouettes and pockets, it's a classic bomber jacket that made an impact in the early 2000s.
"As if Raf Simons didn't already clearly control the hearts and minds of everyone from clothing enthusiasts everywhere to even his most vaunted industry peers, a bomber jacket selling for the price of a car really seals the deal," Lawrence Schlossman, Grailed Brand Director, told E! News. "For anyone who has been paying even remote attention to men's fashion this should come as no surprise. Not only has Simons been setting trends for 20+years, but his pieces are some of the safest investments bets in fashion. Sell all your Bitcoin and put it in Raf!"
We first saw the jacket during Raf Simmons Fall/Winter 2001 runway show during New York Fashion Week—his first runway show after the designer returned from a one year sabbatical. The entire collection gained fame for for its theme of urban radicalism, inspired by his travels oversees.
"At the flea market in Vienna, I saw youngsters from the Ukraine or Romania, who simply lay layer by layer and thus create their own volumes because of the cold," he told Vogue after the show, referring to his outerwear designs.
After the famed runway show, Kanye and Kim were photographed a number of times between then and 2017 wearing the jacket. For the "I Love It" rapper, who prides himself on going against the grain, the Riot! Riot! Riot! jacket fits his vibe. Plus, with its muted hues, the Raf Simmons pieces goes well with the couple's Yeezy pieces (as seen to the left).
It's clear that this design has only increased in value since its debut 17 years ago. However, if you love the look, you don't have to pay $47,000. In fact, you can recreate the couple's style for a fraction of the price. Shop camo bomber jackets below!