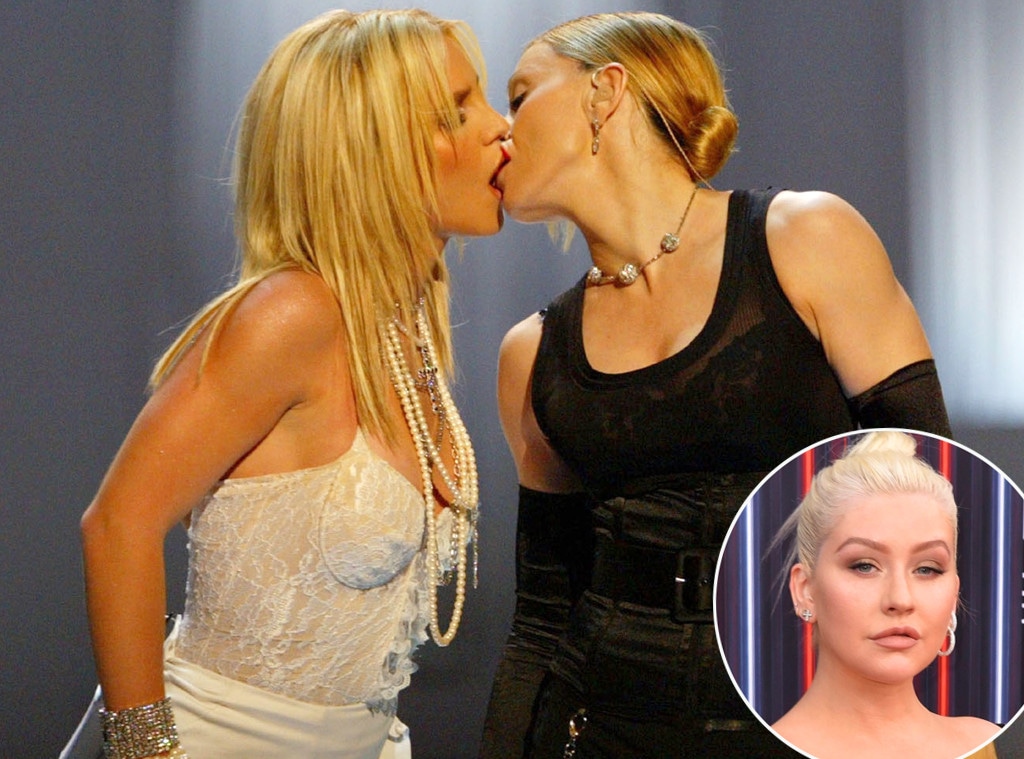 Kevin Kane/WireImage.com; Shutterstock
Christina Aguilera still hasn't gotten over the fact that her kiss with Madonna was not caught on camera.
"It was weird," she explains to Andy Cohen on SiriusXM's Radio Andy. "And you know why they cut away for it? Because they cut away to get Justin [Timberlake's] reaction."
At the time, Britney Spears and Justin Timberlake were not even dating so in Xtina's eyes it was a "cheap shot."
Cohen sympathizes with Aguilera for being essentially cut out of the narrative, saying, "I don't think people actually totally realize that she [Madonna] made out with both of you that day."
"Yeah, because I definitely saw the newspaper the next day and it was like, 'Oh, well, I guess I got left out of that,'" Aguilera replies. 
Like the "Fighter" she is, Christina paid it no mind since "everything happened so quickly back then and everything was in a whirlwind."
Plus, she feels like she had a "kick ass performance" performing "Fighter" that night anyways, so she thought, "She could have the kiss, it's okay." 
Since then Christina has lost touch with her Mickey Mouse Club co-stars but says she would love to have a "tea date" with fellow "mama bear" Britney Spears. "I think that'd be really fun after all these years," she reveals.
The singer's appearance on the radio show comes after a successful show at Radio City Music Hall in New York City, where she brought Lil Kim out on the stage for a surprise performance of "Lady Marmalade." Even Bill and Hillary Clinton were there to enjoy the star's performance. 
The Liberation Tour will return to Radio City Music Hall tonight.