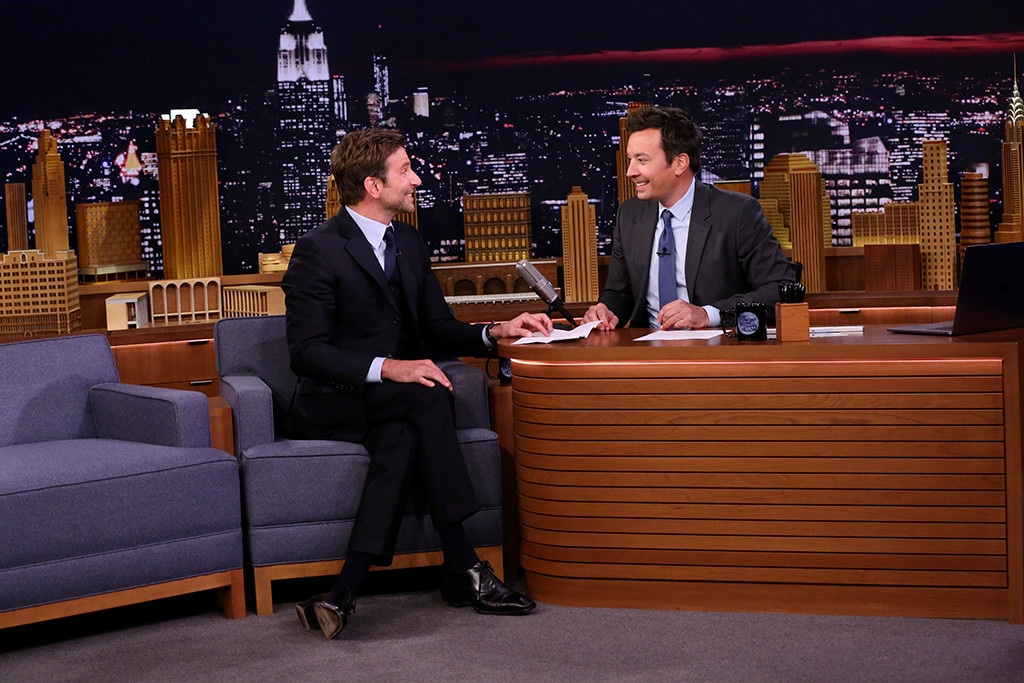 Andrew Lipovsky/NBC
Who could have predicted Bradley Cooper would be the star he is today?
As the 43-year-old director and star of A Star Is Born explained on The Tonight Show Wednesday, not even his classmates at Germantown Academy in Fort Washington, Penn., thought he'd get make it to Hollywood. "I went around and did this regional tour in this last week around the country," he said, "and I stopped at my high school and I played the movie."
It had been 25 years since Cooper graduated from high school and later enrolled at Villanova University; he later transferred to Georgetown University. As he reconnected with his former classmates, he explained to Jimmy Fallon, "There was this guy there who was like the best athlete in high school—and he was the nicest guy in high school—and he was so, like, gifted!"
"He was a running back. He was the s--t," Cooper said, accidentally cursing. "He was very good."
The actor said his schoolmate "was pretty inebriated," at the time, "and he was looking at me like I've never seen him look before. And he was like, 'How'd that happen, Brad?' I was like, 'Wait what? How'd what happen?' [He said] 'You know...like, freshman year. And I, uh, I­—just how did that happen, Brad?' I was like, 'I don't know!' You never know how people are going to react." But the exchange made Cooper take stock of his career, which is "funny to think about."
"Wow," Fallon said, teasing his guest. "That was a great story."
"We gave it a shot," Cooper replied. 'We gave it a shot."
Fallon jokingly made a note to "edit" the clip, saying, "Just make it one segment."
Warner Bros.' A Star Is Born, also starring Lady Gaga, is in theaters Friday.
(E! and NBC are both members of the NBCUniversal Family.)