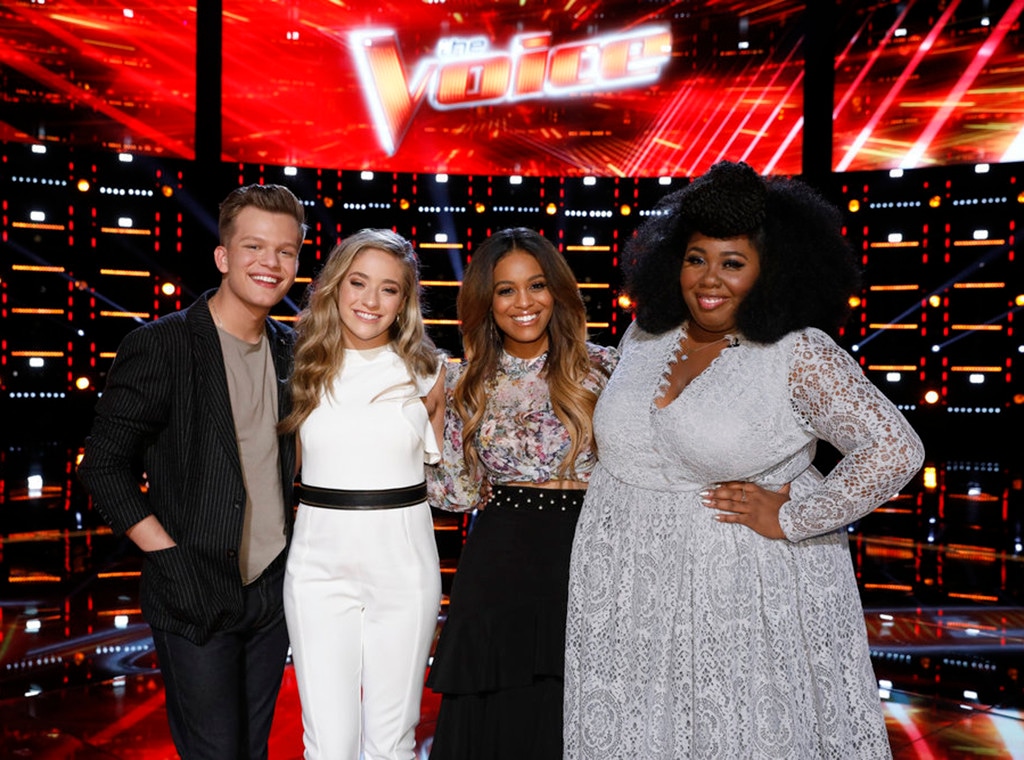 NBC
Who doesn't love watching competition shows? They bring excitement, drama and fun, all wrapped into one nice package.
With that in my mind, we are celebrating the finalists for the Competition Show of 2018 at the E! People's Choice Awards, because we also love watching normal people compete to earn titles, money and bragging rights.
The Voice, Ellen's Game of Games, Big Brother, RuPaul's Drag Race and America's Got Talent are all competing to take home the trophy at this year's PCAs and the competition is stiff!
These shows have made us laugh, cry or gasp over the past year and we cannot wait to see what the next contestants show us when each show begins its next season.
In honor of these shows making it to the final round of PCAs voting, take a look back at the moments that moved us this year and be sure to vote for your favorite Competition Show of 2018 before the People's Choice Awards airs next month.
The Voice:
Talk about unforgettable moments! Brynn Cartelli was crowned the winner of season 14 of The Voice and as part of Team Kelly Clarkson, the Massachusetts native become the youngest person to win in the show's history at the age of 15. She helped her coach, secure a win during her inaugural season on The Voice as well, which is a pretty big deal.
Cartelli was impressive from the start of the show, but her win was still a big moment. After singing "Beneath Your Beautiful" by Labrinth during her blind audition, it became clear that she had a fan in Clarkson, who praised the singer's versatility and correctly predicted that she could win with her.
America's Got Talent:
It's always shocking when a fan favorite gets eliminated on America's Got Talent. It was no exception when We Three was kicked off the competition show and didn't make it to the finals. Fans wanted the sibling musical trio to go all the way on season 13 of AGT, but the judges selected to give the spot in the finals to pop and opera singer Daniel Emmet instead.
The second surprise this past season was the actual winner. It may be Shin Lim who likes to shock audiences with his card tricks, but no one seemed more surprised than him when he won season 13 of America's Got Talent. The magician beat out Zurcaroh, Brian King Joseph, Samuel J. Comroe and Micheal Ketterer in the finale. He took home $1 million and the opportunity to do a headlining show in Las Vegas.
Ellen's Game of Games:
Ellen DeGeneres knows how to bring the fun on her game show, Ellen's Game of Games. In one over-the-top game from the show, she had two contestants face off in a game called "Dizzy Dash." DeGeneres asks them trivia questions and then they are spun around to disorient them. In one laugh-out-laugh moment, a contestant was so dizzy from the game that they couldn't remember what "WWW" stands for in an internet address. FYI—it stands for world wide web. 
Another fun competition from the show is "Don't Leave Me Hanging." In this game, competitors are suspended by harnesses while they answer category specific questions until they don't know or answer incorrectly which causes them to be catapulted out of their seats! Seriously, things get intense. One stand-out moment was when a third grade teacher said "North Carolina" when asked for a country in North America. Maybe, she just got nervous!
Big Brother:
Big Brother is known for bringing the drama year after year and season 20 was no exception. Rachel Swindler learned you can't trust anyone in the Big Brother house very early on. She was shocked when she was ousted from her Level 6 alliance and was evicted from the house. She placed 12th in the competition as a result.
Kaitlyn Herman was also left blindsided during Big Brother 20. She was eliminated after she got caught in a love triangle with Faysal Shafatt and Haleigh Broucher. Faysal decided to save Broucher instead of Herman. This left the New York native at the mercy of a house vote that didn't go her way. Yikes!
RuPaul's Drag Race:
There is no shortage of OMG moments form RuPaul's Drag Race. In season 10, Vixen and Eureka faced off numerous times and things got seriously heated and led to the most dramatic feud of the season. It took a mediator, Mayhem Miller, to discuss the hardships they've both faced and allow them to settle their differences in the end.
In a much more lighthearted scene from season 10, the queens pay tribute to the iconic singer, Cher, with their own unauthorized "Rusical" with all the glitz and glamour you would expect from the VH1 hit show. It was fun, dramatic and over the top, which is why fans wait each season to watch the Rusical episode.
The most shocking part of the RuPaul's Drag Race finale might have been when Asia O'Hara took the stage wearing a butterfly-inspired costume, but the live butterflies she planned to release mid-routine were lifeless and fell to the floor! The looks on the other contestants' faces were enough to know that something had gone terribly wrong.
Now that you've relived all of the wild and memorable moments from the PCAs Competition Show of 2018 finalists vote for the show you want to see win next month.