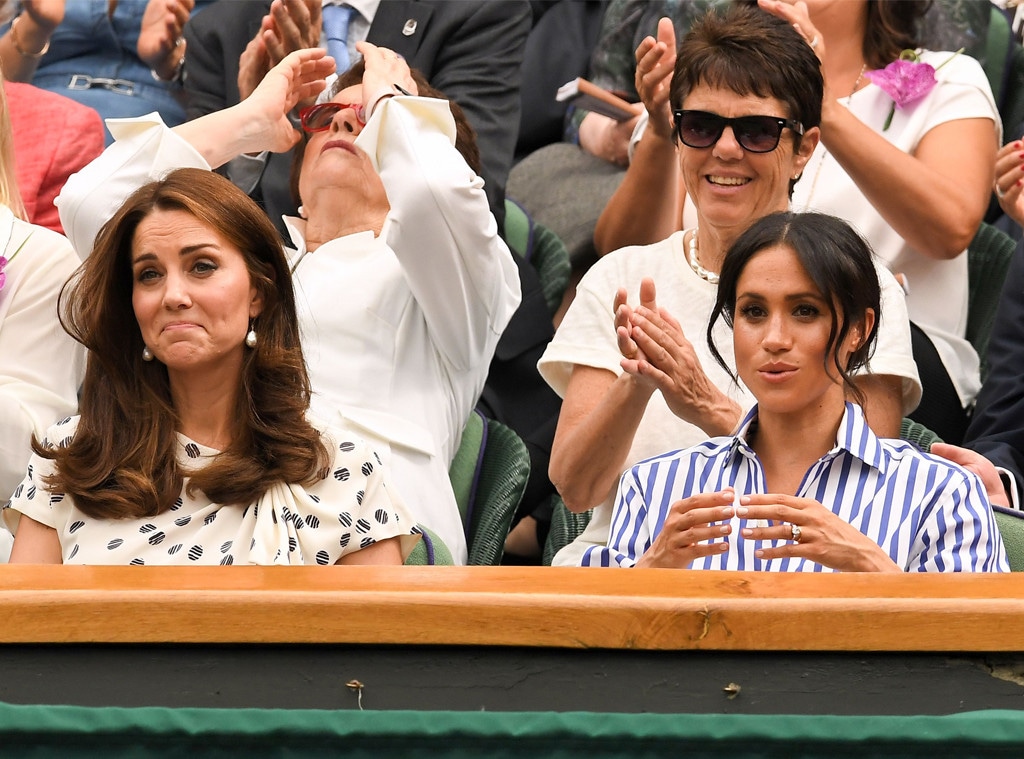 James Gourley/BPI/Shutterstock
With a decade-plus in Hollywood, it's hard to imagine Meghan Markle getting starstruck. Of course, though, it happens all the time. Take Sophie Turner's reaction to meeting childhood crush Justin Bieber, Chrissy Teigen's split-second decision to literally bow to Beyoncé or Kelly Clarkson's amazement over her Golden Globes encounter with Meryl Streep. 
For the former actress, her pinch me moment came when she was emailing with exiled Libyan royal Princess Alia Al-Senussi to set up a 2014 interview for her now-shuttered lifestyle blog The Tig. "Little girls dream of being princesses. I, for one, was all about She-Ra, Princess of Power," she wrote of her preference for the animated heroine that transfixed many an '80s baby. And such idolization of titled figures can be hard to shake. "Grown women seem to retain this childhood fantasy," she continued. "Just look at the pomp and circumstance surrounding the royal wedding and endless conversations about Princess Kate." 
Little did she know that four years on the public would be gossiping about a new tiara-wearer. Since the moment the actress-slash-activist, 37, took her place on Prince Harry's arm, royal watchers have been transfixed, almost more so than when Prince William announced his intentions to make college sweetheart Kate Middleton his bride. 
"The point about Meghan is she's smart, she's glamorous, she's everything that a modern American woman aspires towards," biographer Andrew Morton told People of the Duchess of Sussex, "and she's brought those values of equality, intelligence and self-confidence to the royal family. In a way she's made all of them up their game."  
At the very least, she's playing by her own set of rules. The two duchesses' approach to The Job (which essentially boils down to representing Queen Elizabeth II at royal events, devoting your life to charitable endeavors of your choosing and generally doing your part to help save the world) is as varied as their designer labels and go-to hairstyles. (While Meghan can give Kate a run for her money in the bouncy blowout department, her signature 'do is undoubtedly the messy bun.) 
Kate's contributions to The Firm (the cheeky name the younger royals have bestowed on their family) were on full display Tuesday, her first day back from maternity leave some four-and-a-half months after she and Prince William welcomed third heir, Prince Louis. Wearing affordable Zara jeans, her weathered 14-year-old pair of Penelope Chilvers tassel boots and slightly shorn locks, the 36-year-old mom of three hung with a group of kids at Sayers Croft Trust Forest School and Wildlife Garden. 
She crafted leaf crowns, handed out cups of juice, listened to a story time rendition of The Monkey Queen and, as always, doled out choice tidbits about life at home with Louise, Prince George, 5, and Princess Charlotte, 3. She shared how she and the kids spend "hours" hunting for spiders in their Kensington Palace garden, for instance, and that a particularly chatty 7-month-old was "almost the same age as my little boy." 
Being relatable—or as relatable as one can be when they have access to a designer wardrobe and live in an actual palace—is kind of Kate's thing. She was, after all, as those within the blue blooded royal circle love to point out, born with nary a title to her name. 
DAVID HARTLEY/Shutterstock
"When Prince William announced that he was marrying Catherine Middleton there were a lot of raised eyebrows at the palace," Prince Charles' former press secretary Colleen Harris admitted to People. "People were quite shocked that he was marrying what they would call a commoner, an ordinary middle-class girl with no background in royalty or aristocracy. People then sort of thought, an ordinary person can grow up and marry into the royal family....How exciting!" 
She's certainly adapted to the role. Knowing what's expected of the wife of a presumed future king, Kate is careful not to step one L.K. Bennett-clad toe out of line. She accessorizes her modest hems and feminine frocks with $7 John Lewis Barely-There Non-Slip pantyhose and has perfected the so-called ankle-crossing duchess slant. And when she shares details of her personal life, they're generally of the I-love-being-a-mom variety, like when she penned a letter for Children's Hospice Week proclaiming, "Spending quality time together is such an important aspect of family life and for me, as a mother, it is the simple family moments like playing outside together that I cherish." 
Dominic Lipinski/Pool Photo via AP
Not that she's some sort of timid Stepford Wife type as Meghan's dad Thomas Markle cruelly suggested. 
"Kate is hugely dutiful," royal biographer and Majesty editor Ingrid Seward noted to People, "but she is quite strong and leading the way behind the scenes." So while she may not be declaring herself a proud feminist on the official British monarchy website or shutting down the notion that women need assistance in finding their voice and causes they care about, she is quietly doing her part to gently steer the aristocracy in a more modern direction.
"I have found her incredibly wise," Lorraine Heggessey, CEO of the Royal Foundation told People, revealing it was the University of St. Andrews grad that suggested the family's organization hone in on mental health issues. (Of key importance to her, per her website bio: "supporting the mental health and emotional wellbeing of children, the impact of addiction on children and families, and the necessary measures to support children suffering from family breakdown.") While Kate "is not somebody who pushes herself forward," said Heggessey, "she is very confident in her views. She often spots the nub of the issue or a critical thing that needs dealing with." 
It's a move Meghan has been perfecting since the age of 11 back when she penned a note to Proctor & Gamble urging them to change a misogynistic tagline for their dishwashing liquid. (Hillary Clinton, lawyer Gloria Allred and journalist Linda Ellerbee received letters, too.) And no, she's not shy about letting people in on what she's up to. Even back in 1993, she shared her crusade on Nick News. 
"I feel like Meghan was born poised," Suits producer Aaron Korsh summed up to People. "She's like, 'That's not right, I'm writing a letter about that, and I'm going to correct an injustice in the world.' What makes Harry and Meghan so good together is Meghan is not obligated to advocate for the people—she just wants to." 
That's not to say she can't be an activist in a $2,000 Roland Mouret frock. As she said in her keynote speech at the 2016 Create & Cultivate conference, "You can be a woman who wants to look good and still stand up for the equality of women." For the Vanity Fair Best Dressed honoree that translates to many a well-cut power suit along with other sleek, high-end neutrals from the likes of Carolina Herrera and Givenchy.
Samir Hussein/Samir Hussein/WireImage
It's a style that's ever bit as lusted after as Kate's if just a smidge less polished ("If your outfit is on point," she once noted to U.K.'s Glamour, "one thing has to be off for you to look perfect,") and it doesn't come cheap. Reports have estimated she's spent $1 million of Prince Charles' cash on her new wardrobe (including some $440,000 on her custom Givenchy wedding gown).
Though that may be a worthy trade-off for the jolt she's provided to the economy. Much like Kate, she's helped sell out dresses, shoes, handbags and jewelry, including a pair of $2,945 rose gold-and-diamond earrings she chose for her official duchess debut. And the effect she can have on a little-known designer is revolutionary. David Hieatt, co-founder of Wales-based Hiut Denim Co. noted to People that in the nine months since Meghan slipped on the brand's black skinnies, they've vaulted to prominence: "In the next four weeks we are moving into a factory that's three times the size." 
Expect her to provide a similar boost to the patronages she chooses as well. The charity cookbook she supported as her first royal project is already a bestseller, she makes waves simply by shutting a car door and should one wonder about the effect she has on fellow Brits they need look no further than yesterday's trip to Sussex where she was heartily embraced by an adoring fan.  
With all eyes trained on her, the UN Women's Advocate is carefully considering which causes to champion. "She's interested in getting involved in youth-focused charities, which can incorporate a broad spectrum of her interests," an insider tells E! News. Of utmost importance are those that focus on female empowerment, Royal Foundation CEO Heggessey told People: "She's a very smart woman, and I think she will find her royal voice in a way that suits her personality." 
Sources predict that much like her late mother-in-law Princess Diana she will hone in on just a select few charities. "Diana put in so much time with the organizations she worked with," a source told Us Weekly of her dedication to just six charities. (By contrast, Kate lists 14 patronages on her official website.) For Meghan, predicts another insider, "it will be the same thing as Diana—more time with smaller organizations that she can truly help grow and that she can grow with at the same time." (On that list: the Diana Award, an organization that strives to continue the princess' legacy with the help of mentoring programs and anti-bullying initiatives.)
Press Association via AP Images
Those in her inner circle are eager to watch her work. "Senior aides at Buckingham Palace are already talking about just how strong Meghan's global influence will be over the years ahead," says an insider, "and how that will make her an incredibly important and powerful asset to the British Royal Family." 
Of course, one of her larger projects remains just on the horizon: her upcoming two-week tour of Australia, Fiji, the Kingdom of Tonga and New Zealand with Harry. Those in the know are predicting it will be a runaway success for the new duchess, the type of all-eyes-on-her event that can launch a long and storied philanthropic career for a woman who's already successfully navigated her first 100 days in the world's most watched family. "The tour is going to be her chance to shine," My Husband and I biographer Seward told People. "She's knows she'll be center stage, and everyone is going to want to meet her. It is her biggest part yet. I'm absolutely confident she will be very, very good."