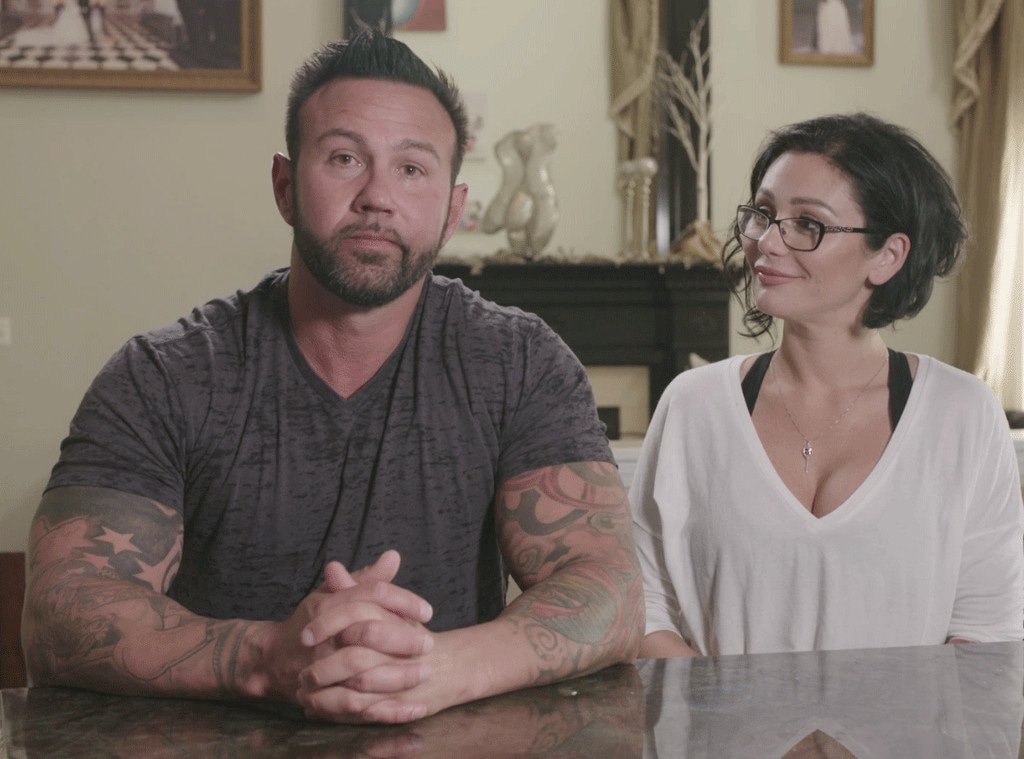 Awestruck
With his marriage to Jenni "JWoww" Farley up in the air, Roger Mathews is trying to keep things light. 
Such was the case on Wednesday when he took to social media with a photo of his back and a device. 
"Technology is an amazing thing. Science has advanced to the point my where they make shock therapy specifically designed for men to become better husbands," he wrote in a caption. "I had this device installed with shock leads that go directly into my spine and my wife holds the controller and settings. It's called the 'Dirtbag 9000' . It has voice recognition so if you question your wife it will light you up like a f--king Christmas tree."
He continued to joke, "It has four settings. 1. You're a c--t 2. I should have stayed with my ex 3. I hope you die a slow painful death 4. Just for fun. (Which is the most powerful setting and is like being shot by a police taser)." 
As Mathews concluded, "Humor has always been my way through life. Praying for a better tomorrow. Love you @jwoww."
Fans showered the reality TV personality with support on social media and Mathews took notice of one comment in particular. "WE LOVE YOU GUYS. ROGER YOU'RE A SAINT FOR BEING SUCH A SUPPORTIVE HUSBAND!!!!" the fan wrote. "I could do better in that department actually," he responded. "Working on it."
It was just last week that news broke of Farley's divorce filing earlier this month after nearly three years of marriage. At the time, she cited irreconcilable differences and claimed their relationship had been on the rocks for months. "My wife filed for divorce, it's true...I don't blame her. There's no cheating or any dumb s--t or any juicy details," Matthews told fans when he took to social media Thursday night. "She just grew tired of the repetitive pattern that we fell into. Again, I am not going to get into detail, but it was a repetitive pattern and not a good one."
A source echoed Mathews, telling E! News, "There was no cheating or anything like that. They have deep-rooted issues that have been going on for a long time and since before the Jersey Shore reboot even started filming." 
"They have not gotten along for a while. They argue a lot and Jenni was just tired of it," a second source explained to E! News. "They have not been on the same page for a while."
As the first source added, "It's a combination of different lifestyles, incompatibility and parenting issues that led to this point...Their relationship hasn't been healthy for a while, but even though Jenni already filed for divorce, it's still not totally over yet—there's a chance they could work it out and get back together."
That sounds like the outcome Mathews is hoping for. As he told fans last week, "I am going to win my wife back. I'm going to win her affection back. I am going to win her love back. I have no intentions on being a single dad. We're in counseling, so there is hope. It ain't over 'till the fat lady sings."
Since the news, the two reunited over the weekend to attend a show for the Disney Junior Dance Party On Tour with their 4-year-old daughter, Meilani. "Good day with the Disney JR squad," Mathews captioned a photo of the group together at the event. "Thanks Mom for putting it together."