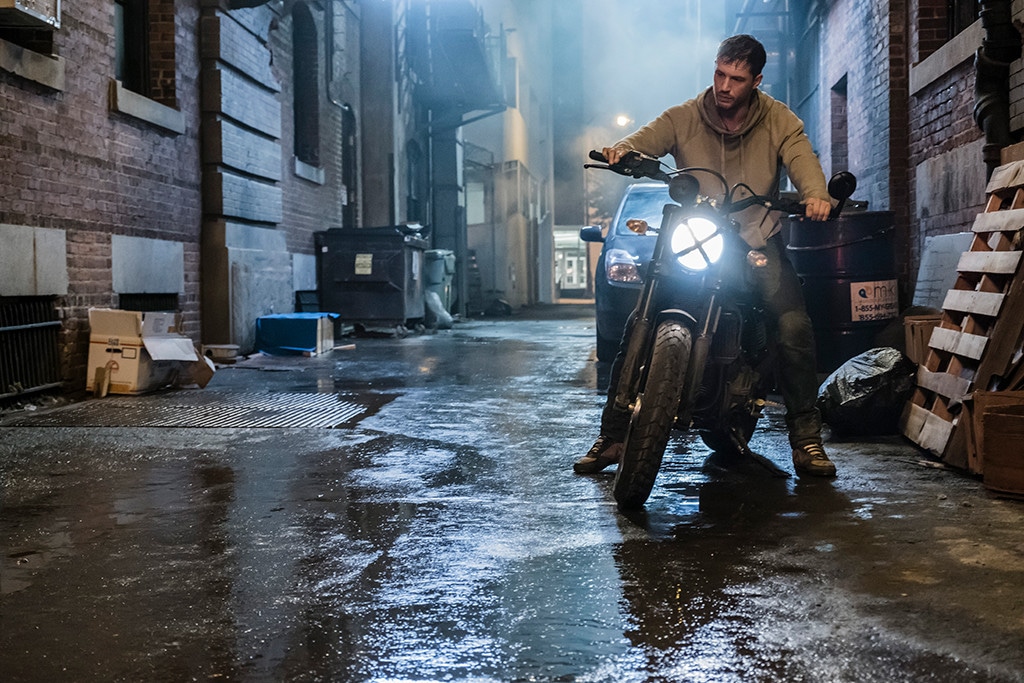 Frank Masi/CTMG, Inc.
Where does Eddie Brock end and Venom begin?
That's the central question in Columbia Pictures' Venom, in theaters Friday. Set in the Spider-Man universe, the film follows journalist Eddie Brock (Tom Hardy) as he attempts to take down Carlton Drake (Riz Ahmed), the infamous founder of the secretive Life Foundation. Eddie's obsession with exposing Carlton ruins his career—not to mention his relationship with his girlfriend, Anne Weying (Michelle Williams). But after he receives a tip from one of the Life Foundation's employees, Dr. Skirth (Jenny Slate), Eddie's investigation takes another turn when he encounters an alien symbiote, merging with his body and giving him superpowers. While the transformation is terrifying, Eddie also finds his newborn abilities intoxicating. But Venom is dark and unpredictable, and that's bad news for Eddie, as it puts those around him in danger. And in order to defeat Carlton—especially as he becomes more intertwined with Venom—Eddie must simultaneously fight his violent urges while surrendering to the monster within.
Ruben Fleischer directed the movie, from a script by Kelly Marcel, Jeff Pinkner and Scott Rosenberg. Venom is rated PG-13 for language and for sequences of sci-fi violence and action. Based on the Marvel Comics, Scott Haze, Ron Cephas Jones and Reid Scott round out the cast.
(Be sure to watch the post-credits scene to see who's playing the supervillain Cletus Kasady.)
Here is what critics are saying about Venom:
• Sure, the "always-interesting" Hardy has a "distracting New Yawk palooka accent and a fidgety swagger," but Venom "feels like a second-tier Marvel player prematurely called up to the bigs," Entertainment Weekly's Chris Nashawaty writes. To its credit, Venom is "stylishly gloomy." However, it's also "noncommittally mediocre and, as a result, forgettable. It just sort of sits there, beating you numb, unsure of whether it wants to be a comic book movie or put the whole idea of comic book movies in its crosshairs. It never rises above bombastic and busy."
• Branding Venom "irredeemable" and "unimaginative," The Hollywood Reporter's Todd McCarthy writes, "Notwithstanding the guaranteed profits stemming from any film with the Marvel brand attached to it, those involved should reflect upon the truth of the pic's advertising tagline: 'The world has enough superheroes.'" Venom "feels like a throwback," and not in a good way: "The writing and filmmaking are blah in every respect; the movie looks like an imitator, a wannabe, not the real deal." In the end, it comes off as "by-the-book, without amusement or surprise, save for Stan Lee's more extensive-than-usual last-minute cameo."
• "Directed with flat, joyless competence," Venom "feels like pretty weak poison" compared to other films in the Marvel Cinematic Universe, according to The Los Angeles Times' Justin Chang. But for a movie "conceived as a liberating celebration of badness, it's probably nowhere near as bad as it should be," he adds. Hardy "makes predictably fine company," and the actors "hit their marks and earn their paychecks with the utmost professionalism, if little conviction or energy." Ultimately, Venom never lives up to the "nastiness" of its premise, he writes. "This is one instance in which a story that should have been unsparingly dark feels hobbled, even sanitized, by its PG-13 rating, and also by the usual Hollywood franchise imperatives."
• "Aggressively loud and stupid without being much fun at all," Venom "exists as a waste of time for some very talented actors, and it's proof that even Marvel (whether it's the studio or other films based on its imprint) doesn't always get it right," The Wrap's Alonso Duralde writes. Hardy "is always mesmerizing, even when the material is less so, but in Venom he's finally found a project he can't overcome by sheer talent." Williams' role is mostly limiting, while Ahmed and Slate "give what may be their first bad performances, respectively overplayed and tentative."
• Calling Venom "spectacular but mostly derivative and generically plotted," Variety's Owen Gleiberman argues it "could have been a fun creation, but the film spends too long watching him...originate." Despite Hardy's best efforts, "Venom is no character study; it's a by-the-numbers fantasy of processed awesomeness. Eddie is meant to be Clark Kent for the age of activism, but really, the movie just needs to give him something to do before his big transformation." Although the graphics "can be dazzling," Venom "is a textbook case of a comic book film that's unexciting in its ho-hum competence, and even its visual-effects bravura."
• "Walking out of Venom, you'll realize it functions first and foremost as a comedy. And an intentional one, at that," Vulture's Abraham Riesman writes. Although many of the film's "laughs are very much not deliberate," its humor also emanates "from a kind of action-comedy slapstick I sincerely didn't know Tom Hardy had in him." The actor gets to show off his vocal talents, and "rarely has bodily possession been conveyed with such delicious weirdness." While much of the movie "falls flat," a sequel seems "inevitable." At the very least, Riesman writes, there's one epic scene "in which frenzied look on Hardy's face is worth the price of admission."
• "Superhero fatigue got you down? Tired of the same old bland Marvel Cinematic Universe offerings? A dose of Venom could be just the right antidote," The Chicago Tribune's Katie Walsh writes. Calling it "dark" and "wacky," she says, "It's a mess, but wow, is it ever a fun, fascinating mess." Eddie's chemistry with his "cheeky and sardonic" parasite is particularly amusing, and their banter is "intentionally" funny: "Hardy's wild-eyed performance and quirky asides invite you to laugh at the silly madness of it all." But like other comic book movies, she says Venom suffers in its third act, as it's "clouded by muddy character motivations and even muddier CGI."
• Calling it "utterly unmarvelous," Rolling Stone's Peter Travers gripes Venom is "a puddle of simplistic, sanitized PG-13 drivel." The "massively overqualified" cast—Ahmed, Hardy and Williams—have "been reduced to putting on a clown-show for kiddies in a shameless corporate product where the creativity stopped with the balance sheet." The blockbuster is peppered with "Deadpool-style laughs," which work well "until you realize the comic side is all there is." Arguing against a sequel ("audiences have suffered enough"), Travers complains, "The action? It's repetitive enough to bore you breathless. And the special effects are strictly bottom shelf."
Are you planning to see Venom in theaters? Sound off in the comments.