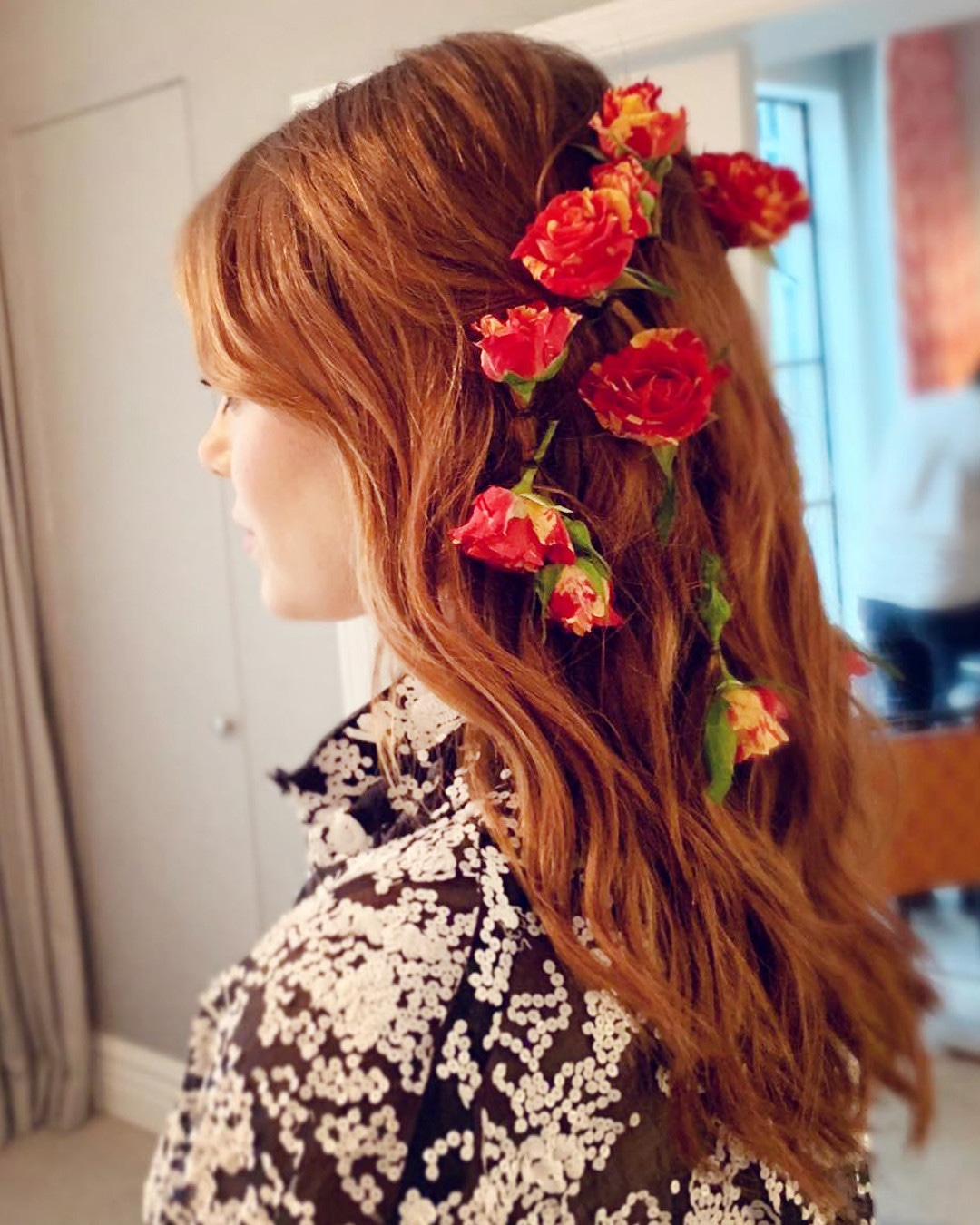 Instagram
When it comes to fall beauty, celebrity hairstylist Mara Roszak is ahead of the curve.
Over the course of several weeks, the beauty professional has demonstrated new ways to keep your look fresh, no matter the weather. Most recently, she created Emma Stone's soft waves, featuring fresh yellow-to-red roses, which she wore to the NYC premiere of The Favourite. The look is striking against the star's red tresses, similar to the look Mara created for The Handmaid's Tale's Madeline Brewer in honor of the Emmys.
"She wore a black and white sequined Louis Vutton Dress," Mara told E! News, referring to Emma's look. "We wanted to play with it a bit and have fun. It was Emma's joint idea with all of us. We wanted to make the hair and makeup playful...The movie takes place in the 1700s. The hair and makeup in the film is elaborate, which inspired my creation."
The added flowers, however, were inspired by the runway.
"At the recent NYFW, I was inspired by Rodarte," Mara continued. "I wanted to implement all of these styles. There was fresh flowers in all of the hairstyles, and that was kind of a bit of a theme I knew I wanted to use. They wired a lot of fresh flowers and I just loved it."
Flowers aren't the only fresh look for fall. To achieve red carpet hair all season long, the celeb hair pro revealed her tips for fall below! 
Fresh Hair Requires Hydration
"Moisturizers, beautiful conditioners, creams and oils [are fall essentials] because your hair tends to be more dry. I am in love with Joico's KPACK Color Therapy Multi Perfecting Spray. It is everything your hair needs."
Amp Up Your Accessories
"I did a bow on Emma's hair recently with a ribbon. I like ribbons, bows and flowers."
Swap Out Curling Irons for Braids
"You know, braiding the hair first really works to give you a nice base of a wave. But then, you can use those curl irons to sort of touch it up. I don't like waves that are too manipulated or too manufactured looking. So just keeping it natural with your wave and working with your natural texture."
To create Emma's floral style, the beauty pro used Joico's Power Whip Foam on the star's roots to create a base for her style before blow drying it.
Swap Out Alcohol-Based Products for Oils in Cold Weather 
"I do love that kind of super shiny slicked look, but I love using oil. What you don't want to do is use a major alcohol-based product when it comes to potentially being in the rain or getting wet because it'll get hard and get weird when you add water to it, so making sure to not use a lot of hair spray with aerosol and use more oils."