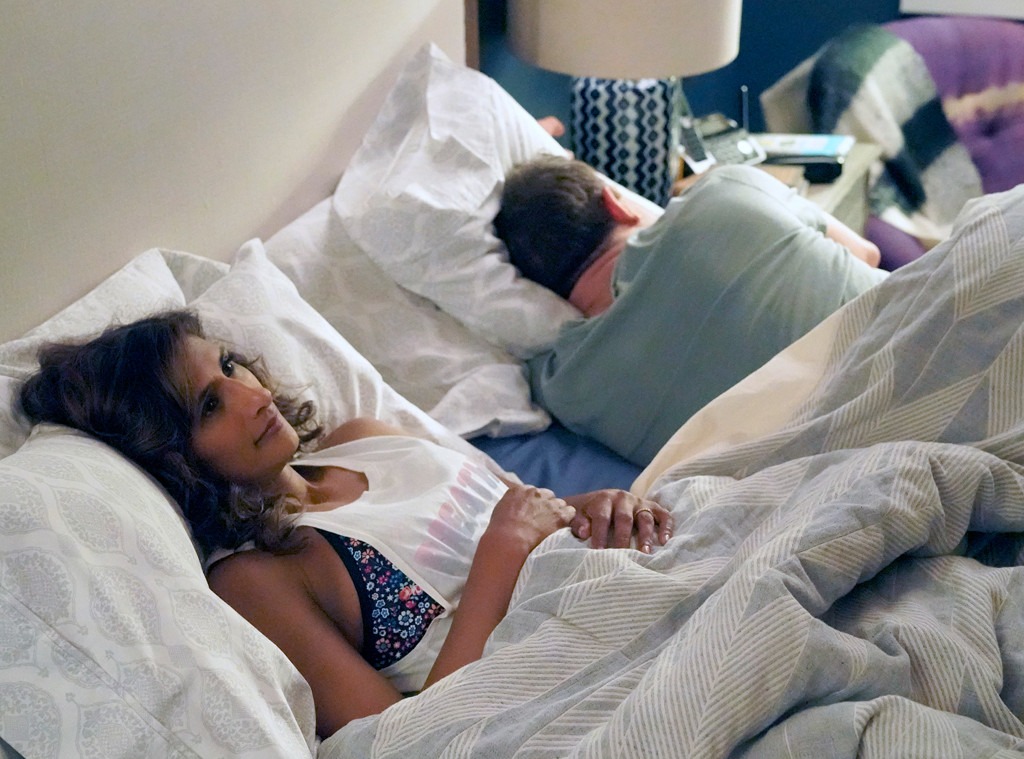 NBC
In this, the year of 2018, it's easy to feel bad, and there are LOTS of things we're supposed to feel bad about. 
Needing money, not needing money, eating gluten, not buying organic, cancelling plans, needing alone time, watching TV, not being caught up on TV, not leaving the house, using gas, not knowing how to contour, wearing too much makeup, politics in every sense of the word—you get it. That's the general idea of NBC's new comedy, I Feel Bad, which stars Sarayu Blue as a busy working mom who just wants to not feel bad about not being perfect all the time.
Lucky for those of us watching I Feel Bad, there are plenty of things about it to feel good about! 
Sarayu Blue
The majority of the show rests on Blue's shoulders as not only the main character, but also the narrator, and she really is a star. Emet puts up with a lot, and while she occasionally fails, Blue never makes her feel like a failure. Instead, she lets very little get her down, and she's refreshing to watch. 
Diversity
Emet's family is biracial, and while that's not what the show's about, it's obviously a big part of her life and an occasional source for humor. It's also just refreshing to watch. 
The Parents
Emet's parents, played by Madhur Jaffrey and Brian George, are the show's secret weapons, always coming in at exactly the right—or exactly the wrong—moment to obsess over a perfect family on Instagram or a murderer on the news. They're mortifying and they're outstanding. 
The Humor 
With Amy Poehler as an executive producer, there's a certain relatable familiarity to this show about a hard-working woman not taking any crap from anybody. But at the same time, it's got a voice all its own, thanks to creator Aseem Batra, who based the show on the book I Feel Bad: All Day. Every Day. About Everthing. 
It's Not Preachy
I Feel Bad is not telling you how to parent. It's not selling the whole, "how does she do it?" type of story. "It's a question we're asked all the time, and we're always asked how we balance it all. It's a question that we always have to give an answer to. And I think — so the balance of a working woman's life, there's always something that feels like it's getting short shrift. And men, as well, absolutely, too. There's something very specific about being a mom these days and being expected to kind of be handling everything really, really well that is still unexplored territory on television," Poehler said at the 2018 Television Critics Association Press Tour. "There was a lot of working women on television who just kind of figured out how to raise their kids off screen without us watching, and it will be really interesting to see those two things mesh in the show."
I Feel Bad officially premieres Thursday, October 4 at 9:30 p.m. on NBC, but you can watch the first two episodes on Hulu or NBC.com. 
(E! and NBC are both part of the NBCUniversal family.)