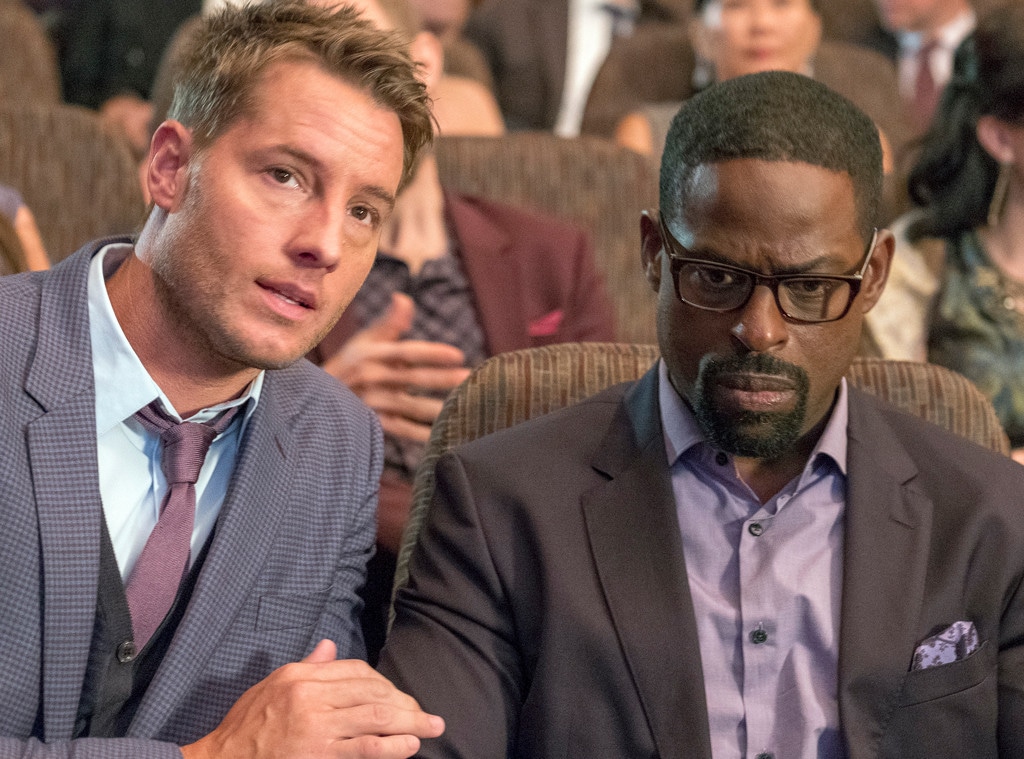 NBC
This Is Us has a new mystery going with the flashforward reveals featuring old Randall (Sterling K. Brown), adult Tess (Iantha Richardson) and old Toby (Chris Sullivan)…and viewers didn't get any further information about that in the second episode of season three, "A Philadelphia Story." Nor did viewers learn more about the mystery man Rebecca (Mandy Moore) kissed after her first date with Jack (Milo Ventimiglia).
Instead, viewers were treated to a somber hour featuring the grieving Pearsons of the past and the struggling, arguing Pearsons of the present, with seeds planted for future drama.
Throughout the episode, flashbacks featured teenage Kevin, Randall and Kate grieving the loss of their father in different ways. Kate with her eating, Kevin with drinking and Randall, Randall seemed fine, until he opened his eyes to the pain Rebecca struggled with on a daily basis.
In the present, Kate's (Chrissy Metz) IVF plans were accidentally revealed, which sent Rebecca into a tailspin of criticism and worry. But, like a real family, when Rebecca was able to communicate her worries—she never wants Kate to be in any kind of danger for fear of losing her after they family lost so much with Jack—and actually listen to Kate, they were able to move forward. Rebecca even did Kate's IVF shot for her.
Flashbacks also featured William (Ron Cephas Jones) celebrating his five-year sobriety and meeting key figures of Randall's present at the building and community center. Randall also went on a quest to better the community center that was so important to William's life, but he didn't take time to get to know the people there. On his quest, he met a councilman who promised to clean up the center that day…it didn't happen. Seeds are now planted for what appears to be Randall's political career. But he lives in New Jersey, how can he run for office in Philadelphia? This Is Us will figure it out.
For viewers wondering why Kate isn't adopting, she said she wanted to be able to pass along pieces of Jack since she'd be the only one to do so. When Randall heard the comment secondhand, he paused. There's a something brewing there. Are we going to see a Kate and Randall rift?
The entire family was together for Kevin's (Justin Hartley) premiere, though we didn't see how the movie is received. What we did see is Toby's increasing mood swings now that he's off his anti-depressants. Kate noticed something is up, but still hasn't been able to pinpoint what's going on with her husband.
This Is Us airs Tuesdays, 9 p.m. on NBC.
(E! and NBC are both part of the NBCUniversal family.)