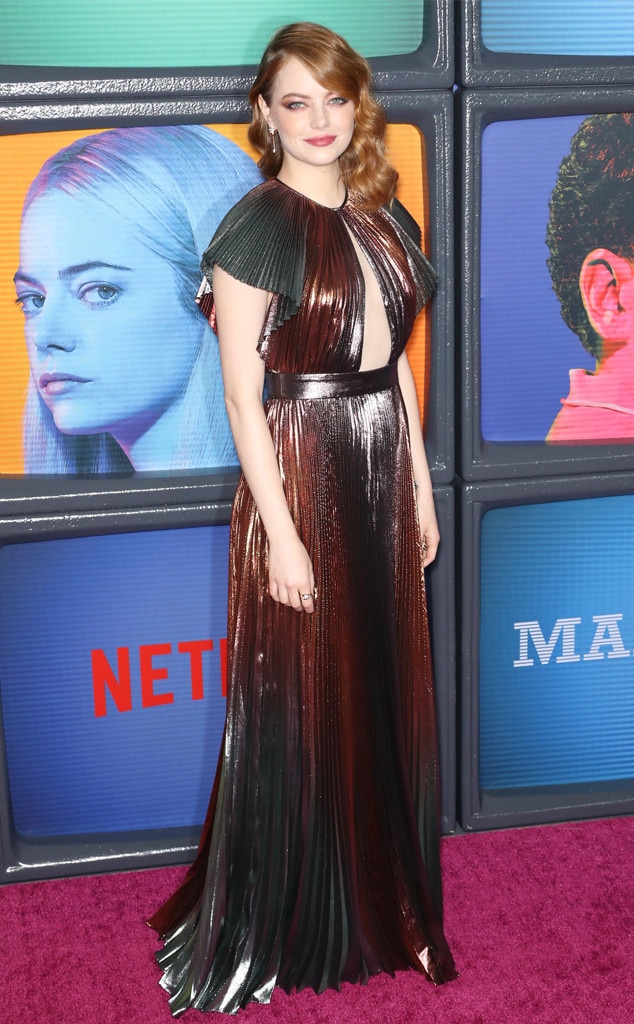 JOHN NACION/startraksphoto.com
Emma Stone is pulling back the curtain on her lifelong struggle with anxiety.
During an interview with Dr. Harold S. Koplewicz for the Child Mind Institute, Stone discussed having her first panic attack and how that "terrifying" moment repeated itself over the next few years. The La La Land actress described her first attack when she was just 7-years-old. "After first grade before I went into second grade, I had my first panic attack. It was really, really terrifying and overwhelming," she told Dr. Koplewicz. "I was at a friend's house, and all of a sudden I was convinced the house was on fire and it was burning down. I was just sitting in her bedroom and obviously the house wasn't on fire, but there was nothing in me that didn't think we were going to die."
These type of occurrences happened constantly over the next two years for Stone. It made going to school really difficult for her. She explained that she went to the nurse's office every day in second grade and feigned sickness so she could call her mom and go home.
Stone continued to describe her separation anxiety from her mom, who was present in the audience. "I couldn't go to friends' houses," she told Dr. Koplewicz.
She joked, "As you can see, it's gotten better. I swear!"
Later on after her first panic attack, the Maniac star began attending therapy, where she was diagnosed with generalized anxiety and panic disorder. Her therapist, however, never told her that's what she was diagnosed with and Stone is thankful for that. She confirmed Dr. Koplewicz's assessment that being in therapy was "embarrassing or shameful" for her.
"I am very grateful I didn't know that I had a disorder," she said. "I wanted to be an actor and there weren't a lot of actors who spoke about having panic attacks."
She kept most of those experiences within the confines of her home and discussed them mostly with her family. When she was in therapy, she wrote a staple-bound book called I Am More Than My Anxiety, where she could draw pictures and recalled it being "helpful." Her mom still has it.
Stone elaborated on I Am More Than My Anxiety in a 2016 interview with Rolling Stone. She said, "I drew a little green monster on my shoulder that speaks to me in my ear and tells me all these things that aren't true. And every time I listen to it, it grows bigger. If I listen to it enough, it crushes me. But if I turn my head and keep doing what I'm doing—let it speak to me, but don't give it the credit it needs—then it shrinks down and fades away."
Stone also discussed how acting and improv helps her cope with anxiety. She said improv is "presence. It's meditative." Plus, the anxiety can sometimes assist Stone in her acting. She said, "I also believe there is a lot of empathy when you struggled a lot internally. There is a tendency to want to understand how people around you work or what's going on internally with them which is great for characters."
She added, "You don't have to be actor to over anxiety, you don't have to be a writer to overcome it. You just have to find that thing within you that you are drawn to."
Panic attacks haven't abandoned the Oscar winner. She told Dr. Koplewicz she had one earlier that day, but manages her anxiety by seeing a therapist, meditating and reaching out to her friends and loved ones when she feels the most isolated.
Stone admitted that "sharing" and "making mistakes is a big trigger of fear for me."
Watch her full discussion with Dr. Koplewicz above.