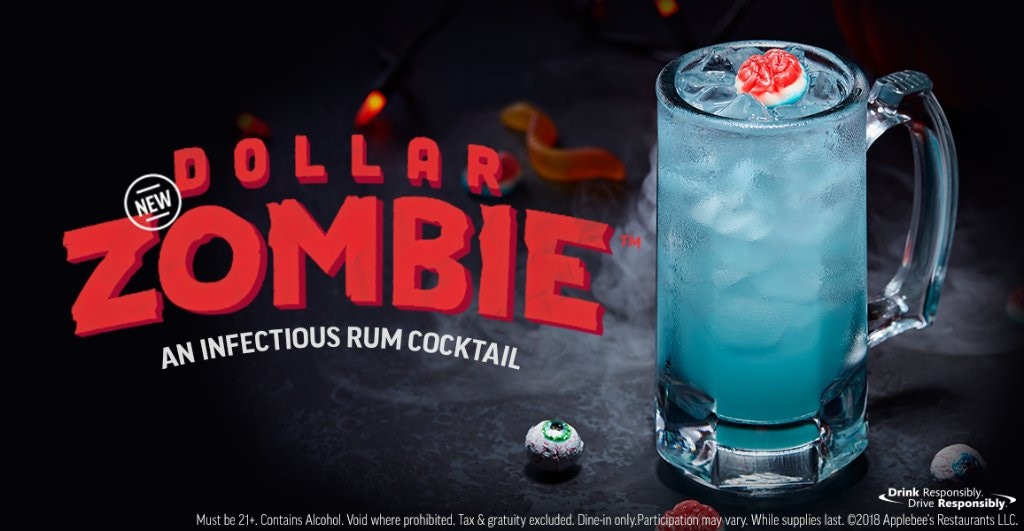 Applebee's
From the fast casual eatery that blessed us with $1 margaritas, Long Island iced teas and Bahama Mamas, it's time to get acquainted with the Dollar Zombie. 
Our friends at Applebee's (otherwise known as the patron saints of affordable alcoholic beverages) have officially unveiled the latest addition to their "Neighborhood Drink" menu—and it's seriously spooky. Right in time for Halloween, the Dollar Zombie is described by Applebee's as a mixture of rum, pineapple, passion fruit, cherry, lime and garnished with a "gummy brain."
And the price point is spot-on: you can trick-or-treat yourself to the Zombie drink for a single $1 bill at participating Applebee's locations through the month of October!
This time last year, the restaurant first introduced its patrons to the wonders of a $1 margarita, known fondly as the Dollarita. What followed was a rotating menu of super cheap cocktails like a $2 Absolut Vodka lemonade as well as a $3 Grey Goose and cranberry. 
"Halloween is a favorite holiday around here, and we're excited to offer guests the opportunity to celebrate all month long with our new DOLLAR ZOMBIE," Patrick Kirk, VP of beverage innovation at Applebee's, said in a press release. "We invite people to get into the spirit early by trying our Neighborhood Drink with an infectious taste. The only thing to fear this Halloween is missing out on this awesome drink."
So if you're of legal drinking age, grab the nearest designated driver and head to Applebee's to get a taste of the Dollar Zombie for yourself!