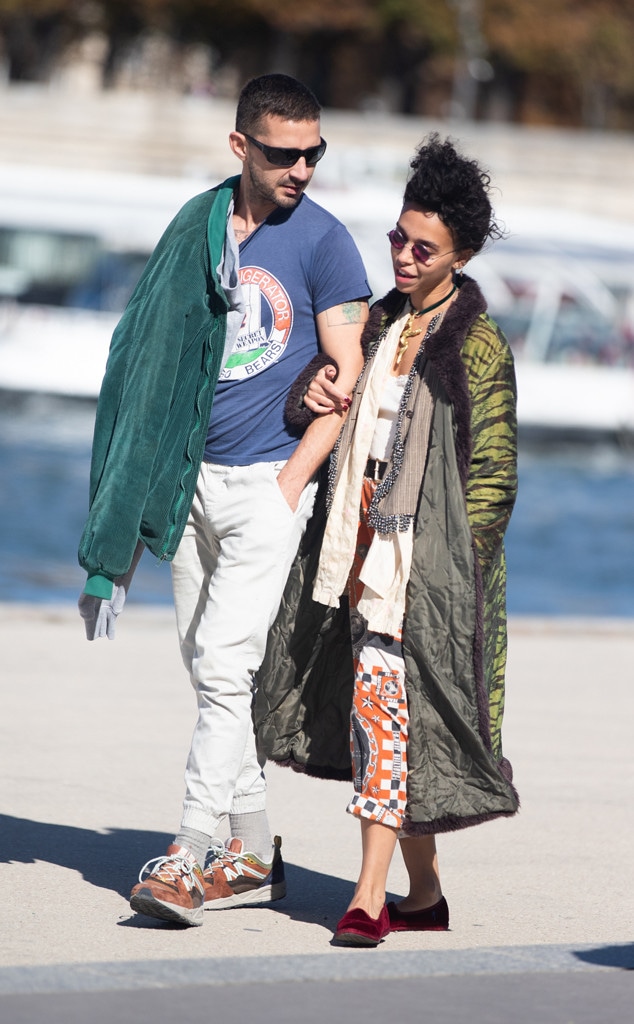 Melodie Jeng//GC Images
Paris: it's the city of love.
Shia LaBeouf and his rumored romantic interest FKA twigs (real name Tahliah Barnett) were spotted showing some PDA around Paris over the weekend. The two of them ambled near the Seine and were seen at the Louvre museum standing near the famous Mona Lisa painting, according to Twitter user @gabbybiscardi. Last week, the Evens Stevens star was seen leaving FKA twigs' London and once again in her neighborhood as they went jogging and walking.
News of their romance started heating up as LaBeouf's rep confirmed to E! News that he and his wife Mia Goth had "filed for divorce." The rep added, "The separation is amicable and all details pertaining to the divorce proceedings will remain private."
LaBeouf and British singer twigs met this past summer while filming the movie Honey Boy, which he wrote and stars in. Ironically enough, twigs' ex-fiancé Robert Pattinson and Goth are promoting their new movie High Life together and were seen walking side-by-side at the San Sebastian Film Festival. According to sources, both Pattinson and Goth aren't that surprised that LaBeouf and twigs are hanging out together. The source explained to E! News that the High Life co-stars are just friends. Pattinson is dating the model Suki Waterhouse.
LaBeouf and Goth seemingly got married in a Las Vegas courthouse in 2016 after dating for about four years. The two of them met on the set of the film Nymphomaniac and, throughout their marriage, had a slew of both turbulent and positive moments. In 2015, a video showed LaBeouf and Goth screaming at each other in Germany. At one point, he warned her about getting physical. "I don't wanna touch you. I don't wanna be aggressive. This is the kind of s--t that makes a person abusive," he said.
At another point in the video, he was recorded in the back of a car saying, "If I'd have stayed there, I would have killed her."
Twigs and the former Twilight star broke off their engagement in 2017, which was reportedly initiated by Pattinson. A source told E! News at the time that their split was due to "travel schedules" and it "took a toll on the relationship." They dated for about three years.