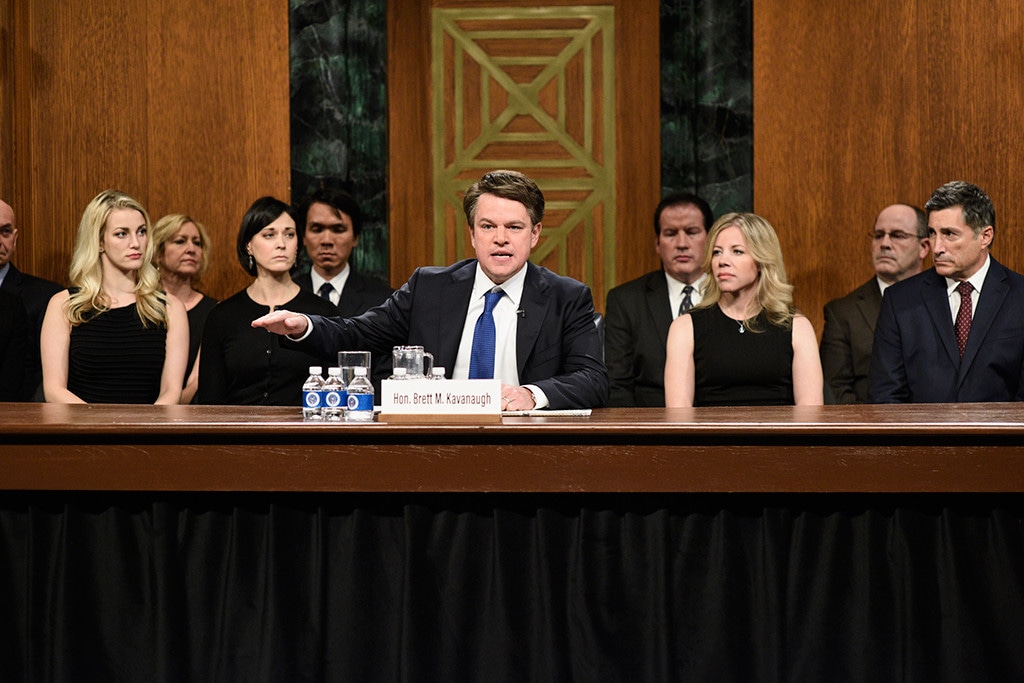 Will Heath/NBC
Live from New York, it's Saturday night... with Matt Damon!
Saturday Night Live premiered for its 44th season this Saturday night and in typical SNL fashion, there were plenty of surprise celebrity guests. Matt Damon showed up in the cold open as Supreme Court nominee Brett Kavanaugh during his Thursday testimony in front of the Senate Judiciary Committee. Former SNL cast member Rachel Dratch also appeared in the open as Sen. Amy Klobuchar of Minnesota.
The opening skit poked fun at Judge Kavanaugh's heated hearing that occurred not long after Dr. Christine Blasey Ford spoke in front of the same group of senators giving her testimony. In it, Pete Davidson posed as Rhode Island Senator Sheldon Whitehouse, who questioned Judge Kavanaugh about his calendars from the summer of 1982, when the assault allegedly occurred. Damon/"Kavanaugh" brought up the calendars while talking to California Senator Dianne Feinstein, who was played by Cecily Strong. 
"You want a real investigation, then just look at my -- look at my calendars," Damon-as-Kavanaugh said. "You're going to see that every night I was lifting weights with PJ and Squee and Handsy Hank and Gang-bang Greg. But you know the liberal media is going to find some way to spin this."
Another aspect of Damon-as-Kavanaugh's skit was making fun of (real) Judge Kavanaugh's water consumption during the hearing. During many parts of the opening skit, Damon was seen chugging water and having it drip all down his shirt.
Damon and Dratch weren't the only celebrities who made appearances in the open. A cardboard cutout of Alyssa Milano appeared a few times throughout it. Milano attended the Ford-Kavanaugh hearing on Thursday and was seen sitting just a few rows behind the judge. During a rally on Capitol Hill, she told the crowd, "My name is Alyssa Milano and I am a survivor of sexual assault and silent no more."
Adam Driver hosted the season premiere and Kanye West  stepped in as the musical guest after Ariana Grande (fiancée of SNL cast member Davidson) dropped out.