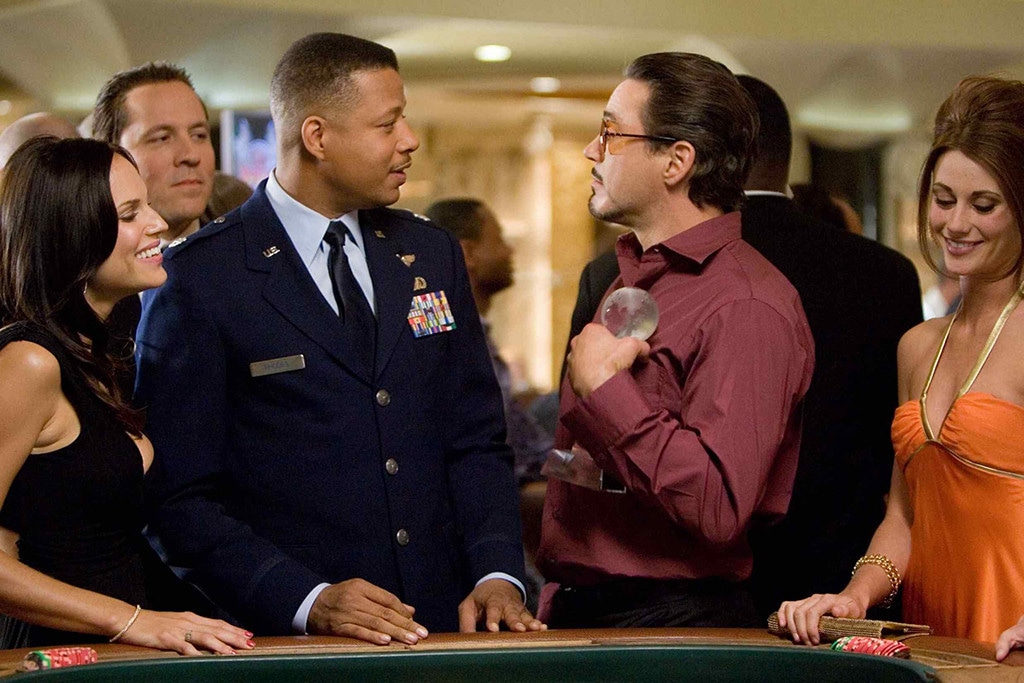 Zade Rosenthal/Marvel Entertainment
Ten years after Terrence Howard originated the role of James Rhodes, a.k.a. War Machine, in Jon Favreau's Iron Man—and was subsequently replaced by Don Cheadle over a contract dispute—the actor said Thursday he has no intention of ever revisiting the popular character.
Howard was a guest on Watch What Happens Live With Andy Cohen when a fan called in to suggest the idea. "Now that you seem to be cool with Robert Downey Jr. again," the viewer asked, "is there any chance you would come back and do an Iron Man or an Avengers movie?"
The question made Howard smile. "You know what's so funny? Even though I love Don Cheadle so much and I love what he's done, I still hear a lot of fans asking, 'Am I going to come back and be War Machine? Am I going to come back and be War Machine?'" Although there are no Iron Man sequels currently in production, he said, "I think they could have a huge franchise off of it."
So, is that yes? "F--k 'em," Howard said.
"Say it how it is," fellow guest Elle Macpherson said.
"Terrence Howard to Iron Man: 'F—k 'Em!'" Andy Cohen said. "That was very clear, right?"
"Perfect," Macpherson said in agreement. "Loud and clear."
Howard spoke about being recast when he appeared on the same late-night show in 2013. "This is going to get me in a lot of trouble, but it turns out that the person I helped become Iron Man, when it was time to re-up for the second one, took the money that was supposed to go to me and pushed me out," he said, throwing Downey under the bus. "We did a three-picture deal, so that means that you did the deal ahead of time. It was going to be a certain amount for the first one, a certain amount for the second, a certain amount for the third. They came to me with the second and said, 'Look, we will pay you one-eighth of what we contractually had for you because we think the second one will be successful with or without you. And I called my friend that I helped get the first job, and he didn't call me back for three months." Asked where he stood with Downey after the deal, Howard replied, "Oh, I love him. God's going to bless him."
Months later, the former co-stars reunited at Brian Grazer's wedding and snapped a selfie. "Nice to see my old friend again," Howard wrote on Instagram, adding that "life's too short."
(E! and Bravo are both members of the NBCUniversal family.)