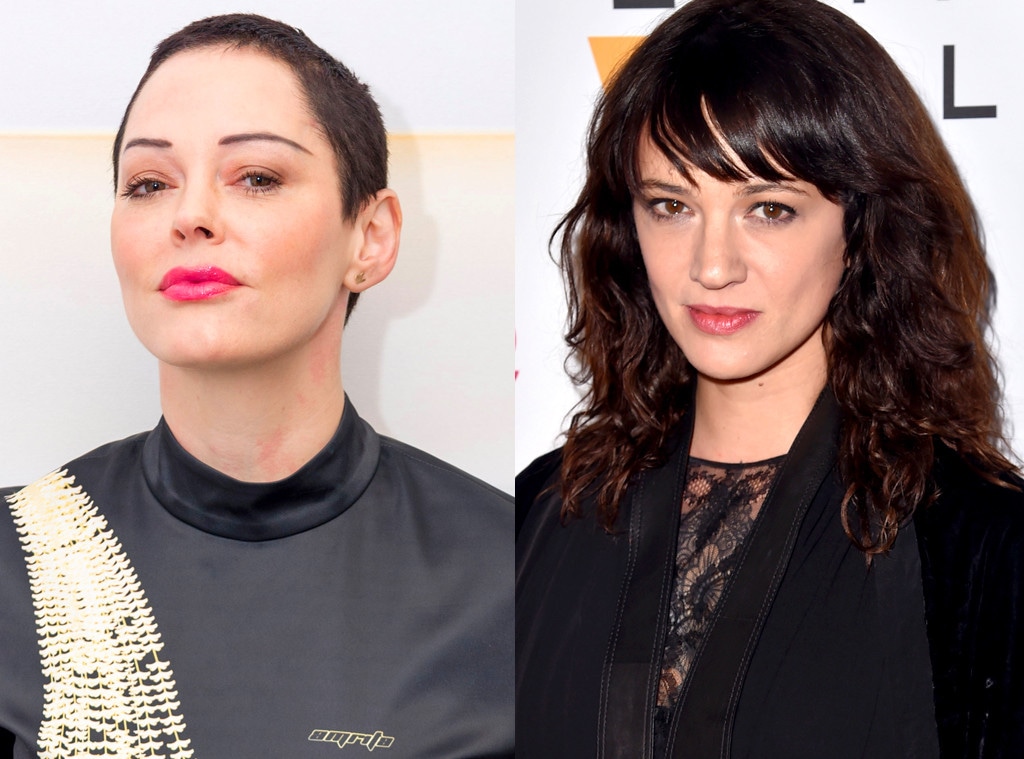 Ken McKay/ITV/REX/Shutterstock; Stephen Lovekin/REX/Shutterstock
Rose McGowan has a message for Asia Argento.
On Thursday morning, the activist took to Twitter where she wanted to clarify past statements she has made about Asia. At the same time, Rose would also apologize to the Italian actress for some of her actions.
"On 27 August I released a statement about Asia Argento, which I now realized contained a number of facts that were not correct. The most serious of these was that I said the unsolicited nude text messages Asia received from Jimmy Bennett had been sent since Jimmy was 12 year old," she explained in the statement. "In fact, I had misunderstood the messages that Asia exchanged with my partner Rain Dove, which made clear that Jimmy had sent Asia inappropriate text messages only after they met up again when he was 17 (still legally a minor in California, but notably different from a 12 year old)."
Rose continued, "In my statement, I challenged why Asia had not acted as I think any responsible adult would if they received sexually explicit messages from a 12 year old, which of course do not apply in the same way as when the situation involves a 17 year old, who had admitted harboring misguided fantasies about their mentor since they were 12."
The Hollywood actress concluded her statement with an apology to Asia. "I deeply regret not correcting my mistake sooner and apologize to Asia for not doing so," she shared.
In recent months, Asia and Rose publicly stated their different points of view when it came to one highly publicized case.
The case in question came after the New York Times published a report claiming Asia paid off former child star Jimmy Bennett who had accused her of sexual assault. She denied having "any sexual relationship" with Jimmy and "strongly" denied the contents of the article.
In a statement, however, Rose explained how she became aware of the sexual assault claims made against Asia.
"I received a phone call and series of messages from the being I've been dating—Rain Dove," Rose explained in her lengthy statement. "They said that they had been texting with Asia and that Asia had revealed that she had indeed slept with Jimmy Bennet. Rain also shared that Asia had stated that she'd been receiving unsolicited nudes of Jimmy since he had been 12. Asia mentioned in these texts that she didn't take any action on those images."
Rain would later post (and delete) a tweet that stated: "It was my mistake in interpreting the texts. You can tell even when I'm writing to Asia I thought she meant that he had been sending nudes since 12. But indeed it's 17. Still underage nudes received. That was my mistake. I clarified today in the press and owned that."
Asia has not publicly commented on Rose's latest tweet. She previously wrote on social media: "It is a shame that @rosemcgowan is not prepared to accept when she is wrong. @raindovemodel accepted she was wrong, but her tweet has been deleted. Rose's statement continues to make false claims."