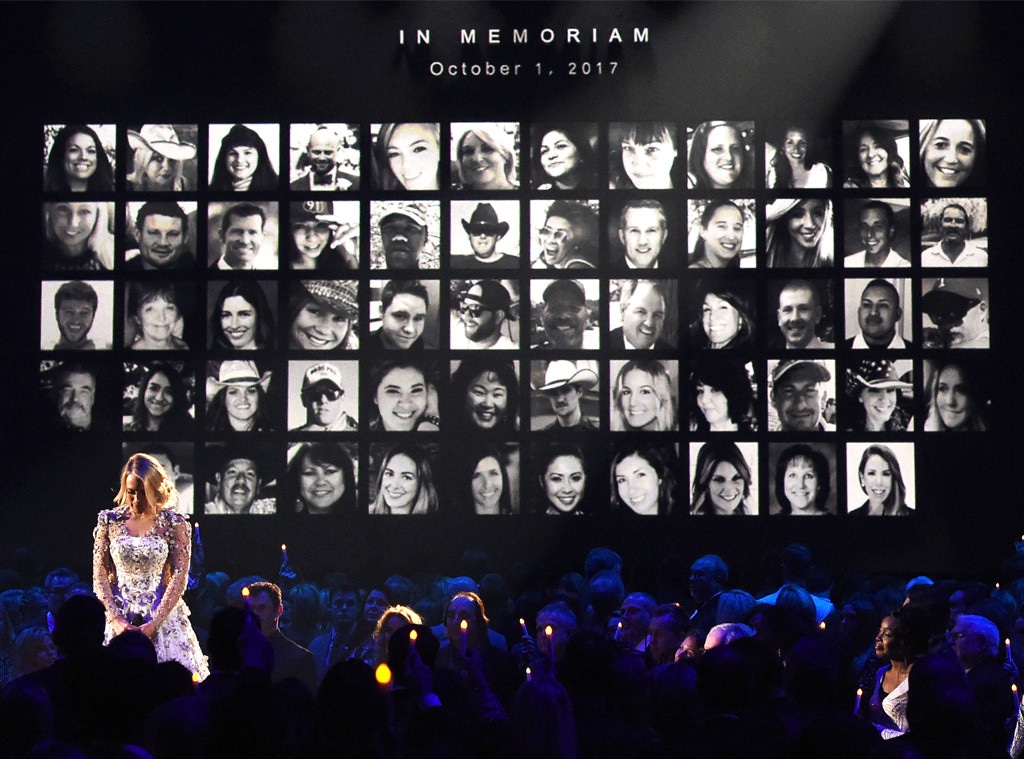 Rick Diamond/Getty Images
The Las Vegas Strip is known for its iconic bright lights. Last October, after tragedy struck the city, they went dark for 11 minutes.
When Jason Aldean took the stage at the Route 91 Harvest Festival a year ago today, it was supposed to close out a night of celebration for country music. As the crowd of 22,000 cheered him on, he started singing his song "When She Says Baby". He was only halfway through when the bullets started.
While festival-goers had been spending the three-day event watching their favorite performers, a lone gunman had posted up in a Mandalay Bay Hotel and Casino room that overlooked the grounds. He opened fire on the crowd and a night that should have been joyous ended with 58 people dead and another 581 injured, making it the deadliest mass shooting in modern US history.
The attack rocked the nation but especially the country community. The country community made it clear that they would band together and come out of this stronger. And whether it was because he was on stage when the shots rang out or felt like he just had to say something, the healing began with Aldean.
Aldean had rushed off the stage when the shooting to protect his pregnant wife, Brittany Aldean, backstage. By the next morning, videos taken from the festival grounds had circulated on Twitter and in news stories, showing how chaotic and terrifying the scene was. Just a day after the turmoil, Aldean shared a message on Instagram addressing the tragedy. He wrote how the previous 24 hours had been an emotional rollercoaster from compassion to anger and fear. But he had a unifying message to share as well that, "we are all humans and we are all Americans and it's time to start acting like it and stand together as ONE!"
Later in the week, Aldean made a surprise appearance on Saturday Night Live. In lieu of the show's traditional comedic opening monologue, Aldean was given the opportunity to address the nation saying, "like everyone I'm struggling to understand what happened that night, and how to pick up the pieces and start to heal… You can be sure we're going to walk through these tough times together, every step of the way. Because when America is at its best, our bond and our spirit, it's unbreakable," he promised. Aldean and his band then kicked off the show with a cover of Tom Petty's anthem "I Won't Back Down", making it clear that while the country community was down it wasn't out.
The very next day, Aldean flew with his wife back to Las Vegas and visited patients who were still recovering at the University Medical Center of Southern Nevada hospital. Across the country in Nashville, Keith Urban performed Simon and Garfunkel's "Bridge Over Troubled Water" at a vigil. Before singing, Urban told a story about his young daughter was confused as to why Urban was sad if he didn't personally know any of the victims who passed away. He summed it up with, "They're like family. It's the one thing about country music that's always been at the center of it, and that is community...and so I did know those people in that way, and it just really hit me."
Rick Diamond/Getty Images
When the 2017 CMA Awards arrived in November, it was the first time that many country music stars were together as that family since the attack. It was finally a chance to start publicly healing together, for one another and their fans. At the top of the show, Carrie Underwood addressed the tragedy immediately.
"This has been a year marked by tragedy, impacting countless lives including so many in our country music family. So tonight, we're going to do what families do. Come together, pray together, cry together, and sing together, too," Underwood explained. Also setting the mood of the night was Eric Church, who played "Amazing Grace" to honor those at Route 91. The most heartbreaking moment of the night was during the tearful tribute in the middle of the show.
Underwood sang "Softly and Tenderly" to honor those that had passed away in the country music community, but the memoriam included the fans who had lost their lives. Underwood had tears in her eyes and choked up as the faces of the victims displayed on the screen. While the show was somber in many parts, there were hints that together, the community would make it through. Brad Paisley expressed that sentiment near the start of the show saying, "the way we see it, the best way to honor our fans is to play our music — loud and proud. Our music lifts people up and that's what we're here to do tonight. This year's show is dedicated to all of those we've lost and to all of those who are still healing. We love you and we will never forget you."
As the year went on, the country community didn't forget that night and continued to express their support for those in Las Vegas. After the CMA Awards, Maren Morris, Eric Church, and Brothers Osborne performed a tribute at the 2018 Grammy Awards. All three had been on the lineup at the Route 91 festival and reunited together on the Grammy's stage to sing a cover of Eric Clapton's "If I Saw You In Heaven". Morris told E! News on the Grammy's red carpet that the tribute, "reinforces even more the strength of music and the community that we all share together, artists and fans alike."
Watch:
Boyz II Men Talk Las Vegas Residency After Tragedy
In April, during the ACM Awards, Route 91 was even a part of the discussion on the red carpet. Many stars wore gold pins of the numbers 851 and 58, which correlated to honoring the 851 injured and 58 killed. Some stars also wore a pin with the number "1", which Little Big Town's singer explained on Twitter was to symbolize the 1 life fans could save, "in the future if we're willing to start a conversation about things that need to be done."
Haley Hubbard, the wife of Florida Georgia Line's member Tyler Hubbard, shared on Instagram before the show that, "We wear these pins tonight at [The ACM Awards] to tell the world we have not forgotten you. We have not forgotten your names."
While country musicians were hardest hit by the tragedy, the entire music community rallied together in support. In the immediate aftermath of the attack, many stars sprung to support the country community and their fans online. Lady Gaga held a 20-minute digital guided meditation and Miley Cyrus performed "The Climb" on The Tonight Show with Jimmy Fallon to honor the victims. Ariana Grande (who just months ago had gone through her own tragedy when 22 fans were killed outside of the Manchester Arena) called for love, peace, and gun control in a public letter about Route 91. "I am sorry for the pain and fear that you must be feeling and for the trauma that you, too, must be experiencing," her letter stated. "We will never be able to understand why events like this take place because it is not in our nature, which is why we shouldn't recoil. We will not quit or operate in fear. We won't let this divide us. We won't let hate win."
In December, the music community, especially those with strong ties to Las Vegas, turned their pain into action by holding the Vegas Strong Benefit Concert. Celine Dion, Imagine Dragons, Boyz II Men, and more performed at the Las Vegas T-Mobile Arena in the benefit concert that raised proceeds for the Vegas Shooting Victims Fund. While he wasn't able to be there in person as his wife was due to give birth, Jason Aldean appeared in a videotaped video with the message "don't let the bad guys win."
As the one-year mark had approached, the memory of Route 91 and its impact has not faded. At the recent iHeartRadio Festival in Las Vegas, Imagine Dragons front-man and Vegas native Dan Reynolds addressed the tragedy during their set. Reynolds rallied the crowd saying, "we have come together in a way that I've always hoped since I was a little kid. I never felt like we had the culture [in Las Vegas]. I knew the people were here but it seemed like we just didn't have something to connect us and there's been a lot that's connected us in this last year... to all those that we lost, we're thinking of you. To the families affected, we love you."
Also present at the iHeartRadio Festival was Jason Aldean. He joined radio personality Bobby Bones on stage for a remembrance video of Route 91. While so much of the healing came from country musicians themselves, the video highlighted how Vegas residents and fellow country mans had come together as well. The video showcased how long the lines at the blood drives were, how many people opened their homes to strangers, and how many people came from all over to leave memorials to those that lost their lives. Then, in a touching moment, dozens of first responders from that tragic night joined the two on stage, drawing wild cheering from the audience packed in the T-Mobile Arena. Aldean took the mic and powerfully said, "Tonight, we are all proud to be Vegas strong."
Aldean then turned to shake the hands of the first responders behind him. Just one year earlier, all of their lives were changed that fateful night just a few blocks south of where they were in that moment. But as they shook hands, the country community continued to heal.
And as the country marks the one-year anniversary today, many country music artists are showing their support on social media.
"Thinkin about our Route 91 family today. #vegasstrong," Aldean wrote on Instagram. Florida Georgia Line added, "Today marks the one year anniversary of the horrifying events of Route 91 in Las Vegas. It's a day none of us will ever forget. Today lets take a moment to remember those lost, hurt and affected. #CountryStrong #VegasStrong." 
As for John Rich, he can't help but remember his exact performance one year ago today.  "We sang God Bless America on the #ROUTE91HARVEST stage 90 mins before the bullets flew one year ago today," he recalled on Twitter. "Remembering the killed and wounded, and reminding myself every heartbeat is a gift from God. Stay Vigilant, America. #SonnyMelton @KayaJones @deejaysilver1 #VegasStrong." 
Thomas Rhett added, "Today my prayers go out to everyone affected by last years events. I pray that everyone affected buy this tragedy can find peace from the Lord and comfort beyond understanding. So much love coming from the Akins to you today."