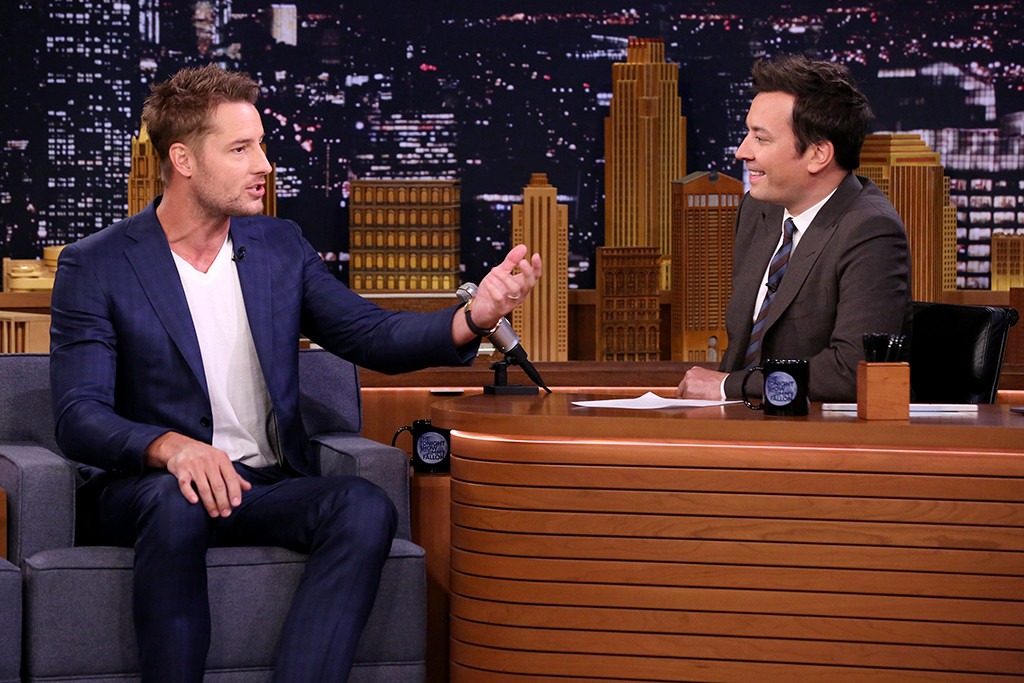 Andrew Lipovsky/NBC
Word to the wise: don't ever ask Justin Hartley to dog-sit.
Years ago, when the This Is Us star was a student at Southern Illinois University Carbondale, he offered to look after his friend's German Shepherd—and it nearly ended in disaster. As Hartley recalled on The Tonight Show Wednesday, his friend was honeymooning at the time. The newlyweds treated it "like their baby," he said, but Hartley—who owned a Beagle at the time—said it would be "no problem" to look after their furry friend. Unfortunately, "I would always leave my windows open, 'cause she's not going through the screen. They don't really do much."
But one day, Hartley came home and saw his friend's dog was "halfway outside" the window. "The dog takes off. I spent two days tracking this dog down," the actor continued. Sensing the audience's concern, Hartley decided to spoil the ending, saying, "Happy story: I found the dog!"
Hartley joked he "lost like 15 lbs." running around to find him. "It was unbelievable. They called me like three or four times a day to check on their dog, and I always had an excuse. Here's the thing: They're on their honeymoon. I don't know where the hell the dog is. What do I tell them? I've ruined their honeymoon and they're going to come home? Or...I might find the dog. Let them have a good time, right? I was pretending to be the dog. I was making noises. They were like, 'He sounds weird.' I was like, 'He is really tired. He went on a long walk. He is exhausted.'"
The 41-year-old actor eventually found the dog—on the other side of town—in a woman's backyard. "I cornered the dog, and the dog was kind of spooked. I just said to him, 'Dude, I'm going to stand here. You're going to have to eat me if you want to get out of here,'" he recalled. Then, he claimed, the woman tried to intervene. "She comes out with a cordless phone with an antenna and a gun," Hartley said. "And a gun! I was like, 'Ma'am, that is a dog!' I got him back."
Hartley implied no shots were fired—much to his relief.
Ironically, the actor locked himself out of the house while he was looking for the German Shepherd—meaning the only way to get inside "was to break into the window he had opened."
When the newlyweds returned from their honeymoon days later, they thanked Hartley for taking care of their pet. "At that point, now I had the dog and everything was fine," the actor explained. But after all the troubles they went through, "It was one of these relationships with the dog where I'm sitting here with a coffee and I'd be like, 'Don't you move! Don't you move!'"
(E! and NBC are both members of the NBCUniversal family.)