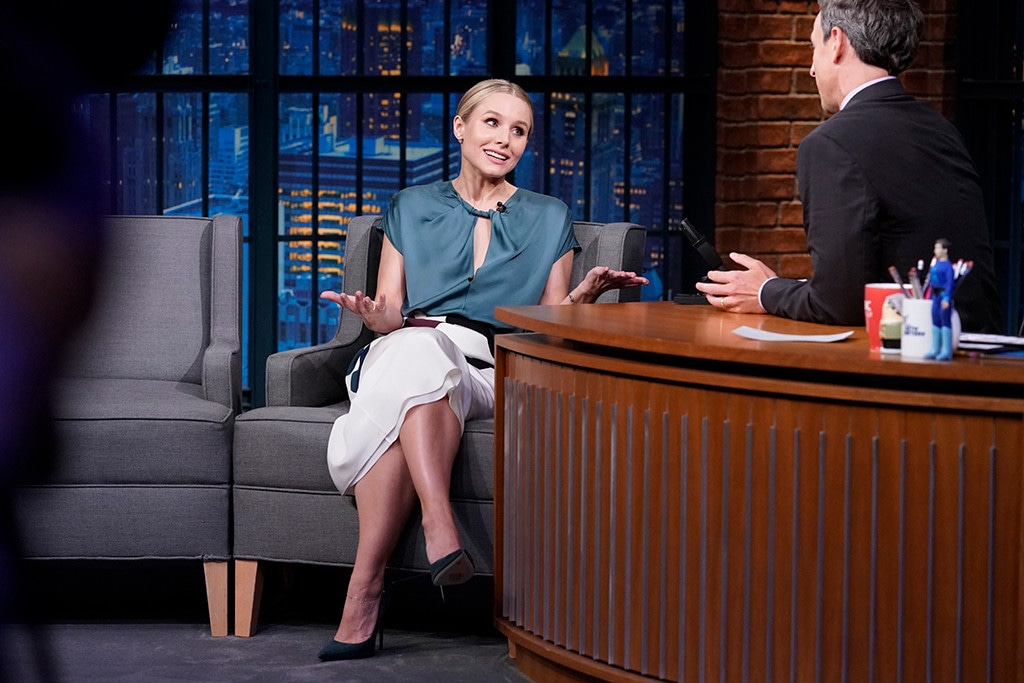 Lloyd Bishop/NBC
Kristen Bell hasn't lost her touch.
It's been six years since Gossip Girl ended its six-season run, and although she only appeared onscreen in a wink-y cameo in the series finale, she served as the narrator for all 121 episodes. So, on Late Night Wednesday, Seth Meyers asked her to get back into character for a very special reason. "We feel as though a lot of Donald Trump's tweets feel very gossipy," he said. "We've asked if you wouldn't mind reading a few of them with the classic Gossip Girl sendoff."
Bell was happy to oblige and began with a tweet Trump wrote on Aug. 24, 2018: "Ex-NSA contractor to spend 63 months in jail over 'classified' information. Gee, this is 'small potatoes' compared to what Hillary Clinton did! So unfair Jeff, Double Standard. XOXO, Gossip Girl."
The next tweet Bell read aloud, which he wrote on May 31, 2017l, was a joke about one of his weirder typos: "Who can figure out the true meaning of 'covfefe'??? Enjoy! XOXO, Gossip Girl.'"
Bell told Meyers, "These do sound like the things that were written on the show."
For the final tweet, Meyers dug deep into the archives, selecting a tweet from Aug. 27, 2014. "This is just a personal thing for me, as a Gossip Girl fan," he told the Good Place actress. "Just to hear my voice in your voice would be an honor." With flair, Bell read, "Congratulations to @sethmeyers on 'Emmys Rating Tumble.' Just as I predicted, Seth bombed! XOXO, Gossip Girl.'"
In the same episode, Bell also talked about Veronica Mars
(E! and NBC are both members of the NBCUniversal family.)