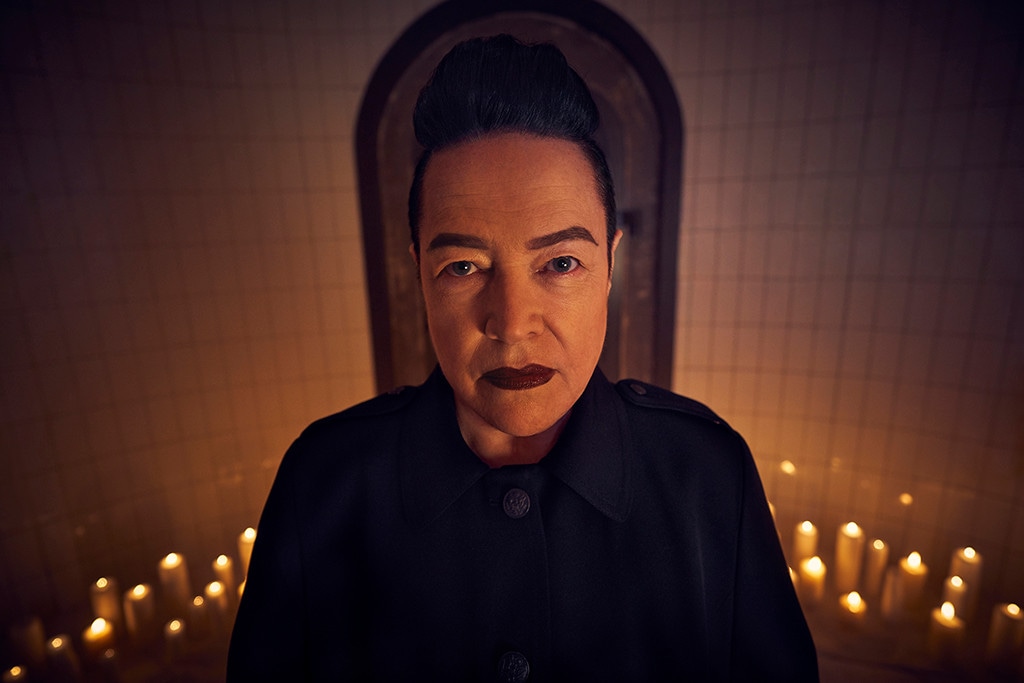 FX
It's official: Kathy Bates is a robot. 
Strangely enough, that was the least of the things we were concerned with in tonight's episode. First, we found out that Michael Langdon (Cody Fern) and Dinah (Adina Porter) know each other, but she's not "powerful" enough to know what's about to happen. Then we found out that Mallory (Billie Lourd) has some kind of magical power that could even hold Langdon and his scary Voldemort face off. 
Then, we found out that Brock (Billy Eichner) survived the apocalypse, though he didn't look so good. He hitched a ride on a carriage full of apples on its way to the compound, found his way back to Coco (Leslie Grossman), and after she trashed him to his (masked) face, he stabbed her right in the face. RIP. 
Meanwhile, Ms. Meade (Bates) and Venable (Sarah Paulson) came up with a plan to fill the apples with snake venom, then feed the apples to everyone in the compound at the same time, killing them all. 
And then! It turned out that the plan was actually developed by Langdon. He killed Venable, and then revealed that he's been controlling robot Kathy Bates all along, and actually modeled her off of someone he knew as a child, someone who loved him, but had made her forget the most important part of who she was, and now it was time to remember. (Is she...is she Jessica Lange?!) 
But then we forgot about all of that because THE WITCHES FINALLY ARRIVED! 
Cordelia (Paulson), Madison (Emma Roberts), and Myrtle (Frances Conroy) all arrived mask-free, walked right in, and immediately went to find their "sisters," which included Mallory, Dinah, and Coco. They brought them back to life, and Madison kneeled down in front of Mallory to say a few iconic words. 
"Surprise, bitch. Bet you thought you'd seen the last of me." 
And listen, when we tell you it was like Cordelia Goode also breathed life back into us, we are not exaggerating. The witches making their Apocalypse entrance is currently up there amongst our most thrilling TV moments of the year, and maybe of the past few years. Maybe since Myrtle screamed "BALENCIAGA!" as she died at the stake. Now that the witches are here, we're down for whatever's up, unless it's more of Langdon cutting all the way down his arms while naked. We don't need more of that. 
American Horror Story: Apocalypse airs Wednesdays at 9 p.m. on FX.