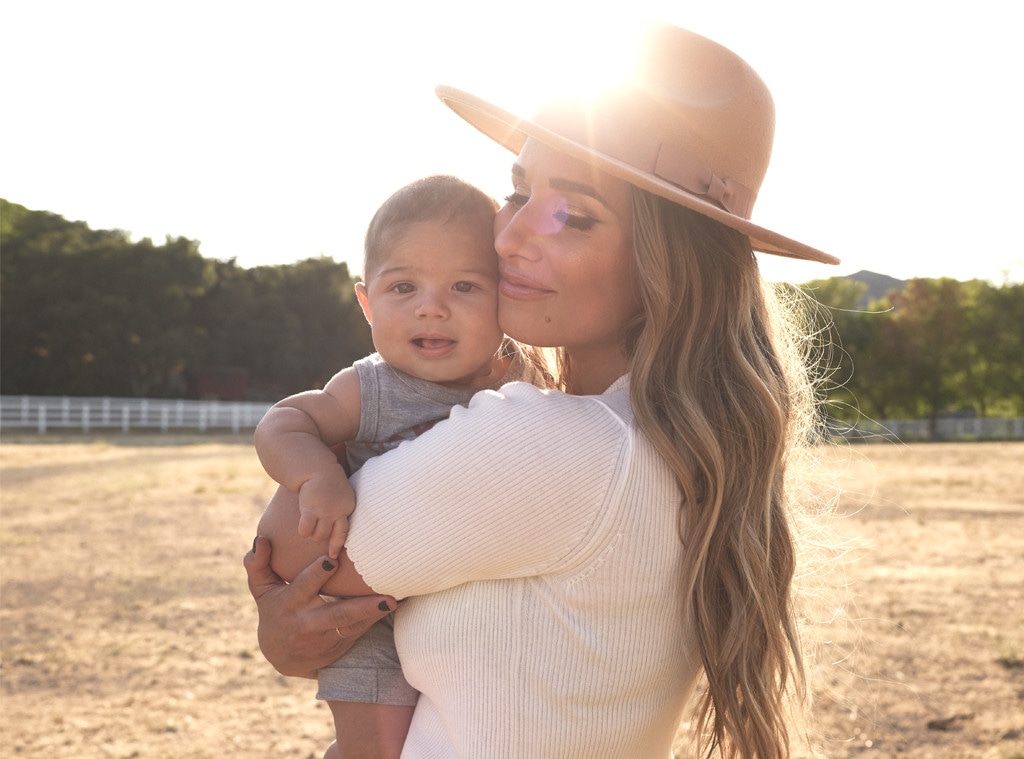 Courtesy of JustFab
Jessie James Decker is kicking up her "Boots" when it comes to having another baby. 
The mother-of-three—and the star behind the latest JustFab collaboration—exclusively told E! News she and husband Eric Decker do not have any pregnancy plans in the near future, although she knows to never say never. "Probably not, but, you know, sometimes surprises happen and I think a child is a blessing no matter what it is," Jessie said.
It is no wonder the two are pumping the brakes on the baby-making-machine considering they only welcomed their youngest son, Forrest Decker, in March of this year. She explained, "If that were to happen and that were God's plan I would be so grateful and excited, but are there any plans? No. We are very happy with the 5-month-old we just had." 
And since the little one entered the world five months ago, he has taken the world by storm. The mom happily revealed that the tiny tyke is crawling, laughing and making baby noises right on schedule, if not in advance of a baby's typical development.
"He's pretty advanced, he reminds me a lot of Vivianne," Jessie shared. "Vivianne started walking at 9 months, so he's kind of quick. He's on the go already."
Needless to say, Jessie has a lot on her plate at the moment.
In fact, she even has very own shop featuring her favorite styles. To promote the new collection for JustFab, she also appears in a national commercial featuring the aptly titled song "Boots," which is available to download and stream Sept. 28. "It is the perfect partnership. I've been a fan of JustFab for a really long time," she told E! News. "As soon as they asked me to be a part of their boots campaign I got really excited, because I am a boots girl. I live in boots! I also thought, 'I've got this song that I have been holding on to forever. I am going to send it to my agent and let her send it to them, just to see if they like it.'"
Jessie, who recently showed at NYFW, has "always loved" fashion. "I've been sketching designs on notepads since I was in high school," she said. "It's always been something I wanted to do."
While she may have her hands full with three little ones, the working mom has some help now that Eric officially retired from the NFL. "It's been so good having him home," Jessie gushed. "I love being able to wake up to him every day and just be together as a family, it just feels good."
She continued, "It's great to have him around, football or no football, he's just the most help I've ever experienced, or seen firsthand in a man and in a father, he goes above and beyond. I'm constantly impressed by how much he can do. He's such a great dad."