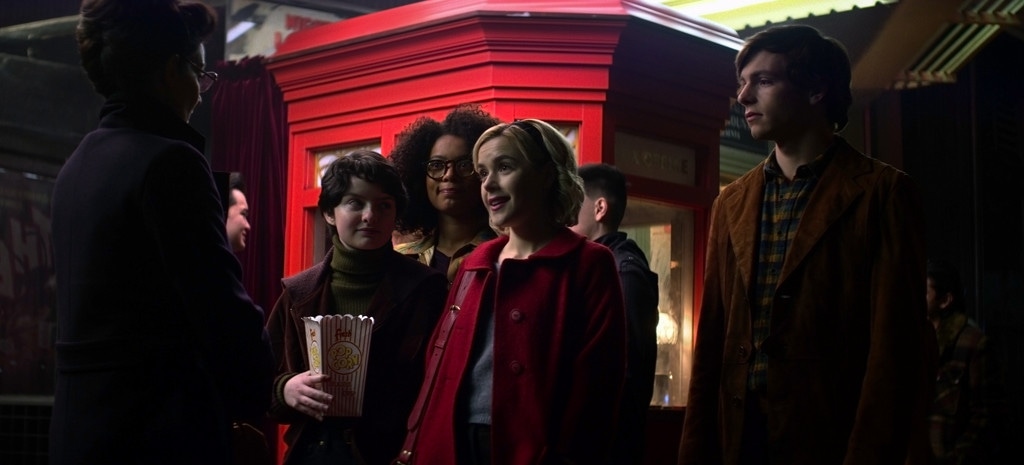 Netflix
Netflix is gearing up for a spooktacular October.
The company just announced which titles will be joining its programming slate next month, including the previously announced premiere of its highly anticipated original series, Chilling Adventures of Sabrina, and the return of its popular true crime docuseries Making a Murderer.
There are plenty of other Halloween- and horror-themed offerings, of course.
Other titles on deck include ADAM SANDLER 100% Fresh, Billy Madison, Blazing Saddles, The Devil's Advocate, Gotham: Season 4, Marvel's Daredevil: Season 3, New York Minute, Pay It Forward and Robin Hood: Prince of Thieves. Two of Kevin Hart's most popular comedy specials—Laugh at My Pain and Seriously Funny—will also become available to stream this fall.
Here is the complete list of titles that will become available to stream starting next month:
Available 10/1/18
Angel Eyes
Anger Management
Billy Madison
Black Dynamite
Blade
Blade II
Blazing Saddles
The Dead Pool
The Devil's Advocate
Empire Records
Gotham: Season 4
The Green Mile
Kevin Hart: Laugh at My Pain
Kevin Hart: Seriously Funny
The Lake House
Must Love Dogs
My Little Pony Equestria Girls: Rollercoaster of Friendship
Mystic River
The NeverEnding Story
New York Minute
Once Upon a Time in America
Pay It Forward
Pee-wee's Big Adventure
Robin Hood: Prince of Thieves
Rumble in the Bronx
She's Out of My League
The Shining
Sommersby
V for Vendetta
Zack and Miri Make a Porno
Available 10/2/18
Joe Rogan: Strange Times
MeatEater: Season 7
Monty Python: The Meaning of Live
Monty Python's Life of Brian
Available 10/3/18
Truth or Dare
Available 10/4/18
Creeped Out
The Haunting of Molly Hartley
Violet Evergarden: Special: Extra Episode
Available 10/5/18
Big Mouth: Season 2
Dancing Queen
Élite
Empire Games
Little Things: Season 2
Malevolent
Private Life
Super Monsters Save Halloween
Super Monsters: Season 2
The Rise of Phoenixes
YG Future Strategy Office
Available 10/6/18
Little Things: Season 1
Available 10/8/18
Disney's Sofia the First: Season 4
Mo Amer: The Vagabond
Available 10/9/18
Terrace House: Opening New Doors: Part 4
Available 10/10/18
22 July
Pacto de Sangue
AP Photo/Dan Powers, Pool
Available 10/11/18
Salt Fat Acid Heat
Schitt's Creek: Season 4
Available 10/12/18
Apostle
The Boss Baby: Back in Business: Season 2
The Curious Creations of Christine McConnell
Errementari: The Blacksmith and the Devil
Feminists: What Were They Thinking?
FightWorld
The Haunting of Hill House
The Kindergarten Teacher
ReMastered: Who Shot the Sheriff
Tarzan and Jane: Season 2
Available 10/15/18
Octonauts: Season 4
The Seven Deadly Sins: Revival of The Commandments
Available 10/16/18
Ron White: If You Quit Listening, I'll Shut Up
Available 10/19/18
Accidentally in Love
Ask the Doctor
Best.Worst.Weekend.Ever.: Limited Series
Derren Brown: Sacrifice
Distrito Salvaje
Gnome Alone
Haunted
Hip-Hop Evolution: Season 2
Illang: The Wolf Brigade
Larva Island
Making a Murderer: Part 2
Marvel's Daredevil: Season 3
The Night Comes for Us
Wanderlust
Available 10/21/18
Robozuna
Available 10/23/18
ADAM SANDLER 100% FRESH
Available 10/24/18
Bodyguard
Available 10/25/18
Great News: Season 2
Available 10/26/18
Been So Long
Castlevania: Season 2
Chilling Adventures of Sabrina
Dovlatov
Jefe
Shirkers
Terrorism Close Calls
Available 10/27/18
Girl From Nowhere
Available 10/28/18
Patriot Act with Hasan Minhaj
Available 10/30/18
Fate/EXTRA Last Encore: Illustrias Geocentric Theory
The Degenerates
Available 10/31/18
Goldie & Bear: Season 2
GUN CITY
For a complete list of titles leaving Netflix in October, click here.